ATLANTA – The nation's premiere HME event
kicks off today at the Georgia World Congress Center in Atlanta. Hundreds of exhibitors and industry experts are on location, and there is still time for walk-up registration for the show that runs through Nov 3.
The competitive bidding "rural rollout" has brought reduced reimbursements to every corner of the country, and these changes have brought a profound need for solutions. Medtrade is the natural focal point for a massive knowledge base, as well as the ideal place to find traditional and new products.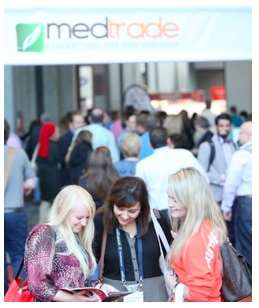 "It has been a difficult year for so many providers, and the leaders of our educational sessions are well aware of what providers are facing," says Kevin Gaffney, group show director, Medtrade. "They will be focused on ruthlessly practical solutions. It will be well worth the time and effort to get to the show. Our exhibitors will also be showing their wares with an eye toward offering real solutions."
For those still pondering attendance, Medtrade is a three-pronged trade show with educational sessions, a show floor with hundreds of exhibitors, and networking events where attendees collect valuable knowledge. For example, the Audit Happy Hour costs only $30, which includes an open bar and experts who are ready and willing to answer questions.
The Audit "Happy" Hour
Mon, Oct 31, 2016 – 5:30 PM to 6:30 PM
Sponsored by ECS Billing & Consulting North; Mediware; Pride Mobility; and The van Halem Group
. There's not much happiness when it comes to audits – unless you're figuring out how to navigate them. It was standing room only in Las Vegas, with people staying well beyond the allotted hour. So grab a glass of wine or beer (audits do drive us to drink, right?!), and meet with audit experts at this unique Q&A and networking opportunity.
Click Here to Register for Audit Happy Hour.
AAHomecare's Stand Up for Homecare Fundraiser Reception
Oct 27 • 5:30 pm – 7:00 pm
Metro Atlanta Chamber of Commerce
The Stand Up for Homecare reception is the premiere networking event for the HME community, and raises funds that help to build mutually supportive relationships with HME consumer/patient groups.
Click Here for more information and to Register.
AAHomecare Washington Update
Tue, Nov 1, 2016 – 8:00 AM to 9:45 AM
Leaders at the American Association for Homecare will review the association's activities over a wide range of legislative and regulatory affairs. During this presentation, members of the defending world cup champion power soccer team (Team USA) will be introduced.
Speakers: United States Rep Tom Price (R-Ga); Tom Ryan, president; Kim Brummett, senior director of Regulatory Affairs; and Jay Witter, vice president of Government Affairs.
Innovative HME Retail Product Awards
Tue, Nov 1, 2016 – 9:00 AM to 10:00 PM in the C102 Auditorium and is open to all attendees.
The biannual Innovative HME Retail Product Awards, sponsored by HomeCare Magazine, are back, and open to all attendees. The top eight products will be presented in a retail awards conference session hosted by Jim Greatorex, who works in Business Development for the VGM Group. After manufacturers present their products, voting will take place to determine the top 3 winners.
Power Lunch
Wed, Nov 2, 2016 – 11:45 AM to 1:15 PM
Enjoy a buffet and sit down with the expert of your choice on the following topics: competitive bidding; documentation requirements; home accessibility solutions; leadership; retail; social media/web marketing; and using data.
Click Here to Register for Power Lunch.
Click Here to Register for Medtrade.