LAS VEGAS – Industry mainstays Juzo and Amoena are once again hosting their POWER (Providing Opportunities for Wellness, Education & Renewal) Symposium just a few days prior to Medtrade Spring.
The POWER Symposium is scheduled for Feb 23-25 at the Paris Las Vegas Hotel, while Medtrade Spring takes place Feb 27-March 1, 2017, at the Mandalay Bay Convention Center.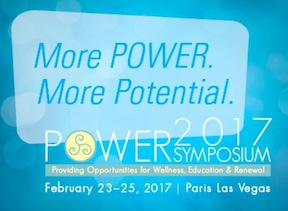 The POWER Symposium brings together industry leaders, specialty retailers, and medical professionals for the exchange of ideas on ways to re-energize business, gain new perspectives on wellness, and better connect with customers—many of whom are breast cancer survivors.
Co-sponsored by Amoena and Juzo, the POWER Symposium is geared toward specialty retailers catering to women's wellness needs, including DMEs, women's and hospital boutiques, O&Ps and medical centers. Now in its 7th year, the symposium attracts attendees ready to expand their product offerings and bolster marketing efforts to bring in new customers and build loyalty among existing clientele.
The POWER Symposium and Medtrade Spring have partnered to offer all POWER attendees access to the Medtrade Spring Expo Hall AT NO COST. Medtrade Spring Expo hours are Tuesday, Feb. 28, 10:00 a.m. – 4:00 p.m., and Wednesday, March 1, 10:00 a.m. – 1:00 p.m. Educational sessions at Medtrade Spring start a day earlier on Feb 27.
Manual Lymph Drainage Demo/Q&A with Lymphedema and Compression Therapy Experts
A a live demonstration of Manual Lymph Drainage (MLD) is scheduled for Saturday, Feb. 25, at Room Champagne 2 (room subject to change) at the Paris Las Vegas Hotel.
At the presentation, also known as the "Juzo Academy," attendees will learn the core principals and effectiveness of MLD in the treatment of lymphedema. The presenters also will conduct an interactive Q&A session to answer questions about all aspects of lymphedema including physiology, pathophysiology, and treatment. In addition, attendees will learn more about the latest JUZO product innovations.
Registration Information
POWER attendees who also wish to attend the Medtrade Spring Expo/Show Floor, may email POWER@administrare.com for the registration code.
• Click HERE to register for the POWER Symposium.
• Early POWER Symposium registration rates will be in effect until Dec 31, 2016.
• Go to www.PowerSymposium.com for more information about the show.