LAS VEGAS – The final day of last month's Medtrade Spring in Las Vegas yielded three New Product Pavilion Providers' Choice Awards, sponsored by HomeCare Magazine. The Cozee Battery Powered Heating Blanket, made by Portable Heating Products, LLC, Arroyo Grande, California, took the Bronze Award.
Paul LaRue, president, Portable Heating Products, LLC, invented the product five years ago as a way for his daughter to warm up outdoors. Medtrade Monday chatted with LaRue to learn more about his inspiration, and the product that turned into a hot commodity at Medtrade Spring.
Medtrade Monday: How did you come to develop The Cozee?
LaRue: It all started with my special needs daughter Brianna, who calls herself BooBoo. She's now 32 and has had Cerebral Palsy since birth. Just over five years ago, the thought hit me to purchase a heating blanket that BooBoo could use outdoors. BooBoo has very poor circulation and we have a tough time going outdoors without her getting chilly right away. There are several events that we just can't go to based on her being very vulnerable to the cold.
My wife and I started doing research and found nothing like it. I thought we were spelling the description wrong so we tried several different phrases, and again nothing. We were amazed. I knew the technology was out there and I just did not register why some of the big existing heating blanket companies had not already produced such a product. So we immediately started development.
BooBoo has a traditional heating blanket on her bed at night to take the chill out and one on her recliner when she watches her "paint shows" as she calls them (home improvement shows), but I thought having one that could keep her warm outside would be amazing.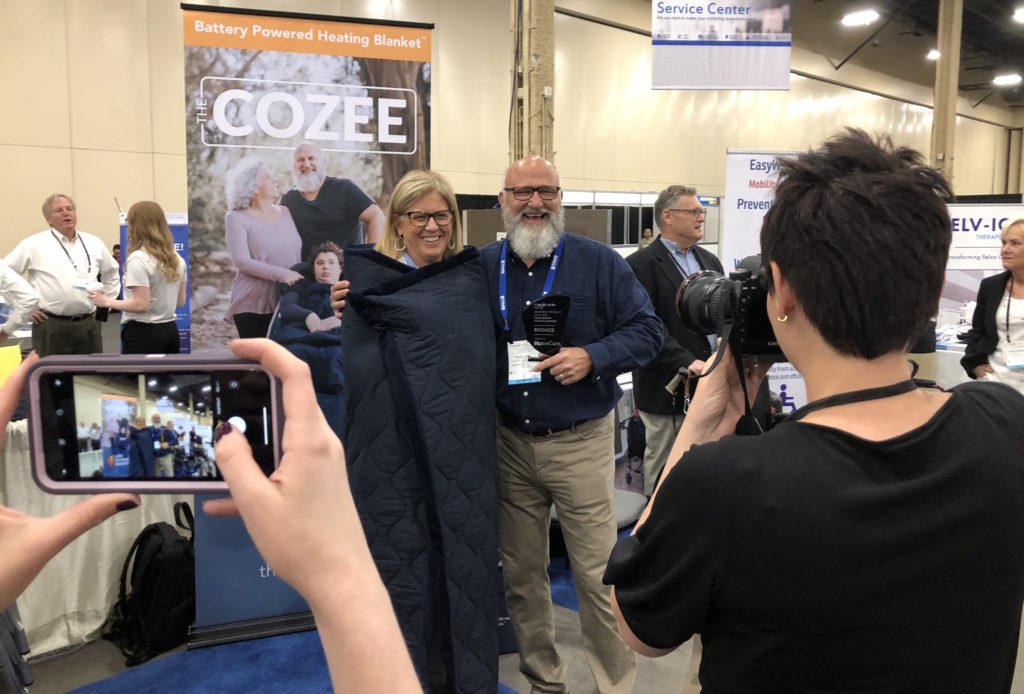 Medtrade Monday: Do you have a patent?
LaRue: Within the first year we filed a Patent, and lo and behold we received our patent protection just recently. We could not believe it. All we could say for the first couple of months was "Wow!"
Medtrade Monday: What was the reaction to the product at Medtrade Spring?
LaRue: The reaction was amazing. People can't believe that this product is not already "out there" and secondly, they can't believe just "how warm" they get once they're inside the blanket. We won "Best in Show" at the Outdoor Retailers show in Denver by GoRVing. They searched the entire show and picked us—very humbling.
Medtrade Monday: What were the most common questions you received about the product?
LaRue: Most people asked how long the battery would last. The Cozee will keep someone warm for almost six hours. And even after the rechargeable battery dies, based on how we designed the blanket, the heat stays inside for well over an hour.
Medtrade Monday: Why do you think the product scored so well in the Providers' Choice voting?
LaRue: It's a very easy concept to communicate—no more being cold outside—ever. The Cozee is a life-changing product. People rarely go outside when the temperature drops. The Cozee gives people an opportunity to enjoy the outdoors like never before, bringing several more hours per week of enjoyment at those outdoor events.
Medtrade Monday: In addition to outdoor events and warming people with various disabilities, how does this address the baby boomer generation?
LaRue: The Cozee deals with the real enemy of Baby Boomers—being cold. Just imagine if the weather isn't a factor anymore. At that point, every event is a possibility.
Medtrade Monday: Why is your product a good choice for providers, particularly in an era of reimbursement reductions brought on by competitive bidding?
LaRue: The comment we heard most at Medtrade Spring was—I get cold all of the time. Providers who we talked too were there to find new "cash basis" products that would appeal to their core audience.
Medtrade Monday: What's your level of optimism about your product and the industry these days?
LaRue: I am very encouraged. We believe we have the solution to enhance the lives of many millions of people. We have been pursued by several companies and individuals from Medtrade Spring who are anxious to carry our product.