ATLANTA – Sheldon (Shelly) Prial frequently made his way around the streets of New York City on a bicycle in the late 1930s and early 1940s. As a delivery boy for his dad's drug store, the young Prial (known as Shelly to all) interacted with people in need, an experience that would shape his career as a successful pharmacist (read Medtrade Monday's Part 1 and Part 2 of Shelly Prial).
Like so many of his generation, Prial learned the value of a dollar—or even a penny—during the great depression, and that ethos has remained to this day. "I could get three cigarettes for my grandfather with a penny," says Prial. "I could get a piece of chocolate with a penny. If you had a nickel, you were wealthy. If you had a quarter, you were out of this world."
One thing Prial has not spent his money on throughout the years is cigarettes. While he did take up the habit briefly during his days serving as a demolition man in World War II, he didn't like it much and gave it up. "Occasionally I would puff on a cigar," he says, "but I never inhaled."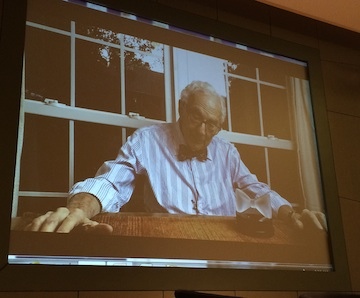 A Lifetime of Advocacy
Of the current crop of politicians, Prial says he likes a "couple of republicans," neither of which is Donald Trump, who Prial says "scares me." Describing himself as "basically a republican," Prial says he does not vote along party lines, instead opting to cast his vote for the best individual.
"All my life, I voted for those people who indicated they would support our industry," he explains. "I would contact their people and ask them specific questions and get answers in writing. All the people who worked with me more or less followed the decisions I made, because I documented what I found out."
Advocating and organizing became a focus for the young Prial soon after obtaining his pharmacy license in 1950. A few years later, he contacted all the nearby pharmacies. The first item on the organizational agenda was determining which pharmacy would remain open on Sunday, and on which week, a system that helped everyone get most Sundays off.
When it came to discuss serious matters of lobbying, or potential government threats to the industry, face-to-face meetings over coffee or lunch did wonders to develop solid friendships and allies. The face-to-face ethos is still something Prial strongly believes, and its one of the reasons he has backed Medtrade for so long (scheduled this year from Oct 26-29 at the Georgia World Congress Center in Atlanta).
"Telephones were not as effective as being eyeball to eyeball, and the Internet has some of the same limitations as telephones," he says. "Membership in the associations would fall into place, because we were anxious to keep our businesses healthy. A lot of people these days do not appreciate what it is to be out of work and out of money."
From the day he was old enough to do anything, Prial managed to earn a penny doing a variety of jobs. To this day, if he sees a penny on the sidewalk, he will pick it up. With the idea that no job should ever be taken for granted, he stayed on the job during the birth of his first child—a practice which he points out was certainly the norm at the time.
"I was working in the pharmacy, and my brother-in-law had to take Thelma [wife of 65 years] to have the baby," says Prial. "And then I went to see the baby. I couldn't leave the pharmacy. We had to have a pharmacist there at all times. I got to the hospital and the doctor said 'congratulations,' you have a baby daughter.'"
Two years later, Shelly could go to the hospital and get the time off for the birth of his son. Both children are now 63 and 61, doing well, and still close to their parents. "I am so lucky," he says. "The good lord has blessed me."
Part 4 of An Industry Legend will appear in a few weeks.
Greg Thompson is editor of Medtrade Monday.