AMARILLO, TX – Assume that ABC Medical Equipment Inc has opened local facilities in TN, AL, CO, and OH, to satisfy "brick and mortar" requirements implemented by these states. Assume that ABC billing and clinical staff at these locations currently perform a secondary order review/confirmation when sales (cash or rental) are to be completed for patients in their territories. Assume that this process is secondary to the central review that occurs in ABC's Pennsylvania central intake office. Lastly, assume that fulfillment of orders is administered out of Pennsylvania.
The question is whether it is necessary to conduct a secondary review at the local facilities to create "a nexus between site and service."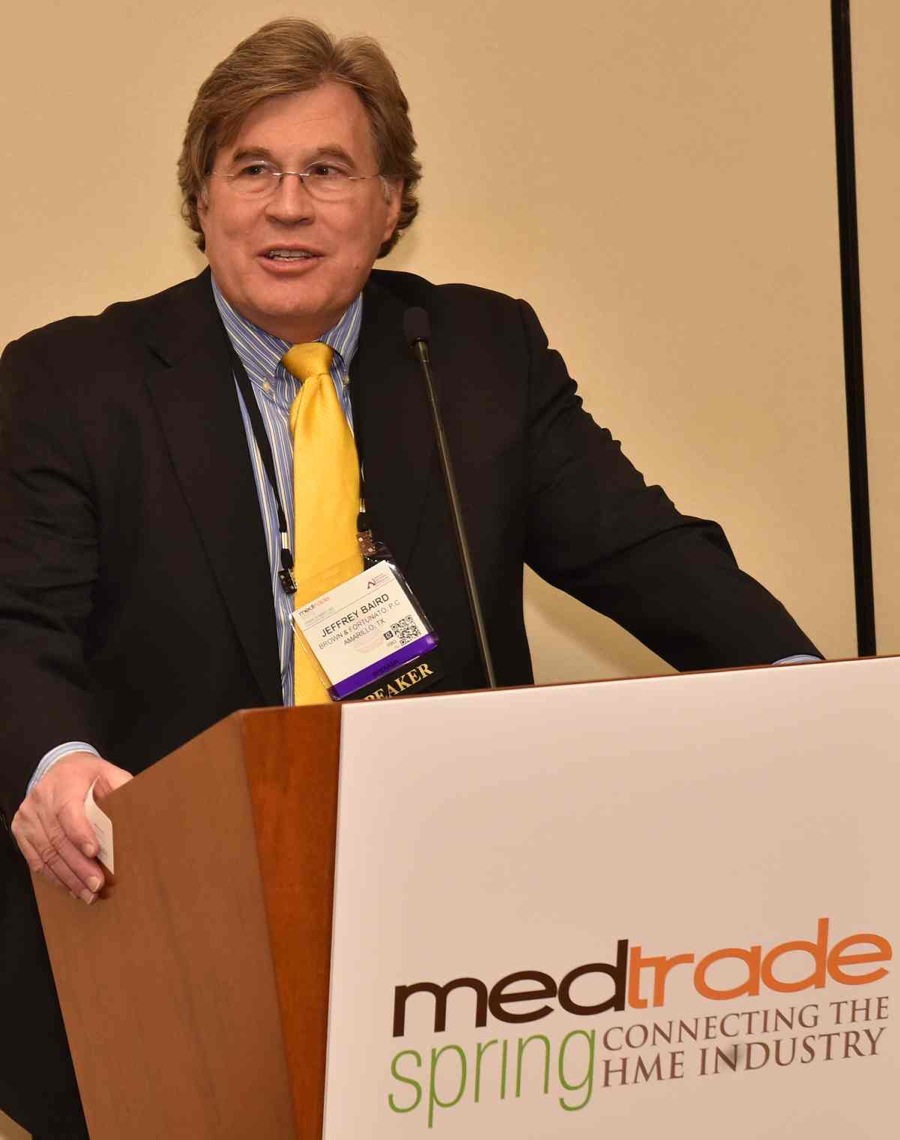 The answer is probably "yes." The in-state "brick and mortar" facility requirements established by TN, AL, and CO are similar in many respects. Namely, each state's regulations place certain requirements on DME suppliers to receive licensure or registration in order to provide services within the particular state.
As many of these state requirements are new, clear guidance is lacking. However, based on a plain reading of the statutes, as outlined in more detail below, the DME supplier's "brick and mortar" facilities must provide some services to the state's patients. In other words, the facilities cannot simply be facades utilized by the supplier to obtain licensure within a particular state. In regards to Kentucky, please see the summary below.
Tennessee
The Tennessee physical location regulation reads as follows: "Each parent and/or branch shall: (a) Be located in Tennessee; (b) Be staffed during normal business hours and have a working telephone; (c) Be used for the dispensing, servicing, and storage of home medical equipment or be used to provide home medical equipment services; (d) Meet all local zoning requirements; and (e) Have all required current licenses and/or permits conspicuously posted in the agency."
The Tennessee physical location requirement outlines specific criteria that the supplier's in-state location must meet. In regards to the services it must provide, the regulations require that the facility be used for "dispensing, servicing, and storage" or "be used to provide" DME. These terms are not defined in the most recent regulations. Based on a plain reading of the statute, ABC's Tennessee facility must either be used to dispense, service, and store DME for patients or be used in the provision of DME to Tennessee patients. Whether the secondary review currently completed in the Tennessee location would meet the requirements of the regulation is not clear from the text of the statute.
The Tennessee Department of Health, Board for Licensing Health Care Facilities ("Board") published a memorandum outlining the minutes of a meeting held on January 10, 2012 that addressed the interpretation of this statute. At the meeting, the Association of Tennessee Home Medical Oxygen Services ("ATHOMES") requested that the Board interpret this statute to mean that "every location, every branch or parent office is going to be required at the location to store, dispense, and service its goods at that location."
The Board accepted this interpretation by motion and voice vote at the meeting. Based on this somewhat limited interpretive guidance, the secondary review conducted in the Tennessee location would not be sufficient to meet the requirements of the Tennessee regulations. In order to meet such requirements, the location must store, dispense, and service goods at that location. Notably, the Board stated that this is interpretive guidance only, and not law.
Alabama
The Alabama Code requires a home medical provider with its principal place of business out-of-state to "maintain at least one physical location within this state, each of which shall be licensed." The governing rules and regulations state: "A provider of home medical equipment that has a principal place of business outside this state and has established a licensed, instate location may provide home medical equipment and services to its Alabama customers through any corporate branch or location…. For purposes of this rule, a corporate branch or location does not include a corporate subsidiary or affiliate that would itself require a license from this Board; the branch or location should be a provider of home medical equipment services that is duly licensed in accordance with applicable law in the state in which it is located. The ownership of the provider's licensed instate location, as defined in Rule 473-X-3-.01(7)(h), will be responsible to the Board for any equipment or services provided to the customer by any other corporate branch or location."
The Alabama Board of Home Medical Equipment also requires the provider to affirmatively swear to abide by the Rules and Regulations of the Alabama Board of Home Medical Equipment ("Rules and Regulations"). Such Rules and Regulations incorporate a number of inspection requirements and standards, which the onsite facility must meet. Such requirements explicitly include all durable medical equipment, prosthetics, orthotics, and supplies ("DMEPOS") Supplier Standards mandated by the Centers for Medicare and Medicaid Services ("CMS").
Based on the above, while Alabama requires out-of-state suppliers to open an accredited in-state location, the in-state location is not required to service Alabama patients through that location. Rather, it can service Alabama patients through a corporate branch or location (e.g., ABC's Pennsylvania location). However, it should be noted that the in-state location must still continue to meet all DMEPOS Supplier Standards, which include accreditation, being open at least 30 hours per week and adequately staffed during those hours, and having visible signage with posted hours. Therefore, an in-state supplier facility must have personnel and be open for the requisite number of hours. What those personnel do on a daily basis appears to be a business decision, as the regulations do not explicitly state what the facility must do (apart from meeting state Home Medical Equipment licensure requirements and DMEPOS Supplier Standards).
Colorado
The Colorado Secretary of State requires DMEPOS suppliers that are located outside of the state to have at least one accredited location within the state. There are a number of additional requirements that this location must meet. Importantly, when applying for licensure, the DMEPOS supplier must submit a notarized affidavit to the Secretary of State attesting that:
• The supplier has at least one accredited physical facility that is staffed during reasonable business hours and is within one hundred miles of any Medicare beneficiary residing in Colorado who is being served by the supplier;
• The supplier has sufficient inventory and staff to service or repair products; and
• The supplier is accredited by an organization that is recognized by CMS.
The Colorado requirements appear to differ slightly from the other states' requirements as they specify that the physical facility must be located within 100 miles of "any Medicare beneficiary" that is being served by the supplier. Presumably, if a supplier does not service any Medicare beneficiaries, it need not meet the requirements of this regulation. If, however, the supplier serves any Medicare beneficiaries (regardless of whether such service is through the competitive bidding program), its in-state location must be within 100 miles of those beneficiaries, it must be accredited, must meet DMEPOS Supplier Standards (as it is serving Medicare beneficiaries), and it must have "sufficient inventory to staff and service or repair products."
Details regarding the requirement to have sufficient inventory are not outlined in the regulation, and the Colorado Secretary of State has not provided guidance around interpretation of the statute. Absent any clear guidance, a plain reading of the regulation would imply that if a patient were to walk into or call ABC's Colorado facility, that facility should be adequately stocked and staffed to service that patient. Whether that requirement applies only to Medicare beneficiaries or to any and all patients is also unclear from the text of the statute.
Kentucky
Kentucky's statute permits its Board of Pharmacy to issue a license to home medical equipment suppliers that border the state, so long as certain requirements are met. In seeking clarification on this statute, we reached out to the Kentucky Board of Pharmacy regarding the licensure requirements, and we were informed that the regulation has been re-interpreted. The new interpretation does not place a location restriction on out-of-state suppliers (i.e., any supplier, in any state, may apply with Kentucky for a non-resident Home Medical Equipment license).
Jeffrey S. Baird, JD, is chairman of the Health Care Group at Brown & Fortunato PC, a law firm based in Amarillo, Tex. He represents pharmacies, infusion companies, HME companies, and other health care providers throughout the United States. Baird is Board Certified in Health Law by the Texas Board of Legal Specialization, and can be reached at (806) 345-6320 or jbaird@bf-law.com.