WASHINGTON, DC – Early reviews of last week's Round 2 Recompete and national mail order recompete are not encouraging for the HME community. Officials from the American Association for Homecare (AAHomecare) are hearing reports from many providers that once again the bids that were offered were below what they bid. "We see prices that are frankly unsustainable for providers throughout," wrote AAHomecare in a message to members.
Steve Ackerman, CEO of Spectrum Medical and vice chairman of AAHomecare's board of directors, offers this sobering assessment: While we feel fortunate to be be included in the bid offering process, I am shocked at the apparent extent of the price cuts. It appears there are reductions to certain items that take them far below previous low bid prices. We need some explanation and transparency from CMS on how these prices were derived.
Another provider who "won" contracts had this to add about the process and prices offered by CMS: I've got 10 days (and by the way they've had over a year) to to decide whether I want to jump on a sword or die by a thousand cuts. AAHomecare will have more more detailed analysis of where the cuts are deepest.
AAHomecare has also heard additional reports that the CMS' Connexion portal was still denying access or logging people off after getting in throughout the day; emails from CMS and CBIC contractor Palmetto acknowledge the problem and promise that they they are working toward a resolution.
Legislation to Delay Next Round of Cuts for Rural Suppliers Introduced in Senate
WASHINGTON, DC – Legislation to delay a new round of cuts to rural and non-bid area suppliers and provide additional fixes to the Medicare competitive bidding program for home medical equipment (HME) was introduced last week in the Senate. The lead sponsors for the Patient Access to Durable Medical Equipment Act (S. 2736), are Senators John Thune (R-S.D.) and Heidi Heitkamp (D-N.D.).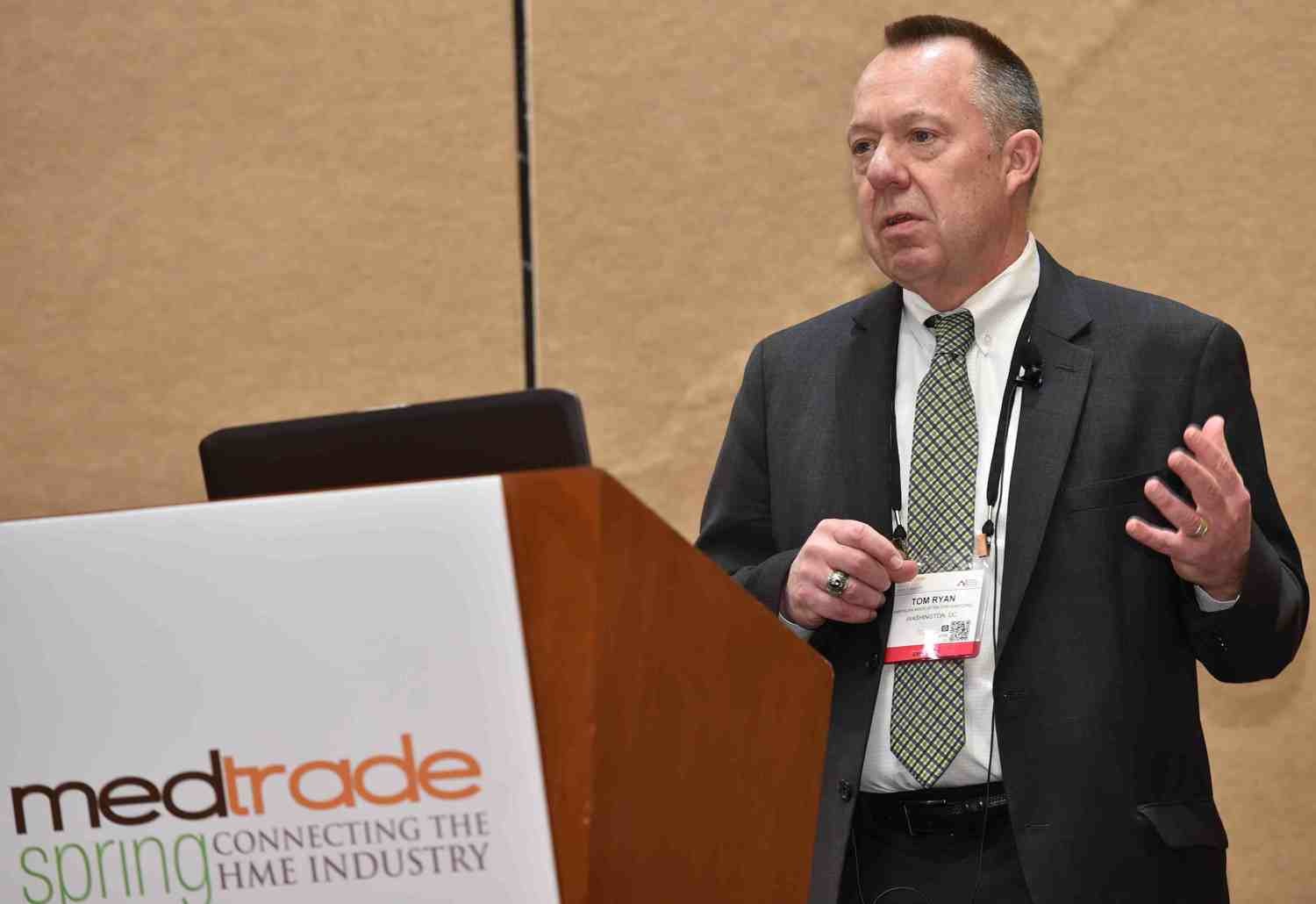 This bipartisan, non-controversial, and budget-neutral bill will:
• Delay the second cut for HME items in non-bid areas by 15 months. This would push back the second cut from July 1, 2016 until at least Oct. 1, 2017.
• Replace the bid ceiling for future rounds of bidding with the unadjusted fee service rates from January 1, 2015 instead of CMS' current plans to limit future bid ceilings to the previous bid rates.
• Require CMS to solicit stakeholder input and take into account travel costs, volume, clearing price and information on the numbers of providers serving bid areas as part of rate-setting activities for Jan. 2019 and beyond.
• Require CMS to monitor and report on access issues and health outcomes for Medicare beneficiaries utilizing HME, with updates provided on the CMS website on a monthly basis.
• Advance the start date of the federal portion of Medicaid reimbursement mirroring Medicare rates by three months from calendar year 2019 (Jan. 1) to fiscal year 2019 (Oct 1, 2018).
"We applaud Senator Thune and Senator Heitkamp for their tireless efforts on behalf of home medical equipment suppliers and the millions of patients they serve," said Tom Ryan, AAHomecare president & CEO. "This new legislation will give Congress and CMS a chance to see the damaging effects of the January 1 round of cuts for rural and non-bid suppliers before even lower prices are thrust upon an already-reeling industry."
"Home medical equipment companies that serve patients in rural and less-populated areas are a lifeline to seniors and people with disabilities or chronic conditions," added Ryan. "If we allow these companies to go out of business on account of unsustainable price cuts driven by a badly-flawed bidding program, you can expect individuals in rural communities to suffer the consequences."
Additional co-sponsors at introduction include Sens. Mike Crapo (R-Idaho), Pat Roberts (R-Kan.), Chuck Grassley (R-Iowa), Joe Manchin (D-W.Va.), Shelley Moore Capito (R-W.Va.), Mike Rounds (R-S.D.), Steve Daines (R-Mont.), John Barrasso (R-Wyo.), Thad Cochran (R-Miss.), Mazie Hirono (D-Hawaii), Michael Bennet (D-Colo.), Joni Ernst (R-Iowa), Angus King (I-Maine), and Jon Tester (D-Mont.).
Read the press release issued this morning from Sens. Thune and Heitkamp for additional details.
Companion legislation is expected to be introduced in the House of Representatives as early as next week. AAHomecare urges its members and other HME stakeholders to contact their legislators in support of S. 2736 as soon as possible. We will provide updated talking points and other tools you can use to support this legislation early next week.