NEW YORK, N.Y. – Vijay Kedar, co-founder and CEO of New York-based Tomorrow Health created the company as a way to enable seamless collaboration between suppliers, payers, and referring providers—fulfilling the goal of delivering high-value care where patients want it most—in the home.
"Our first-of-its-kind marketplace offers a centralized experience focused on three key areas: 1) operational efficiency throughout the order fulfillment process; 2) transparency between partners; and 3) metrics that enable suppliers to understand how they perform among their peers," Kedar explains. "Tomorrow Health alleviates the complexities of order management so that you can focus on what matters—delivering a high standard of value-based care."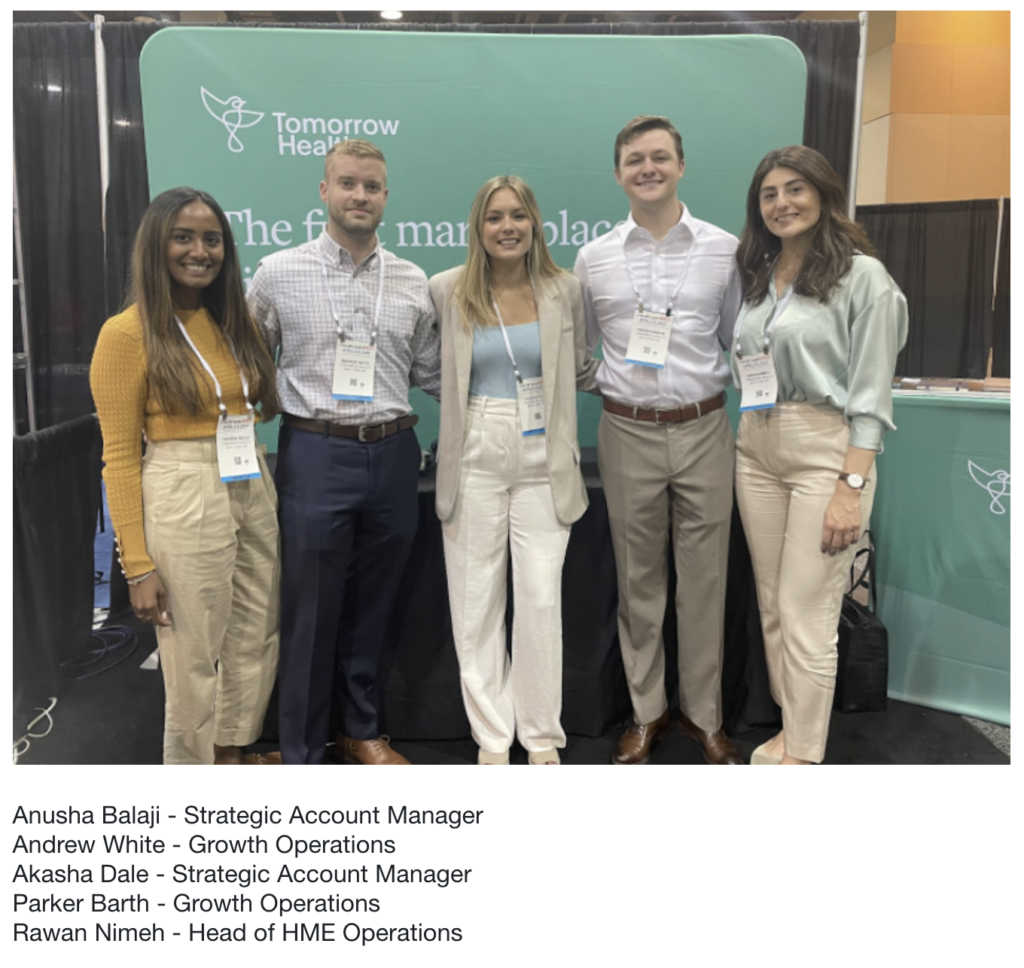 Tomorrow Health had a positive experience at the April 2022 Medtrade West conference in Phoenix. For Rawan Nimeh, head of DME Operations, there were a few key takeaways that emerged from conversations at the show.
1) Data is Key: As the industry moves to a model that measures the health outcomes of patients, HME companies are encouraged to leverage their data and insights to demonstrate their value to patients, providers, and payers. "We believe data is a crucial tool to assess patient outcomes and satisfaction," Nimeh says.
2) Collaboration Is Imperative: Technology has connected the world. "Today, we can pick up groceries without stepping into a store, order a car in 30 seconds, and have food delivered without ever talking on the phone," Nimeh says. "However, we see the healthcare industry operating on phones and faxes to facilitate patient care. At Medtrade, DME suppliers were hungry to utilize a platform that offered seamless collaboration between patients, referring providers, and payors."
3) Value Based Care is on the Horizon: The HME industry is shifting to a value-based care model that rewards suppliers who provide quality care efficiently and effectively. "HME companies have the opportunity to showcase their value and efficiency to payers that will ultimately build a stronger relationship with the contracted payer," Nimeh adds. "Our technology and analytics help suppliers operate their business efficiently, deliver high value care, and leverage data to succeed in the changing reimbursement and policy landscape."
Tomorrow Health connected with HME providers at Medtrade West and they are looking forward to continuing our conversations those conversations when Medtrade East convenes Oct. 24-26, 2022 at the Georgia World Congress Center in Atlanta. Nimeh says he would like to "meet additional thought leaders and industry experts, as we're continually expanding our footprint nationally and look forward to expanding our marketplace."
Origins And Services
Kedar founded Tomorrow Health following his efforts to navigate his mother's care at home for a life-threatening lung condition she had developed while battling cancer. This personal experience, coupled with his prior work leading care management strategies as an executive at Oscar Health, inspired him to drive change in the home health care system.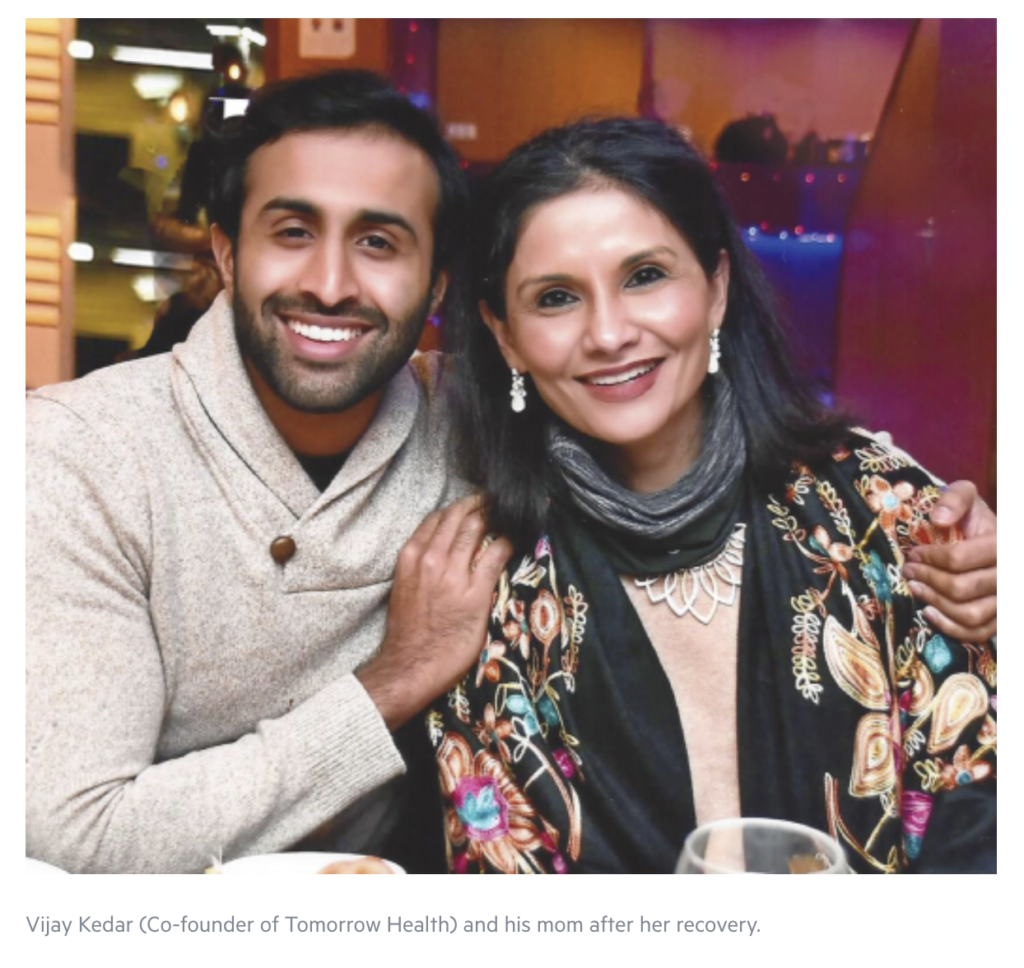 The team combines healthcare innovators with accomplished technology and operations leaders and includes executives with prior experience spanning roles at Amazon, Flatiron Health, Stripe, Oscar, Warby Parker, and Signify Health. The company is headquartered in NYC and has 130 employees, with plans to expand its team with strategic business development, finance, and operations hires.
Tomorrow Health empowers high-value HME providers to excel by enabling efficient, transparent, and metrics-driven care. "The marketplace matches patients with suppliers spanning 40,000+ products and services, and considers quality, specialization, insurance coverage and geography in its technology-driven matching process," Kedar says. "As a fully integrated solution, Tomorrow Health tracks and manages every step of delivering at-home care, from prescription to insurer billing to fulfillment, streamlining processes for every stakeholder."
The process includes:
• 45% less time spent by medical providers ordering and managing home-based care;
• 60% less time spent by suppliers processing orders, reducing their operating costs; and
• 97% of patients start care on time, compared with an industry average of 50%
"The HME industry is shifting to a value based care model that rewards suppliers who provide quality care efficiently and effectively," Kedar contends. "We need more DME and not less to reduce the total cost of care. High quality and high value DME supply reduces the total cost of care by preventing costly readmissions and reduces the length of stay. HME Providers need to be empowered with data on performance to show positive patient outcomes to insurers to maximize reimbursement and expand growth and coverage."
Attendees at the upcoming Medtrade East can visit the Tomorrow Health booth and meet the team, learn more about the company's marketplace, and sign up to hear latest updates. "See how other suppliers reduce operating costs, strengthen relationships with insurers and providers, and spend up to 60% less time processing orders with our seamless technology," Kedar says.