ATLANTA – The nation's premiere HME-focused event concluded last week with attendees enjoying a full raft of educational sessions. Jim Greatorex (pictured), long-time HME owner and current vice president, VGM Live at Home, spoke extensively on the increasingly hot topic of home modification, but the opportunity he touted could be applied to several facets of the entire industry.
"We have a bubble of people who will never be able to afford senior housing," Greatorex said. "There are waiting lists that are a year and a half long. For something like $15K to $30K, modifications can be made to allow seniors to stay in their homes for many years, and that's where they want to be."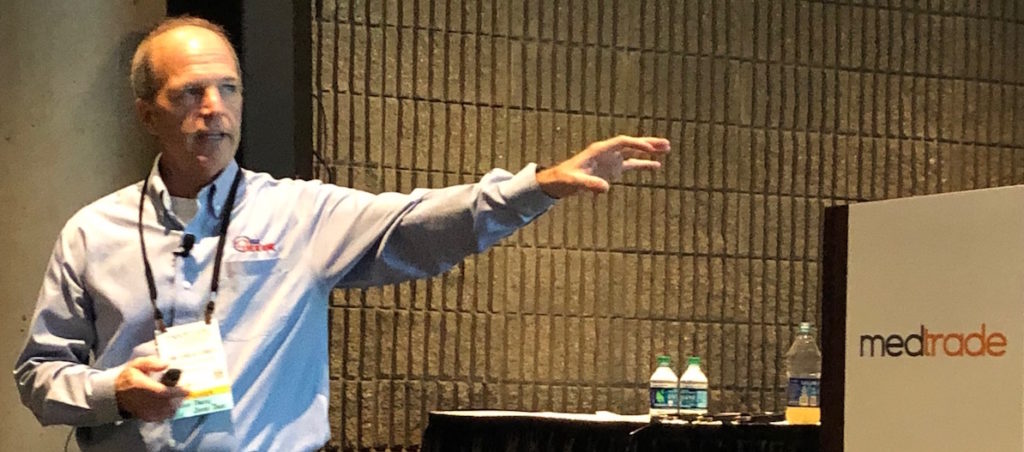 Medtrade attendees know the statistics; by 2035, twice as many people will be over 80 as there are today. "Most providers do stairway lifts when they get into the home modification category and that's a product with a lot of traction right now," Greatorex says. "Fall prevention is where we win the argument."
Like most HME, income within the home mod realm is generated on a reactive basis. After all, who puts a ramp in front of the house if they don't need it? And yet, an argument can be made to prepare homes before seniors get injured. It may be a tougher sell, but Greatorex is convinced that these non-reactive sales can become a reality.
One thing that would help is legislation offering tax credits for people who make safety-conscious modifications before injury. This type of legislation has been introduced, but nothing has yet been passed. Getting therapists involved from other health care disciplines could also foster the pre-injury mindset. Where Medicare is concerned, Greatorex is adamant.
"We never want Medicare involved in home modification," he says. "They are never going to pay for it at the level that's needed. Unfortunately, clinicians don't want to recommend things that could cost a lot of money, even if those things are necessary and could improve lives."
Medtrade Spring 2020 SmartSaver Rates Are in Effect
The absolute BEST rates—SmartSaver Rates—are in effect NOW, but only through Nov. 2. 
For those who like to get the absolute lowest rates, go to:
http://registration.experientevent.com/ShowMTH202?Flow=ATTENDEE&MarketingCode= MTMON
As it has been in the last few years, Medtrade Spring will be held at the Mandalay Bay Convention Center in Las Vegas. SmartSaver Rates are only in effect through Nov 2.