WASHINGTON, DC – I'm always excited to see old friends and make new connections at Medtrade, and the recent successful show in Las Vegas (Medtrade Spring) was no exception. However, what I did hear there from several individuals about the state of their businesses was sobering, especially from rural/non-bid area providers who have been severely impacted by last year's bidding derived reimbursement cuts. And CMS' unreasonably slow plans to provide CURES-mandated relief isn't helping anyone's mood or bottom line.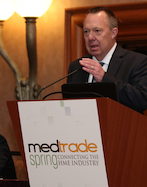 We made strong progress in 2016 convincing more members of Congress that these rates aren't sustainable and securing a measure of relief for rural providers. I believe these efforts have set the stage for even more public policy gains for HME in the next two years, especially with a proven strong advocate for fair treatment of our industry now holding the reins at the Dept. of Health & Human Services.
While we're optimistic that we have a solid and productive working relationship with Secretary Tom Price and new staff and leadership at HHS and CMS, the HME community needs to continue to keep pressing our issues and concerns on Capitol Hill this year. Even if our most likely path to a longer-term fix on rural reimbursement, meaningful improvements for the next round of competitive bidding, and excluding CRT accessories from bidding-derived pricing is likely to run through federal agencies, Congressional interest and support is essential to the process.
With that in mind, please make plans to join us for the AAHomecare Washington Legislative Conference, set for May 24-25. Whether you're an experienced, regular attendee of the Legislative Conference or this is your first time attending, your direct, in-person engagement with legislators and their staff members is the most effective means to advocate for better public policy for HME.
While we'll continue to work on issues related to the bidding program at this year's conference, these Hill meetings are also opportunities to make the case for reforming Medicare audits and streamlining the appeals process, as well as issues related to reimbursement for mobility and oxygen.
Once again, AAHomecare will schedule appointments for attendees. You'll have access to homecare's top experts who will help you understand the details of the key issues during Wednesday's education sessions and provide guidance on making a good impression at your meetings, as well as on establishing working relationships with your members of Congress.
I've been asked by a few people whether attending this year's conference is really necessary, given the better chances for regulatory action rather than new legislation in 2017. Let me be crystal clear in this point: I believe it's as relevant as ever, given the opportunities we have to secure better public policy for HME in 2017 – even if that occurs primarily through regulation, Congressional support will play an important role. In addition, I've learned over the years that building relationships and generating support on Capitol Hill takes a persistent effort; we can't afford to ease up on that process now.
We've made strong progress in 2016, and we're well-positioned for more public policy gains this year – but we can't make it happen without your engagement on Capitol Hill. I look forward to seeing you in DC and continuing our work to make sure that every segment of our industry gets fair and sensible regulation, as well as sustainable reimbursement rates – and a chance to survive and thrive – in the coming years.
Washington Legislative Conference
Registration is now open!
May 24-25, 2017 at the Washington Court Hotel
Conference Rate $49 Members | $99 Nonmembers – Register Online
Early bird room reservations through April 28- Single $329 | Double $349
Tom Ryan is president and CEO of the American Association for Homecare.