HOUSTON – Medtrade has been a part of my life since childhood. I have memories of my parents packing up to go out of town for the annual show in Atlanta, and occasionally Medtrade Spring in Las Vegas. I remember my first Medtrade events in the mid-2000s, when I first entered my family business and the industry. I did not know what I  was getting myself into, did not know what a HCPCS code was, and did not know a single soul—except Shelly Prial.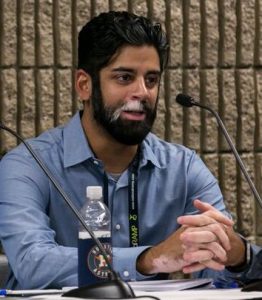 From my first memories about the show through to the present time, Medtrade has changed so much, and that is something I hope will continue. Some people are fond of saying, "It used to be a bigger show!" Great. We don't live in used-to-be. We live in now to influence our tomorrow.
Medtrade is the ideal place to foster the unity we all talk about. Instead of pining away for the old days, we need to face new realities. It may be a paradox, but we need to get out of the office if we want to focus 100% of our attention on the business from a new angle. The view from afar can be a revelation, and Medtrade gives you a guided tour through the industry forest from exhibitors and educational leaders who can show you new things.
Yes, the show used to be bigger, but how many booths of the same E0143 and K0001 with different stickers and paint schemes do you really need to see in a week? I like the idea of finding surprises at the next booth or aisle I visit, not the same product with a different sticker and a price difference of $0.03/unit. I'm here to see what's new, what's different, compare and contrast, and most importantly, to learn.
This year, Medtrade is scheduled for Oct 15-17, 2018, at the Georgia World Congress Center in Atlanta. When I begin planning to attend Medtrade, I don't think about my childhood, or about my first time attending Medtrade as an adult, or even the latest one. I think about the next one. Which friends am I going to see from a previous Medtrade? What news will we share with each other? Who will I get to meet at this Medtrade—new friends, allies, vendors, potential business partners? What new products and brands will I get to see?
What ideas will I gain from panel discussions, from new or old friends, or what "a-ha!" moment will finally hit me to run home with and to succeed or fail at? In the past, when I've occasionally skipped Medtrade, I could only sit at home or in my store and wonder what these answers were. If I attended, I'd learn the answers to these questions and be able to do something about those answers. Which version will you be this October? If you see me, please say hello. I'd love to meet you and learn what your answers will be.
Faisal 'RJ' Poonawala is a second-generation owner/operator at Spring Branch Medical Supply, Houston, Texas.