by Tom Ryan
WASHINGTON, DC – As we noted last week, Reps. Cathy McMorris Rodgers (R-Wash.) and Dave Loebsack (D-Iowa) have introduced H.R. 4229, legislation to roll back part of the 2016 Medicare reimbursement cuts for rural and non-bid area providers and also fix an outdated 2006 budget neutrality offset slashing reimbursements for stationary oxygen products in rural areas.
Thanks to extremely strong outreach efforts from the HME community, the the Protecting HOME Access Act was introduced with 53 original co-sponsors, and as of this morning's update another five have been added to the co-sponsor rolls – see the updated co-sponsor list here.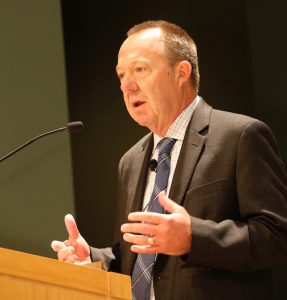 We need to build additional co-sponsor support for this legislation over the next few weeks to send an unmistakable message to Congressional leadership that these fixes are an urgent priority for HME providers and the patients we serve.  If your Representative isn't on the list, you need to contact the individual who handles healthcare in their office, and ask that the legislator sign-on as a cosponsor for H.R. 4229 – some simple talking points are also noted in our alert from Friday.
If your legislators have already signed on, please don't forget to send a sincere note of thanks for their support.
Redoubling our Efforts for Key Constituencies
We need to make an additional effort to recruit Democratic co-sponsors for the bill.  Searching among the 49 Democrats (see full list here) who joined June's sign-on letter on HME policy priorities (which included rural relief and the O2 fix) is a good place to start.  In addition, adding Representatives from either party who serve in the influential Ways & Means and Energy & Commerce Committees will be especially helpful for the bill's prospects.
What About the IFR?
"Are we giving up on the Interim Final Rule addressing rural rates currently at OMB?" – that's a question that several individuals have asked me in recent weeks, and the answer is unequivocally "No."
Quick regulatory action addressing rural reimbursement rates would certainly be welcome, and we continue to engage CMS and OMB in hopes of clearing the proposed IFR.  However, there's no guarantee that OMB will release the IFR, and we also do not know exactly what relief will be entailed in the rule, despite its encouraging title: Durable Medical Equipment Fee Schedule, Adjustments to Resume the Transitional 50/50 Blended Rates to Provide Relief in Non-Competitive Bidding Areas.  Put simply, generating support for a legislative fix doesn't hinder the regulatory process in any way, but it does provide an alternative if the IFR doesn't move forward.
In addition, Congressional interest does play an important role in raising the visibility of our issues at CMS, as evidenced by this response letter from CMS Administrator Verma to June's sign-on letter recently received by Rep. McMorris Rogers.
AAHomecare members and other stakeholders in the HME community have done a great job keeping Congress engaged on our issues this Summer through in-district meetings and enlisting support for sign-on letters.  Now we need to build on these successes by swelling the co-sponsor list for H.R. 4229 – thanks again for stepping up to make this happen!
New CRMC White Paper Explains Major Differences Between Complex Rehab and Standard Mobility Products
WASHINGTON, DC – AAHomecare's Complex Rehab and Mobility Council (CRMC) has developed a new white paper that clearly explains the differences between complex rehab technology (CRT) and standard mobility products.
"Many outside the industry don't understand the fundamental differences between the two categories, so the white paper was created to aid in highlighting the differences," notes CRMC Chair Nancy Froslie, ATP, manager, district store operations for Sanford HealthCare Accessories. "This educational piece can be used as talking points when speaking to congressional members, insurance companies, and beneficiaries in an effort to show the importance of creating a separate benefit for CRT and also to explain why CRT and CRT accessories should be exempt from competitive bidding."
The white paper is the result of months of work by the CRMC to produce a comprehensive but easy-to-understand resource that clearly describes the products themselves as well as the clinical/personnel involvement required in each category.  By highlighting the attributes and functionality of the different types of mobility products, the white paper clarifies the distinctive and valuable roles played by both standard mobility and CRT.  Pictures of the different products and their accessories are also included in the three-page white paper.
CRMC member Jennifer Sylvester, customer service manager for Health Aid of Ohio, Inc., shared her perspectives on the project, as well:
"Educating a policy maker or payer on the differences is no easy task, and our hopes for the white paper was to create a document that someone on every level can understand.  My company has provided mobility equipment to customers as young as two years old, often supplying that same customer a CRT wheelchair to be used years later, on their first day in the workforce.  We are keeping customers and beneficiaries independent for the long term, improving quality of life and providing a cost savings to payers by doing so."
See the white paper here.  Contact Ashley Plauché at ashleyp@aahomecare.org for more information about the white paper and the work of the CRMC Council.