WASHINGTON, DC – CMS has posted the Notice of Preliminary Bid Evaluation (PBE) and sent emails for all bidders noting whether they have met bidding requirements in areas including PTAN status, surety bond, licensure, and accreditation.  As we noted last month, bidders must respond to any deficiencies in the PBE in the Connexion by December 17.
One aspect of these notifications that has raised heart rates for recipients is that the CBIC lists the full range of reasons a bidder might not meet PBE requirements at the beginning of their message but then lists the bidder's actual deficiencies (if any), further down in the message. The list of issues specific to the supplier is on the Table 2: Preliminary Bid Evaluation. Please note that Table 1: Instructions is just a list of the full range of possible reasons, and it is not specific to the supplier receiving the PBE.
Regulatory and Medical Supplies Councils Convene
WASHINGTON, DC – AAHomecare's Regulatory Council (pictured below) met for the final time this year at AAHomecare's HQ in Crystal City last week. The Council discussed challenges with TPE audits, UPICs, and e-prescribing. In addition, Tangita Daramola, the Competitive Acquisition Ombudsman, stopped by the meeting to discuss CMS' preparation for CB Round 2021.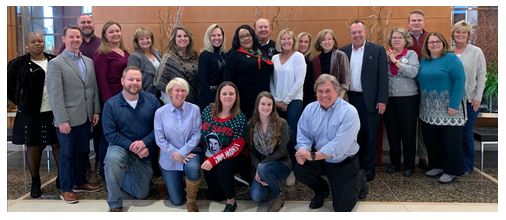 The Medical Supplies Council is slated for a full day meeting on Thursday to set Council goals for 2020.  Other subjects on tap include woundcare educational materials for clinicians and payers, the value of quality incontinence supplies, and addressing payer issues affecting supplies for Medicaid/MCOs.
Supplier Count Steady Since January 2019
WASHINGTON, DC – AAHomecare updated the traditional Medicare DMEPOS supplier tracking sheet with October 2019 numbers. While the overall percent change is down 37% for unique companies and 35% for locations since 2010, the numbers are virtually unchanged from our January 2019 count, with unique companies rising by a little over one-half of one percent (6,143 to 6,180) and total locations increasing by one rooftop, (9,195 to 9,196).
You can find the tracking sheet here.