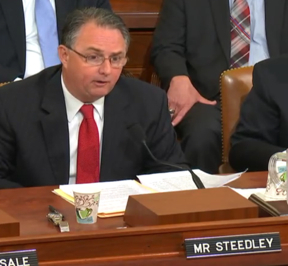 WASHINGTON, DC – The American Association for Homecare wrapped up a packed week with providers from across the country calling on legislators during the annual Washington Legislative Conference. Just prior to the official start of the conference, AAHomecare chairman Robert Steedley, on his last official day as chairman, testified in front of the Subcommittee on Health House Committee on Ways and Means on Improving Competition in Medicare: Removing Moratoria and Expanding Access.
The following is a transcription of Steedley's comments…
May 19, 2015
Testimony of Robert Steedley, president, Barnes Healthcare Services, Valdosta, Ga on behalf of the American Association for Homecare before the Subcommittee on Health House Committee on Ways and Means on Improving Competition in Medicare: Removing Moratoria and Expanding Access
Good morning, my name is Robert Steedley, I am the President of Barnes Healthcare Services. Barnes Healthcare Services is a regional post-acute homecare provider offering home medical equipment, infusion therapy and products, specialty pharmacy services and products, as well as in-home chronic-care telemedicine services. Our headquarters are in Valdosta, Georgia and our service area includes Georgia, Florida, Alabama, and Tennessee. I would like to thank Chairman Brady, Ranking Member McDermott, and members of the House Ways and Means Subcommittee on Health for holding this hearing on improving competition in Medicare.
Barnes Healthcare opened one hundred and six years ago in 1909, and today employs more than 300 people across 14 locations. Barnes' owner and CEO is Charles Barnes, III; a third generation pharmacist. Barnes Healthcare Services has a long tradition of caring for our community, and in that tradition I am coaching Charles Barnes IV, who will eventually inherit the company from his father. I have been at Barnes for a little over nineteen years, a registered nurse for more than twenty years, and I began my career in healthcare as an EMT.
I am pleased to share my experience with the Medicare competitive bidding program and make recommendations on how Congress can create a state-of-the art auction program that achieves market pricing, is sustainable over the long term, will not reduce quality and access to home medical equipment, and can be used as a model for other sectors of healthcare. I would like to thank Congressman Tom Price and Congressman John Larson for their legislation that would establish a true market driven auction process for home medical equipment (HME).
As a proud member of the American Association for Homecare (AAHomecare), I also serve as volunteer Chairman of the Board of Directors. AAHomecare is the national trade association for HME providers, manufacturers and other stakeholders in the homecare community. AAHomecare members serve the medical needs of Americans who require home oxygen therapy, mobility assistive technologies (standard and complex wheelchairs), hospital beds, diabetic testing and medical supplies, inhalation drug therapy, home infusion and other home medical products, services and supplies.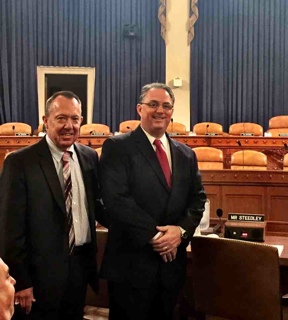 Most of these services and products are already included or will be included in the Medicare competitive bidding program, some without any precedent for doing so. We believe that home medical equipment is a vital component of the continuum of care and is a fundamental component to controlling health care costs by keeping beneficiaries in the most cost-effective and patient preferred setting—their homes—rather than providing acute care in emergency departments and extended care institutional settings. We have grave concerns about the way in which the current bidding program is being implemented and operated.
For its 100 plus years, and through my 19 years with the company, Barnes takes our commitment to our customers seriously. We have customers with serious physical illnesses and disabilities that are enormously dependent on the services we provide. I, Barnes, and AAHomecare members pride ourselves on providing high quality service along with equipment; the current competitive bidding program has jeopardized our ability to provide high level, or even the most basic level of service. Not being able to surpass expectations for quality service runs counter to my nature and the nature of my colleagues.
During the last Round 2 bid, Barnes Healthcare bid on the wheelchair category, and we were awarded the contract. However, we declined that contract because we knew that at the contract price, which was lower than what we had bid, we could not in good faith take care of our customers. We declined the wheelchair contract because we feel strongly that every Medicare beneficiary we serve deserves a specific service and standard of practice. In order to do that for wheelchairs, we must assess the unique needs of the individual. We visit the home, talk with the patient, and do things like measure hallways and turnaround space in the bathroom so that the patient has what they need. Ultimately, we feel it is our duty to ensure that the patient has exactly what they need and can use their chair freely in their home.
Contrary to the official program report, patients are receiving less service and lower quality care because of CMS' competitive bidding program. At Barnes, and many other companies, beneficiaries call-in consistently to report problems with the companies that won the bids. Conversely, we hear from many companies that were awarded bids that simply could not keep up with the demand created by the holes left in the market by competitive bidding. In sum, we hear from both sides that there are holes in the system that results in patients receiving care that is not up to the quality they demand. With each round of bidding it has been a race to the bottom.
My goal before this Subcommittee is not to argue against competition. Both the Association and I support healthy and fair competition. HME providers compete every day to provide quality health care items and services to Medicare beneficiaries and embrace the opportunity to continue to compete to better serve our patients. My testimony will highlight the problems of the current competitive bidding program and recommend a sound, budget neutral alternative—the Market Pricing Program (MPP).
The competitive bidding program distorts the marketplace by not using the pricing methodology implemented in the original demonstration projects in Florida and Texas, which goes against the original intent of Congress when it voted to implement the program in 2003. It radically reduces the number of providers (competitors), thereby creating oligopolies in the marketplace at a time when our senior population is growing rapidly. Given the gaming and irresponsible speculation by unscrupulous players, providers who truly want to serve their patient populations must reduce supportive services in order to meet drastically lower reimbursement rates.
My testimony is not the first reporting of these deficiencies–speculators and gaming—to Congress. In fact, I have met with my own Congressional delegation to report on my experiences with the program, both at Barnes and in my capacity with AAHomecare. Meanwhile, costs are shifted to Part A due to longer hospital stays and increased readmissions and beneficiaries are forced to pay cash or go without needed medical equipment.
AAHomecare does not stand alone in raising concerns with the current program. In fact, well over 200 economists, computer scientists, statisticians and auction experts from around the world have advised CMS that significant modifications need to be made to the bidding program to make it sustainable over time. Additionally, more than 30 consumer and beneficiary groups believe that the bidding program is flawed and needs to be changed.
AAHomecare worked with Congressman Price, Congressman Larson, and auction experts on the creation of an alternative to the current model that would give CMS a sustainable market-based pricing program for home medical equipment. This alternative preserves the concept of competition and ensures future beneficiary access.
AAHomecare was very pleased when Congressman Price and Congressman Larson introduced the Medicare DMEPOS Market Pricing Program Act. This legislation received strong bipartisan support. In the 113th Congress, the legislation had 180 cosponsors. We believe that this legislation will achieve true market prices, while not impeding patient access to the equipment they need.
AAHomecare seeks to be a partner with Congress and CMS to develop a market-based pricing program that is sustainable over the long term and which may serve as a model for other health care sectors. As Congress looks for ways to control health care spending through new and innovative delivery and payment models, I believe we have an obligation to listen to the auction experts who understand auctions best and thereby "get it right."
If we do not address the flaws in this program now, the hidden cost to beneficiaries will be exorbitant and translate into extended hospital stays, an inability to obtain services when needed in the home and unnecessary trips to the emergency department. It is time to look at a different approach to having competition in Medicare.
Cost Effectiveness of Homecare
HME offers an efficient and cost-effective way to allow patients to receive care they need at home. The need for HME and HME providers will continue to grow to serve the ever-increasing number of older Americans. Homecare represents a small but cost-effective portion of the more than $2.3 trillion national health expenditures (NHE) in the United States, and approximately 15.5 million Medicare beneficiaries require some type of home medical equipment annually, from bedside commodes for people who have hip replacements to high-tech ventilators for quadriplegics.
Yet, not all products are equal: some require licensed or credentialed clinicians to be on staff or cost $15,000 just to procure.
While past reports from Congress and the Office of Inspector General (OIG) shed light on products they believe to be overpaid, many others are unprofitable for providers to provide even before the bidding program. The high cost of fuel, labor, rent and utilities, and regulatory compliance associated with billing and collections, HIPAA privacy, identity theft, IT security, Sarbanes-Oxley, waste disposal, beneficiary and employee safety, OSHA, DOT and FDA regulations continues to escalate year after year. Anyone who has ever required HME or had a relative who needed it can attest that our service includes much more than just the equipment.
With greater access to quality equipment and services at home, beneficiaries and Medicare will spend less on hospital stays, emergency room visits, and nursing home admissions. Home medical equipment is an important part of the solution to the nation's healthcare funding crisis. The facts bear this statement out as private health care plans have contracted for our services for decades and reaped the cost-savings along the way. Even the current Administration is trying to develop programs to manage chronically ill Medicare patients in the home through new demonstration projects and the Innovation Center.
One key fact that is sometimes lost in this debate is that HME represents about one percent of annual Medicare spending. So while this program appears to reduce HME expenditures when simply comparing past and current Medicare Part B expenditures, CMS has not examined the cost shifting that occurs as a result of the program as more beneficiaries will be forced to receive care in hospitals, nursing homes, and emergency treatments. The alternative auction program ensures that competitive market pricing is still derived while promoting increased access, transparency, fairness and confidence in the program.
Flaws in the Competitive Bidding Program
As I stated, 244 experts from across the world have weighed in identifying problems with CMS's bid program. AAHomecare shares these concerns, which include:
1) Providers' Bids Were Not Binding Commitments
In the first 3 rounds of Medicare's bidding program, bidders were not bound by the prices they bid. Any HME provider could decline to accept an offered contract from CMS after the prices, called Single Payment Amounts, are announced by the government. Because of CMS' decision about pricing, 50 percent of all bidders' prices will be lower than their best submitted bid. Medicare's rule undermines the credibility and integrity of bids, and, without binding commitments, the program encourages low‐ball bids from providers.
To add insult to injury, if HME providers turn down contracts, their bid prices are still included in Medicare's calculation of bid amounts, and other bidders invited to participate are forced to choose between accepting the low price which they did not influence, or losing their business altogether by not participating. CMS states that 92 percent of contract awardees accepted their contract offer.
While CMS claims this is a very high acceptance rate, it still means that 8 percent of contract awardees did not accept a contract, which skewed the single payment amount. Fortunately, Congress recently passed legislation to address this flaw. AAHomecare was very pleased that the Ways and Means Committee marked up and reported binding bid legislation (H.R. 284) introduced by Congressmen Tiberi and Larson. Requiring binding bids is a key provision in Congressman Price and Congressman Larson's market pricing program legislation. This legislation passed on the House Floor by voice vote and was ultimately included in the SGR bill, which passed into law in April, 2015. AAHomecare would like to thank the Ways and Means Committee for supporting and passing this important legislation.
2) The Pricing Calculation Is Flawed
Rather than paying contracted providers the clearing price (the last‐accepted bid) which is the standard in bidding and reverse auction programs, Medicare's bidding program establishes prices at the unweighted median among the winning bids, resulting in 50 percent of the winning bidders being offered a contract price less than their bids. We know of no other auction or bidding program that has such a perverse rule where bidders are offered contracts at less than the amount they submitted during the bidding process.
3) Composite Bids Are Distorted
A composite bid is an average of a bidder's bids across many products weighted by the government's estimated demand. The composite bid methodology used in the program provides strong incentives to distort bids away from market prices. Only heavily weighted (based on utilization) products within a category will impact the composite bid. Providers can "game" the system by bidding very little off the current Medicare allowable for certain products with little weight, while bidding more aggressively on other items with a higher weight. This creates a program where individual products are not closely related to costs and providers participating in the program can "game" the system in order to manipulate the single payment amount. In addition, Medicare set a maximum for all items bid—again distorting the bidding process by not permitting bidders to fairly bid based on their true, fully-loaded costs.
4) Lack of Transparency
CMS has shared virtually no data with the public on the selection of contracted providers, calculation of historical demand (capacity), calculation of the single payment amount for products and services covered by bidding and outcomes-related findings to evaluate the program. Instead, CMS has made generalized statements that point to the so-called success of the program.
Moreover, the savings numbers recently quoted by CMS appear to "double-count" savings resulting from anti-fraud and abuse initiatives that were implemented concomitantly with this program. For example, new provider screening tools, real-time claims monitoring and an avalanche of incremental pre- and post-payment audit activity have been implemented since the program began in 2011. It is surprising and shocking to us that Medicare has elected to audit contract winners in Round One markets so heavily when, in fact, CMS has stated that the program should, on a stand-alone basis, root out fraud and abuse. If this is the case, why deluge contract winners with thousands of audits when those precious resources might be applied to other high-risk healthcare segments and markets?
Under the current program, pricing can be easily manipulated through subjective adjustments to the capacity that a provider lists on its bid forms. During the announcement of the Round One Rebid pricing a CMS official stated the following about contract winners' financial stability.
During a press call on July 2, 2010, the CMS official stated –
"We do screen bids that are on the low side (to) determine whether or not the provider can actually provide the service or the item at that price," the CMS official said. "That includes looking at invoices…and the provider's financials, including their liquidity and credit, and their ability to expand into a market area. Where we do not feel comfortable, we may not count their capacity at all, or to the degree that they wish us to, in determining the number of winning providers. In fact, we did that 30% of the time. So we have been very careful in selecting providers and in scrutinizing these bids, in terms of prices and sustainability. I think we're comfortable, when we look at the prices that we see."
This fact calls into question the validity of the payment rates established by the program and the supposed objective process in the program and published in its original Final Rule. The above public comment confirms that CMS may adjust a provider's stated capacity if it questions the provider's bid because it was considered low. By adjusting capacity, CMS manipulated the single payment amount and subjectively decided how many winners were needed. This is completely counter to the more quantifiable rules CMS published initially for the program. The bidding program then just becomes another way to apply administered pricing rather than letting the market set reimbursement rates. The subjectivity is playing with the very viability of numerous family-owned businesses across the country.
5) The Bidding Program Is Designed to Be "Gamed"
Due to the methodology concerning how payment rates are calculated, the impact of non-binding bids and the ability to manipulate the capacity that a provider self reports, the program can be "gamed." CMS even appears to acknowledge this fact in its first annual report on the bidding program when they state that, "we are strengthening our bona fide bid review process…to check that very low bids are sustainable by checking more of those bids." Questioning the sustainability of very low bids implicitly brings into question a program where the SPA offered by CMS is, by definition, lower than 50 percent of the accepted bids presented. If the bid amounts represent the lowest pricing while maintaining quality service, how can a program that reduces the pricing additionally be sustainable over the long term?
Under a "win at any cost" program, providers would do well to submit an unreasonably low bid—"a suicide bid"— in order to win a contract. These providers then would be assured of a contract but they must hope that other providers bid more rationally so that the SPA would be higher than their submitted bid. From here, providers facing low reimbursement rates could agree to furnish competitively bid items but subsidize their revenue from non-Medicare or non-competitive bidding patients. CMS has never shared with the public how many contract providers have sold their businesses, gone out of business or simply did not bill Medicare for competitively bid items.
6) CMS Monitoring Is Weak and Non-Transparent
When the bidding program was first implemented, CMS required HME providers to provide the exact brand and model of equipment they were providing to Medicare beneficiaries. CMS also stated that it would begin to measure the patient satisfaction of beneficiaries who received HME services. This equipment report was intended to allow the Agency to determine if contracted providers began to substitute lower quality equipment under the program than was previously furnished to beneficiaries. However, CMS modified this requirement after one quarter into the pilot so there is no way to monitor the quality of equipment Medicare beneficiaries are receiving. And to date, we have seen no beneficiary satisfaction data.
7) No Due Process
Currently, there are no due process protections or appeals processes in place for providers to appeal CMS' methodology for establishing payment rates, making contract awards, designating bidding areas, deciding on the phased‐in implementation approach, selecting items and services or the bidding structure and number of contractors. Numerous companies were initially qualified due to a technical error on CMS' fault, and yet it took over 120 days to resolve the issue.
Flawed Competitive Bidding Rates Will Impact Non-Competitive Bidding Areas
The issues with the competitive bidding program are not just limited to Round 1 and 2 areas; they will impact suppliers and beneficiaries in non-competitive bidding areas as well. On October 31st, 2014, the Centers for Medicare & Medicaid Services (CMS) released the final rule on "Medicare Program: End-Stage Renal Disease Prospective Payment System, Quality Incentive Program, and Durable Medical Equipment, Prosthetics, Orthotics, and Supplies," which establishes the methodology for making national price adjustments to payments for Durable Medical Equipment, Prosthetics, Orthotics, and Supplies (DMEPOS) paid under fee schedules based upon information gathered from the DMEPOS competitive bidding programs (CBPs) and phase in special payment rules in a limited number of competitive bidding areas (CBAs) under the CBP for certain, specified DME and enteral nutrition.
For qualified DME items, the final rule phases in, over 6 months, a new reimbursement rate for non-competitive bidding areas. On January 1, 2016, the reimbursement rate for these claims (with dates of service from January 1, 2016 through June 30, 2016) will be based on 50 percent of the un-adjusted fee schedule amount and 50 percent of the adjusted fee schedule amount which will be based on the regional competitive bidding rates. Starting on July 1, 2016, reimbursement rates will be 100% of the adjusted fee schedule amount which will be based on regional competitive bidding rates.
The artificially low competitive bid rates are only part of the problem with this final rule. The application of payment rates to non-competitive bid areas is flawed and will disrupt Medicare beneficiaries' access to the DME items they need. In competitive bid areas, suppliers accept contracts for DME items at a lower rate because there will be a reduced number of suppliers that can operate in that bid area. Suppliers try to make up for the drastic payment cuts through increased volume of beneficiaries served. As a result of CMS' final rule, suppliers in non-competitive bid areas will receive the same drastic payment cuts set in competitive bid areas, without exclusive contracts or increases in volume of business. The industry also has data that indicates providing DME items in rural areas have a higher cost than in urban areas.
Fixing the Bidding Program
Congress' objective in requiring Medicare to use a competitive bidding model was to establish market prices for HME and ensure that beneficiaries have access to quality items and service. This objective cannot be met because the program does not ensure that bidders are qualified or capable to provide the products in the bid markets, and, due to the arbitrary nature of the capacity analysis, has produced bid rates that are financially unsustainable.
Unfortunately, the recommendations of auction experts, beneficiary and consumer groups, the Medicare Program Advisory and Oversight Committee (PAOC)—the panel created by Congress to advise CMS on the design and implementation of the program—and AAHomecare and other interested groups have not been acted upon beyond Congressional action to require binding bids. We now look to Congress to fix systemic problems so that Congressional intent is followed.
To fix the flaws in the CMS designed program, an alternative market-based pricing program for HME has been developed, which has been specifically tailored to the HME marketplace. The proposal, known as the Market Pricing Program (MPP), would require changes to ensure a financially sustainable program. The MPP uses an electronic state-of-the-art reverse auction to establish market-based reimbursement rates for HME around the country. These changes are consistent with Congress' original intent: to create a program that is based on competition while maintaining beneficiary access to quality items and services. The MPP would apply to the same product categories as the current program and will achieve the same cost savings for HME item nationwide. It is intended to be budget-neutral.
The following are key features of the MPP
• Timeline: The design of MPP would allow CMS to implement it quickly. The program would be developed through a collaborative, transparent process, involving all stakeholders (HME providers, CMS, beneficiaries), with the guidance of an auction expert and the oversight of the market monitor, to establish market rules, to set market-based and sustainable reimbursement rates, and protect beneficiary access to, and choice, of quality HME products, services, and supplies. The use of an auction expert to help the Secretary of the Department of Health and Human Services design the auction program and a market monitor to help the Secretary ensure that the program is operating effectively and efficiently are common among public auctions.
• Auction Operation
The MPP would auction a representative 20 percent of the market (counties eligible for bidding) with two-year contracts. The remaining market areas eligible for the program would be served by any eligible providers furnishing HME at the reimbursement rates determined by the auction. The reimbursement rate established through the auction would apply to similar geographic areas (i.e., urban to urban, suburban to suburban) and be adjusted for regional characteristics.
Each year thereafter, the MPP would auction a representative 10 percent of the market (counties eligible for bidding) with two-year contracts starting on July 1 of the year of auction.
An additional 10 percent of eligible market areas would be subject to auction each subsequent year until market pricing programs are occurring in 100 percent of eligible market areas throughout the United States. The process would continue and the Secretary, in consultation with the auction expert, would continue to select additional eligible market areas on an ongoing and rotating basis. This design would create the most accurate competitive market payment methodology in the Medicare program.
• Market Areas
Market Areas established by the Secretary would be composed of a county, an aggregation of counties or parts of counties that together form an economically interdependent area. Large counties would be permitted to be subdivided. The current program's geographic areas are too large to be effective because not all HME providers are able to service an entire area. Smaller contract winners need to subcontract to serve large MSAs and lose quality control since another provider is furnishing the prescribed equipment and related services.
• Rural Exemption
The same areas that are exempted from auctions under the competitive bidding program would be exempted by the MPP.
• Transparent Process Required
In establishing the MPP, the Secretary would utilize an open and transparent process that includes all relevant stakeholders in the market. Provider and beneficiary education would be required in consultation with the auction expert and market monitor.
• Market Design
The Secretary would conduct an auction and ensure that the market has these basic features:
• In each Market Area, two product categories would be auctioned, producing the clearing price and limiting supplying rights to bid winners. The "lead product" would be submitted for bid in the auction.
• Bidders must provide a cash deposit or irrevocable letter of credit (LOC) (from a qualified institution) of 10 percent of expected annual volume as a bid guarantee and winning bidders must provide same as a performance guarantee. Winning bidders must accept a contract (binding bid).
• For each product category, a "lead product" is determined by the auction expert on the basis of cost and utilization. Only the "lead product" is bid. The "lead product" sets the pricing for the category and the pricing of all other products in the product category is set relative to the "lead product". The "lead product" is the baseline pricing for the category, and establishes the clearing price. The auction expert will aggregate the various price weighting percentages reported for each product to adopt a single capacity-weighted average. This relative price index will be publicly disclosed in advance of the auction so that each bidder will know how each product price will be determined in the auction.
• In the Market Area subject to the auction, the reimbursement rates of the other "non-lead products" subject to the MPP would be established by reference to reimbursement rates established in economically similar areas in which that product category was subject to auction and all qualified providers able to accept that price would have the right to provide products and related services.
• The MPP would use the market "clearing price" (the first excluded bid in each product area) for each product area.
• HME providers whose bid is below the "clearing price" would be offered a contract for a two-year period. HME providers whose bids are below the clearing price must accept the contract.
How MPP Auctions Actually Work
I am not an economist or auction expert, but as a supplier I can recognize the simplicity of the MPP auction process. My understanding is that the MPP is an electronic auction system, which takes place over a few days. During the auction, suppliers know where their bids stand and they can make adjustments to stay competitive. At the end of the auction, suppliers know if they have won or lost contracts. This is vastly different than the current competitive system, in which suppliers are notified a year later after the bid window closes about the results of the auction. When suppliers are finally offered contracts under competitive bidding, the reimbursement rate may be significantly lower, which happened to my company. Suppliers are usually only given 10 days to decide to accept or decline the contract.
Unlike the CMS program, MPP was developed with the input of auction experts. Consistent with many other successful auction systems, MPP is a reverse clock auction with some special features for the HME application. According to Dr. Peter Craton's working paper on MPP, all HME items that are subject to auction are offered simultaneously. The MPP auction proceeds in rounds and each round is associated with a price range for each lead product in each region.
The lead product is one of the major products within the product category. Prices for all non-lead products are set from a price index for the product category. By stating a lowest price the bidder is willing to supply a product, the bidder indicates whether it is willing to stay in the auction in the current round or drop out. Once the bidder drops out for a product-region, the bidder may not bid for that product-region again. Prices start high and are reduced each round at a rate depending on excess supply for each product–region. This process continues until supply for a region has dropped below or equal to the demand. At this point, the price for the HME item is set, also known as the clearing price. Immediately following the auction, winning bidders are announced.
Days after the auction, contracts are offered to suppliers. Within 30-60 days, the beneficiaries are educated about the winning suppliers and contracts are implemented.
As committee members can see, MPP is a much better auction system than CMS' current competitive bidding program. MPP uses auction principles supported by economists and auction experts; it is more transparent and efficient than the current program; and will achieve the goal of Congress to have true market prices for home medical equipment in Medicare.
Conclusion
AAHomecare strongly supports the MPP legislation introduced Congressmen Price and Larson. We urge this Subcommittee and Congress to support this common sense legislation. To protect Medicare beneficiaries, Congress must change the current, flawed bidding system to a sustainable market pricing program at the earliest legislative opportunity.