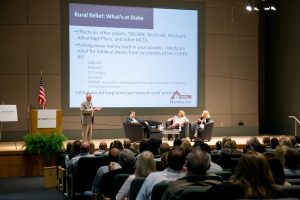 WASHINGTON, DC – The Interim Final Rule (IFR) titled "Durable Medical Equipment Fee Schedule, Adjustments to Resume the Transitional 50/50 Blended Rates to Provide Relief in Non-Competitive Bidding Areas" remains at the Office of Management and Budget (OMB).  While we are not privy to the actual provisions in the IFR, the title gives a good indication as to its contents.
We have heard that several members of Congress have reached out to OMB to ask them to approve the IFR, which has been at the Agency since late August.  These contacts will let OMB know that this issue is a priority on Capitol Hill and may help push the process forward.  If your member is already a co-sponsor of H.R. 4229, please consider asking them to reach out to OMB to ask that they release the IFR.
CMS Solicits Input on Easing Documentation Requirements
WASHINGTON, DC – As part of Medicare's ongoing efforts to alleviate burdensome documentation requirements, CMS announced the Documentation Requirement Simplification Project. For this project, CMS is requesting comments from stakeholders on how to eliminate or make the documentation requirements easier in the Medicare program. AAHomecare encourages the industry to participate in this opportunity to provide feedback to CMS on this important topic. You can submit your thoughts to DRSCCB@cms.hhs.gov.
Hi Tech Work Group Helping Guide Policy for "Connected" HME
WASHINGTON, DC – AAHomecare's Hi Tech Work Group focuses on how to leverage technology for better patient outcomes, foster the adoption of new technologies, and create a more sustainable reimbursement environment for suppliers.  Established in December 2016, this group is currently working on short- and long-term goals to position the HME community to work with payors and clinicians to advance the use of high tech HME products.
"Technology-enabled connected devices are already integrated into daily care in many areas, including cardiac, diabetes and respiratory care," notes Larissa D' Andrea, senior director, government affairs with ResMed, who leads the group.  "In addition to real-time or minimally delayed clinical status reporting to the physician, patient-focused applications empower ownership of health-related conditions and treatments and help patients understand how they can positively impact their own health outcomes. Payment models should explore incentives to encourage greater collaboration between healthcare providers, patients and caregivers to encourage the most beneficial utilization of services and to maximize health outcomes."
The Hi Tech Work Group is comprised of a cross-section of suppliers and manufacturers and is housed in the HME/RT Council.  It is open to any AAHomecare member.  To learn more about this group and to get involved, please contact Ashley Plauché, AAHomecare's manager of government affairs, at ashleyp@aahomecare.org.