ROCHESTER, N.Y. – Thankfully the country is beginning to work its way out of the hold of the COVID-19 pandemic. For the nation's healthcare system, a significant step in this process will be the ending of the current Public Health Emergency (PHE).
The PHE declaration is in place until mid-April and can be extended in up to 90-day increments by Health and Human Services Secretary Becerra. The expiration, which is expected to occur this year, will bring with it major national and state changes. These changes include the ending of a variety of "temporary" provisions that were put in place to deal with the pandemic challenges.
One of the provisions that will expire, unless Congress takes action, is the expansion of certain covered telehealth services that have significantly benefited people with disabilities who require Complex Rehab Technology (CRT). The unique telehealth flexibilities that are temporarily in place have allowed timely access for individuals with long-term disabilities such as ALS, spinal cord injury, cerebral palsy, multiple sclerosis, muscular dystrophy, and traumatic brain injury who depend on this specialized equipment.
The temporary expanded coverage gives Occupational and Physical Therapists the ability to provide CRT related telehealth services during the PHE. It allows these licensed professionals to participate remotely for CRT evaluations, fittings, and training when an in-person visit is not possible due to medical risks, transportation barriers, lack of experienced clinicians in the community, and other factors.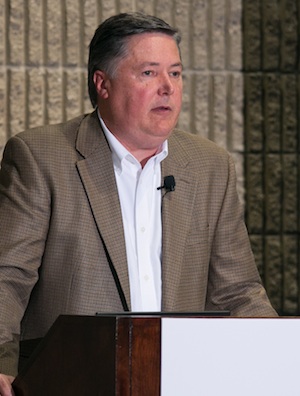 But the availability of these remote services will end when the PHE expires, unless Congress takes action. Congress is currently reviewing various telehealth bills and Members need to ensure that whatever legislative language is passed, that it retains these CRT telehealth options. Rather than allowing these proven flexibilities to expire, Congress must make these CRT telehealth policies permanent.
Congress needs to hear from its constituents. Please help get that message to your Members by taking 5 minutes and going to www.protectmymobility.org and sending the prepared email. Thanks for your assistance in protecting access to CRT for people with disabilities!

Donald E. Clayback is executive director of the National Coalition for Assistive & Rehab Technology, Rochester, N.Y.