WASHINGTON, DC – Last week, the Senate passed H.R. 34, the 21st Century Cures Act (CURES) by a 94-5 margin. The bill's HME-related provisions remain unchanged from a week and a half ago. The bill's positive measures, its effect on future Medicaid reimbursement rates, and the road ahead are discussed in the final entry of Medtrade Monday.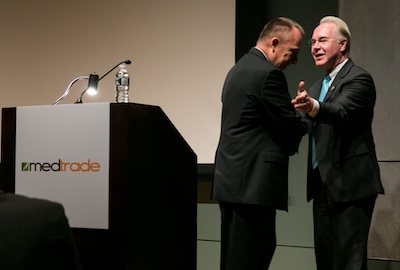 "This is an important win for HME providers and patients in rural communities and other areas not covered by the bidding program," said Tom Ryan, president & CEO of AAHomecare. "We look forward to building on today's action to get longer-term relief for our industry in the 115th Congress and by working with the incoming Administration on a more sustainable reimbursement environment for HME.
"I want to especially thank our most steadfast champions on Capitol Hill, Congressmen Tom Price (R-Ga.) [pictured left with Tom Ryan], Dave Loebsack (D-Iowa) and Peter Welch (D-Vt.), as well as and Senators John Thune (R-S.D.) and Heidi Heitkamp (D-N.D.), for their leadership in making sure the HME infrastructure can continue to serve the needs of the millions of Americans who rely on our products and services," added Ryan.
President Obama has already expressed his intention to sign the bill into law.
SMRC Contractors to Allow Extensions on Responses to Results Letters
WASHINGTON, DC – AAHomecare was informed by CMS that SMRC contractors would be allowing extensions on responses to the results letters that have been sent out. This comes after AAHomecare notified CMS that suppliers are being inundated with the workload of responding to the results letters and the need for more time to review and gather documents.
For those needing an extension, send a written request to the SMRC for a discussion and education session within 30 days of the date of the final results letter. In the extension request, note that you need additional time to gather any additional documentation and request a 14 day extension to submit the supporting documents. The SMRC will respond to the request and will provide a date/time that would be convenient to the supplier.