WASHINGTON, DC – On August 3, Congress will start its month-long summer recess. During the recess, legislators will travel back to their districts. This is a perfect opportunity for HME providers to explain the devastating impact of using bid derived rates outside of bid areas face-to-face to their Representative and Senators. It is time for members of Congress to hear first-hand how these cuts will kill small business in rural areas.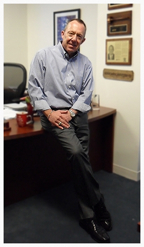 Meet with your Representative and Senators in August. Take them on a tour of your facility, go to a district meeting or town hall meeting, or attend a rally. Introduce yourself, shake their hand, look them in the eye, and tell your story.
AAHomecare is working on an August recess campaign that will give providers and patients new tools to help when meeting with members of Congress while they are back home. Look for the tools this week. In the meantime, here are some ways that you can help right now:
1) Download the AAHomecare issue brief for the expansion of competitive bidding rates to non-bid areas so that you can learn the main talking points.
2) Call the Capitol Hill switchboard at (202) 224-3121 and ask to speak to your member's Health Legislative Assistant. Ask them to meet with them while they are in town in August or leave a message if need be.
3) Look up your member's office line using the congressional directory in AAHomecare's Action Center. Call that number directly and try to reach the Health Legislative Assistant again.
4) Use the AAHomecare Action Center to submit letters asking your members to stop the rural rate cuts.
5) Spread the word! Forward this article to a colleague and ask for their support!
6) If you are not already signed up for action alerts on the non-bid area cuts, please sign up online at http://aahomecare.us1.list-manage.com/subscribe?u=3c0f3755f13930464597f245a&id=8e3c9e78fa
We all have personal stories of friends and colleagues who have lost so much. No one is immune—even the best of the best can fall victim to this manipulative, ill-conceived program that's destined to bring everyone down with it.
Our businesses and livelihood are on the line. No one has the luxury of sitting on the sidelines and watching the world crumble around them, thinking that they are protected. If you are reading this article, please know that you are an important part of the HME community—a community that needs your support and voice to survive.
Tom Ryan is president and CEO of the American Association for Homecare, Washington, DC.