WASHINGTON, DC – Make plans now to attend the premier HME conference and expo in the U.S. Register now for Medtrade in Atlanta, Ga. Oct. 31-Nov. 3, 2016. Thousands of providers and manufacturers come to Medtrade for unmatched networking and educational opportunities, and to see the latest innovations in mobility, respiratory, sleep, rehab, and aids to daily living on the show floor.
As a member of AAHomecare, first time attendees can receive a $20 discount from the registration price. All other AAHomecare members are eligible for a free expo pass.
Don't miss AAHomecare's two signature events at Medtrade noted below.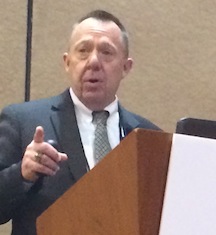 Stand Up for Homecare: Tuesday, November 1, 5:30-7:00 PM, Metro Atlanta Chamber of Commerce
When you support Stand Up for Homecare, you are strengthening AAHomecare's efforts to promote a positive image of the home medical equipment industry, raise public awareness of homecare's many benefits, and support consumer advocacy groups like ITEM Coalition, United Spinal Association and Paralyzed Veterans of America – organizations that serve many of our patients, and are also strong allies on legislative and regulatory priorities. The campaign has also provided funding for direct outreach to consumers on our issues, and has helped expand our network of grassroots advocates by thousands of new supporters.
The Stand Up for Homecare reception brings together some of the most influential leaders in the HME community for an evening of networking, fellowship and celebration. We will also be honoring individuals who have gone above and beyond the call of duty in their service to HME as 2016 Homecare Champions at the reception. Find more information and register here.
Washington Update: Tuesday, November 1, 8:00-9:45 AM, C101 Auditorium
AAHomecare is on the front lines in Washington, DC fighting to enact better public policy for our industry. This your chance to get the insider's perspective on what is happening now and what is up next on Capitol Hill and at CMS, as well as how you can support HME legislative priorities on issues including competitive bidding, ventilator policy, power mobility, payer relations, and reforming Medicare audits. AAHomecare speakers to include: Tom Ryan, president, Jay Witter, senior vice president of public policy, and Kim Brummett, vice president of regulatory affairs.
In addition, Rep Tom Price (R-Ga.) has been invited to speak. We will also recognize another special show guest, the US Power Soccer Team, who will be showcasing their skills on the show floor; their appearance at Medtrade is sponsored by MK Battery. Thanks to HME Business for their sponsorship of the Washington Update.