ATLANTA – Medtrade East ended its extended run in Atlanta with strong attendance and an expanded show floor, leaving participants with a renewed sense of optimism, as well as new insights and knowledge to face the challenges ahead.
"It's great to see Medtrade continuing to innovate and improve to meet the needs of the HME community," said Tom Ryan, AAHomecare president & CEO. "Our industry needs to work collaboratively to take advantage of HME's tremendous potential to deliver better healthcare outcomes and more independence to millions of Americans – and a strong Medtrade show helps support that vision."
Tuesday morning's AAHomecare Update, moderated by David Kopf, editor of HME Business, was bolstered by strong audience participation, as Association policy staffers put a spotlight on major legislative, regulatory, and payer relations developments impacting our industry.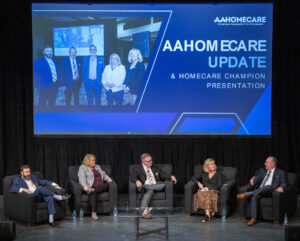 AAHomecare staff also took part in multiple educational sessions that included a packed room for Laura Williard and David Chandler's Monday session on Educating Payers on the Value of HME.
"It's a little bittersweet to say goodbye to Atlanta after so many great shows and great memories here," added Ryan.  "But it's heartening to end our time there with attendance and enthusiasm for Medtrade trending up.  I was especially happy to see a 27% increase in exhibitor space sold and 20% more attendees compared to the 2021 show.  I'm excited to see how we can work with the terrific Emerald X team to make the annual show in Dallas even more vital for the HME community."
Mark your calendars for Medtrade's debut in Dallas – March 28-30, 2023.
Walsh Honored As Homecare Champion At Medtrade East
VGM Chairman Jim Walsh was announced at the 2022 Van Miller Homecare Champion at Tuesday's AAHomecare Update.  As one of the original founders of VGM, Walsh recognized the need to support small businesses, providers, and vendors in the HME industry.  He was instrumental in bringing HME vendors to the table to work with smaller providers, allowing them access to larger contracts and more favorable pricing.  (Walsh, left; pictured with Van Miller)
Walsh spent most of his VGM career as General Counsel, where his background allowed him to spot and get ahead on regulatory and legislative issues that would impact the full scope of the HME sector.  Walsh was also instrumental in helping ensure that VGM and AAHomecare were aligned and working in concert on major policy priorities.
"Jim was a truly effective leader, and he excelled at bringing people together when our industry needed to lean on each other," remarked AAHomecare's Tom Ryan.  "He served as a mentor, sounding board and advisor to so many HME professionals through his career, including myself."
Because Walsh was unable to attend, Jeremy Stolz, president of VGM & Associates (at right w/ Ryan), accepted the award on his behalf.
Congratulations to Van Miller Homecare Champion Jim Walsh, and the five other distinguished nominees for this year's award:
•    Greg Duckworth, Senior Vice President of Med-South Inc.
•    John Gallagher, Vice President, VGM Group
•    Zach Gantt, RRT, FAARC, President & CEO of Encore Healthcare
•    Gene Sego, President of Sego's Home Medical Equipment
•    Kam Yuricich, Executive Director of OAMES
Stand Up for Homecare Raises $40k
Stand Up for Homecare fundraiser brought together more than 200 HME leaders for networking, fellowship, and a perfect view of the Atlanta skyline. The event raised $40,000 to help support patient groups that depend on HME products; these organizations are credible and effective allies on many of our public policy priorities.