ATLANTA – Medtrade East wrapped up last month with attendees placing their votes on their favorite entrants in the New Product Pavilion Providers' Choice Awards, sponsored by HomeCare Media. In a close vote, Blanor Products LLC of Henderson, Tenn. nabbed the Gold Award for its PottyCap (portable urinal for women).
Medtrade Monday sat down with Faye Pryor, CEO of Blanor Products and creator of the PottyCap. Pryor is pictured below at Medtrade East (far right) with Blanor colleagues Cynthia Pryor (middle) and Donna Raines.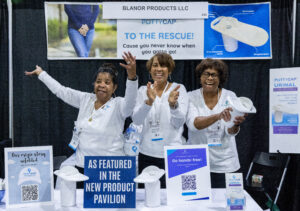 As a physical therapist for many decades, Faye Pryor encountered patients with incontinence and/or fall-related injuries. The idea for the PottyCap eventually came while assisting a patient with a­ bedpan.
During the assist, major spillage occurred on clothing and bedding. At that point, the patient asked Pryor: "Why are there no urinals for women to use? You would think they would come up with something where woman wouldn't have to do this on their backs." At the moment she asked her question, the patient's friend walked in holding a baseball cap, and that sparked the idea for a female urinal.
Medtrade Monday: Why did you decide to exhibit at Medtrade East?
Pryor: We knew we could garner immediate attention by exhibiting at the largest home medical equipment trade show and conference in the United States, all while meeting key people in the industry. The most appealing feature to us was the New Product Pavilion, which gave us the opportunity to showcase PottyCap® and become involved in meeting and learning from exhibitors and manufacturers from all over the country.
Medtrade Monday: What type of reaction did you get from attendees?
Pryor: We received an overwhelming response of positive comments from the majority who visited our booth. We saw a mixture of wonderment of the concept, and perplexed at times to why something like this was not already on the market. There were many "aha moments" with attendees noting that PottyCap fills a tremendous need for women. Attendees readily gave opinions about the benefits it could offer all women from health care to everyday needs for active women.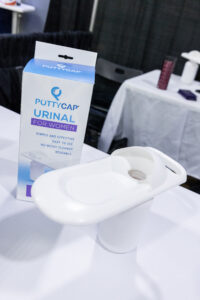 Medtrade Monday: What types of conversations did you have at Medtrade East?
Pryor: We had a great conversation with one of the larger exhibitors who stopped by our booth, and we discussed our desire to be in their catalogue. They were interested and wanted to meet with us the following week. We had many come by and say, 'We believe in your product. 'This is a game changer.'
Medtrade Monday: Why do you think your product earned the top award (gold)?
Pryor: The PottyCap is innovative and there is no other urinal on the market that is designed for the way women urinate. It answered a need, and the attendees could see the potential of this product changing womens' lives across the spectrum. We demonstrated the passion of promoting something we truly believe in.
Medtrade Monday: What are your plans for the future of the product and the company?
Pryor: Our goal for the company is to increase our product line with innovative solutions that will promote independence and improve quality of life while ensuring safety and well-being. We plan to continue to build awareness of the PottyCap® and launch it to the global female community. For every man who is given a urinal, we want a woman to have one as well.