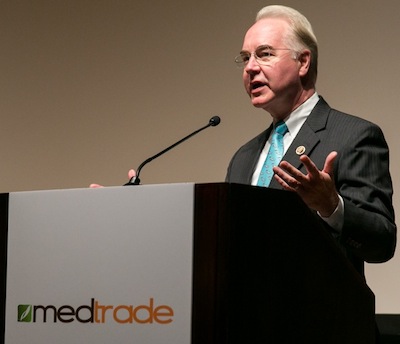 WASHINGTON, DC – President-elect Donald Trump announced last week that he will appoint Congressman Tom Price (pictured), M.D. (R-Ga) to serve as Secretary of Health and Human Services in his Administration.
Price, who has represented Georgia's 6th Congressional District since 2004, has been a consistent advocate for better public policy in the healthcare arena and has championed legislation to make sure that patients who rely on home medical equipment have access to those products and related services. Click Here to see extended excerpts of Rep Price's comments made at last month's Medtrade.
Tom Ryan, president and CEO of the American Association for Homecare, put out the following statement on Price's qualifications.
"With a background as a successful orthopedic surgeon, and as a professor at one of our nation's leading medical schools, Dr. Price is perhaps the best-informed member of Congress on healthcare issues. He's been a powerful voice in Congress in support of efforts to ensure that all Americans have access to high quality healthcare, and I expect he will be even more influential and effective as a leader in the new administration.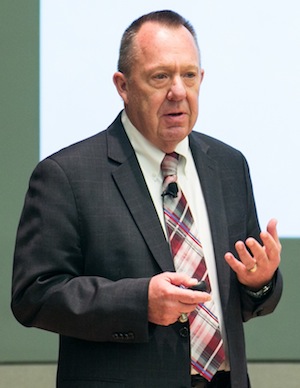 "Over the past year, Dr. Price has been at the forefront of Congressional efforts to make sure that individuals who rely on HME in rural communities and other less-densely populated areas can get the products and services they need," added Ryan. "The home medical equipment community, as well as HME patients and their caregivers, owe him a debt of gratitude for his leadership and effectiveness on this issue.
"Given his impressive credentials and demonstrated commitment to better healthcare public policy, Dr. Price should receive a quick and unanimous confirmation by the Senate. AAHomecare and the home medical equipment community look forward to working with Dr. Price to make sure that this country's healthcare system is ready to meet patient needs for decades to come."
Seema Verma, founder and president of health policy consulting firm SVC Inc., was selected to serve as Administrator of the Centers for Medicare and Medicaid Services.
Rural Relief Passes Last Week in Legislative Victory for Industry
WASHINGTON, DC – The 21st Century CURES Act has passed and will:
• provide six months' worth of retroactive relief for the second phase of bidding-derived cuts for rural and non-bid area providers;
• delay the application of bidding-derived pricing reductions for complex rehab technology accessories used with Group 3 power wheelchairs for an additional six months;
• accelerate the application of plans to limit state Medicaid reimbursement amounts for HME to the Medicare fee-for-service payment rates, including applicable competitive bidding rates, by one year, to Jan. 1, 2018; and
• also instructs HHS to conduct a study on the impact of the bidding program on the overall number of HME providers and availability of HME products over the course of 2016.
The legislation also sets the stage for possible future regulatory relief for rural providers, because it requires HHS to reissue payment regulations for items and services furnished on or after January 1, 2019, with adjustments to the non-bid fee schedule in some areas based on stakeholder input, costs, volumes, and numbers of suppliers serving those areas.
While AAHomecare and other HME stakeholders advocated for a longer delay for the second phase of bidding derived cuts, this legislation marks an important step in efforts to scale back the effects of the bidding program. Both chambers of Congress, along with party and committee leadership, have recognized that the home medical equipment community in rural areas needs relief and that the bidding program requires more scrutiny.
These measures set the stage for working with the new Administration to move towards more sustainable Medicare reimbursement policies for all HME providers, as well as again taking up these issues in the 115th Congress.