WASHINGTON, DC – Last week's Senate passage of the 21st Century Cures bill is not only a step forward in efforts to provide a measure of relief for rural and non-bid area HME providers – it also paves the way for longer-term fixes on Medicare reimbursement for both rural/non-bid providers and for providers operating in bidding areas.
In addition to the provisions rolling back the second phase of cuts for rural/non-bid providers for six months on a retroactive basis and keeping CRT accessories free from bidding derived cuts for another six months (see details here), the legislation has two other provisions that should pay dividends for the HME community down the road.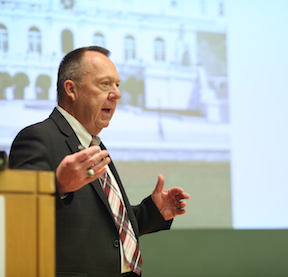 The new legislation requires HHS to reissue payment regulations for items and services furnished on or after January 1, 2019, with adjustments to the non-bid fee schedule in some areas based on stakeholder input, costs, volumes, and numbers of suppliers serving those areas. This will allow the next Administration an opportunity to provide more permanent relief to rural and non-bid area providers.
Research that AAHomecare commissioned shows that, under competitive bidding, home medical equipment companies are providing products and services at prices that simply don't cover their costs. We believe other stakeholder input, especially from rural providers with higher costs associated with furnishing and servicing equipment to patients over a larger geographic area, will help result in much needed adjustments to the non-bid area fee schedule.
What's more, the legislation instructs HHS to conduct a study on the impact of the bidding program on the overall number of HME providers and availability of HME products over the course of 2016. Providers, patients, and even discharge planners nationwide can already tell you what that study should show. We expect that a clear-eyed assessment of the bidding program will give us additional ammunition as we also advocate for longer-term fixes and improvements that will benefit providers operating in the 100+ CBAs around the country.
Medicaid Pay-For
Another HME-related provision in the bill that has received a lot of attention over the last week is the one that accelerates the application of plans to limit state Medicaid reimbursement amounts for HME to the Medicare fee-for-service payment rates, including applicable competitive bidding rates, from January 2019 to January 2018.
I know that many providers are distressed by this development and fear that AAHomecare and other groups lobbying on this issue essentially negotiated this pay-for to get rural relief; in fact, I've heard this directly from some of these providers over the last few days. I'd like to take the opportunity to share with you what I've shared with them.
There was no "trade" of accelerated Medicaid cuts for rural relief – this pay-for was always going to be one of many others used to help fund CURES legislation, and that's been the intention of powerful House members pushing the entire package for quite some time. This wasn't an idea that we offered up or had any choice in.
The unfortunate reality is that some parties in Congress recognized the disconnect between Medicaid rates and the rates generated by the bidding program and saw that as potential "savings" they could apply to their own interests. It's a similar situation to where the original move to cap the Federal contribution for Medicaid at bidding-derived rates starting in 2019 originated – that provision was used as a "pay for" to extend funding for 9/11 first-responders' healthcare and victim compensation in December 2015 omnibus spending legislation.
To put it simply: the Medicaid pay-for was going to be in CURES whether we managed to get our provisions included or not.
What's Next for the Bidding Program and Medicare Reimbursement Issues?
We believe there's going to be significant opportunities to advocate for more legislative and regulatory relief for all HME providers starting in 2017. While we expect to have new leadership at HHS that has a very strong understanding of the effects of the bidding program on the millions of people who rely on HME, it's premature to speculate what administrative/regulatory changes will be possible, or how quickly these issues might be addressed.
I can assure you that our champions in Congress remain invested in building upon this step for longer-term relief for rural and non-bid providers, and many also remain interested in supporting our call for broader fixes to the competitive bidding program and more sustainable reimbursement policy for the entire HME community. In fact, we're already laying the groundwork for action in 2017 through some great meetings we had today on Capitol Hill. These meetings once again showed me the terrific energy and enthusiasm that our leading Congressional advocates bring to the table on our issues.
I understand the frustration that many of you have at how long it's taken to get this far – it echoes my initial feelings on how slowly the legislative process moved when I started my role as president of AAHomecare in 2013. But I truly believe we are moving forward and that we're on the right path to deliver a more favorable legislative, regulatory, and business environment for the HME community.
Tom Ryan is president and CEO of the American Association for Homecare.