WASHINGTON, D.C. – Industry leaders shared their passion for high-quality care and detailed the challenges they are facing in the current reimbursement and business environment for more than 240 House and Senate offices in last week's Virtual Washington Legislative Conference. Thanks to the higher number of attendees, we were able to reach almost 10% more offices than last year.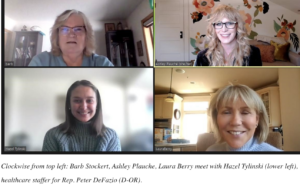 Issues covered in these Zoom-enabled sessions included support for H.R. 6641, extending 75/25 blended rates beyond the end of the COVID-19 Public Health Emergency (PHE), preventing across the board PAYGO Medicare cuts for 2023, and maintaining access for oxygen and CGM patients who qualified for coverage under relaxed criteria during the PHE.
A summary of some of these asks can be seen in this slide deck used in pre-conference training and related policy documents for meetings can be found here.
Face-to-face—and screen-to-screen—grassroots advocacy is the foundation for effective HME legislative and public policy efforts. Thanks to the 158 HME leaders who are helping move the ball forward for policy priorities that support high-quality, home-based care today. We want even more advocates at next year's conference – join us.