LAS VEGAS – Oversized ribbon-cutting scissors stayed in the closet this time, but the show floor opened promptly at 9:30 a.m. to welcome robust foot traffic on day two of Medtrade Spring at the Mandalay Bay Convention Center in Las Vegas.
During a morning session prior to the Expo kickoff, AAHomecare officials described a bruising attempt to get competitive bidding rural relief into a recently passed trillion-dollar budget package. "We came close," said Jay Witter (pictured here at day two of Medtrade Spring), senior VP, Public Affairs. "We had that one sentence, and while that won't add money to your pocket, it's a step forward."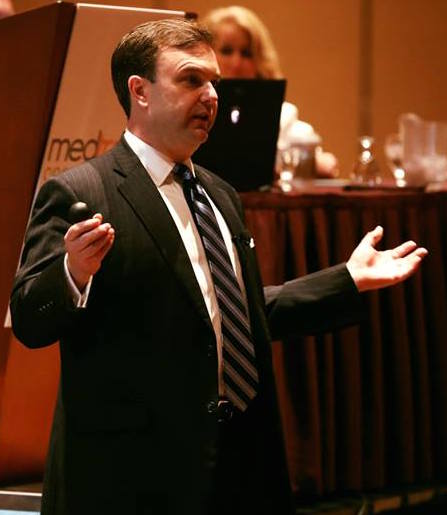 That "one sentence" came in the following language that accompanied the Omnibus Legislation: Durable Medical Equipment – The agreement encourages CMS to promulgate the pending Interim Final Rule entitled "Durable Medical Equipment Fee Schedule, Adjustments to Resume the Transitional 50/50 Blended Rates to Provide Relief in Non-Competitive Bidding Areas."
In her presentation on day one of Medtrade Spring, Cara Bachenheimer, senior vice president, Government Relations, Invacare, characterized "encourages" as "actually a strong word for a conference report, due to separation of powers."
Witter explained that without statutory language, Congress could not "mandate" release of a long-pending interim final rule (IFR) that would feature adjustments to the DME fee schedule to resume transitional 50/50 blended rates to provide relief in non-competitive bidding areas (sent to Office of Management and Budget on 8/24/17).
Witter and Tom Ryan, president of AAHomecare, agree that the introductory language in what's known as the ConfeRence Report shows that Congress "affirms" support for the IFR. For now, however, the IFR remains on hold. "We're doing everything to take that one sentence and get you relief," Witter said. "They want you to give up. We can't give in. We can't let them get away with this. Demand relief from your member of Congress."
"We will not go away until we get across the finish line," said Ryan. "We are not down, and we continue to fight. At the end of the day, we did get something. We are on offense again."
In his presentation on day one, John Gallagher, vice president of Government Relations, VGM Group, added: "You are the survivors. The opportunities are out there, but we need engagement. Reach out to your state and national associations. Back in 2004, none of us has relationships with members of Congress. We've got to have strength in numbers."