AMARILLO, TX – I thoroughly enjoyed the Medtrade Spring show. What I enjoyed most about the show were the attendees. They were educated, intelligent, and talented. Equally as important, they were serious.
The attendees did not care "how the DME industry used to be." They did not care that not too many years ago, (i) oxygen paid well and was a lifetime benefit, (ii) competitive bidding did not exist, and (iii) audits were not out of control. The attendees I talked to were focused on the "here and now."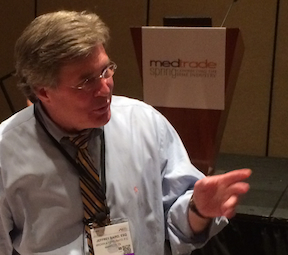 Notwithstanding that Medtrade Spring was held in Las Vegas, those in attendance did not come to party or even to necessarily have fun. They came to network, brainstorm with others, talk to vendors, and learn as much as possible from the education sessions. The attendees understood that CMS is doing all that it can to cut reimbursement, limit the number of suppliers in the market, and to make DME suppliers "jump through hoops" to get paid—and to keep what Medicare previously paid.
The attendees I spoke with are facing these challenges head on. They are not panicking. The attendees are playing the "long game." By this I mean that they recognize that with 78 million aging Baby Boomers, the demand for what DME suppliers have to offer will go through the roof. Those who came to Medtrade Spring are confident in their ability to play in the game.
All in all, Medtrade Spring was a success. The show brought together, in one setting, all of the "tools" that the DME supplier needs to succeed: product displays; information from Capitol Hill; information from CMS contractors; networking; and excellent education programs. In a sense, Medtrade Spring was "one stop shopping" for those who are seriously committed to the DME industry. If you missed Medtrade Spring (or even if you did not), you will not want to miss Medtrade, which takes place Oct 31-Nov 3, 2016, at the Georgia World Congress Center in Atlanta.
Jeffrey S. Baird, JD, is Chairman of the Health Care Group at Brown & Fortunato, PC, a law firm based in Amarillo, Tex. He represents pharmacies, infusion companies, HME companies and other health care providers throughout the United States. Mr. Baird is Board Certified in Health Law by the Texas Board of Legal Specialization, and can be reached at (806) 345-6320 or jbaird@bf-law.com.