The HME industry lost a great pioneer, advocate, and leader with the passing of A. Malachi "Mal" Mixon III on November 30, 2020 at the age of 80. Cara C. Bachenheimer worked with Mal for 15 years at Invacare. In this week's Medtrade Monday, she offers her personal remembrance.
WASHINGTON, D.C. – Mal Mixon, known as simply "Mal," was a true icon, and the world is a better place because of him. A genuine leader, he was always true to his Oklahoma roots. Mal was socially facile, entertaining, and completely down to earth, despite his many lofty achievements. He was a people person who treated everyone equally, from his manufacturing facility employees to Senators, Representatives and even Presidents of the United States.
From my perspective, Mal was the first to truly understand the importance and critical role of lobbying in Washington, D.C. He inspired many others to build relationships with Senators and Representatives. He was on a first name basis with dozens of lawmakers over the years. It was his passion and his mission, not his job, to make sure policy makers understood our HME industry and the great services it provides.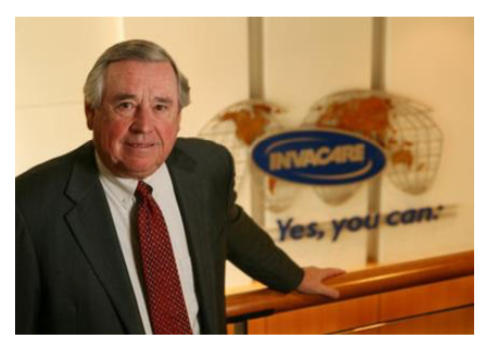 I had the honor and the pleasure of working with Mal for many years. To me, Mal was much more than just a great boss; he was a friend and a source of inspiration and energy. We lobbied on Capitol Hill, paying visits to U.S. Senators and Representatives, we hosted fundraisers for politicians, and kept in contact with them regularly to ensure they understood the impact of federal policies on the HME community.
As far as anecdotes, there are many. While Mal worked hard, he played just as hard. After a day of lobbying, it was time for his signature Jack Daniels and a meal. He preferred the less fussy meals; I was always the one who wanted the fancier meal.
In Cleveland, he once promised to take me to his favorite lunch spot. It was a small Elyria, Ohio restaurant that only served hot dogs. Mal enjoyed a good sports game, and he was a supporter of the Cleveland teams, particularly basketball and baseball. He was generous of spirit, time, and resources.
In 2004, the Cleveland Indians were playing the Boston Red Sox in the American League Championship Series in Cleveland. Knowing that my husband and son are lifelong Boston sports fanatics, Mal invited us to watch one of those games with him in the corporate box, an experience neither of them will ever forget (especially since the Red Sox won that game!).
He was always offering to take customers along for the ride on his private plane. His Lear jet was a source of great personal and almost innocent joy. Once the plane took off and Mal raised his glass of Jack Daniels to toast the day's work, he would say, "Can you believe this? A country boy from Oklahoma, here I am!"
Mal made a permanent and positive imprint on this world, and on so many of the people he met. I will always treasure the times I spent with him, and will be forever grateful that he gave me the opportunity to work closely with him over the years.
Cara C. Bachenheimer, J.D. was senior vice president, Government Relations, at Invacare from 2003-2018. Bachenheimer now heads up Brown & Fortunato's Government Affairs Practice from Washington, D.C.
Joe Lewarski Remembers Mal Mixon
CLEVELAND, OH – I first met Mal Mixon in the early 1990s when I was in my late 20s and just getting started running a small home respiratory company in which I was a partner. I went to a conference in Cleveland about the future of healthcare that featured some of the most prominent local healthcare leaders, including the CEOs of the major health systems and insurance companies, along with Mal Mixon, chairman and CEO of Invacare.
At the end of the meeting, I stood in line to meet Mal and to introduce myself, and my company, to him, which was an Invacare customer, albeit a small one at the time. Mal was already a legend in Cleveland and had many more prominent and important people waiting to talk with him. However, as soon as he heard I was a customer, I become the center of attention. He treated me like the most important person in the room. It was a lesson in leadership that left a lasting impression.
About 15 years later, I was invited to join Invacare as the VP/GM of the respiratory business. During my seven-year tenure at Invacare, I was incredibly lucky to have gotten the chance to work alongside and learn from him. Mal was more than an icon for the homecare industry, he was a legend. He truly loved the homecare industry, the people and especially the entrepreneurial spirt that defines so much of who we are. I can't imagine the number of people he touched and influenced—he will be missed.
Joseph Lewarski, MHA, RRT, FAARC, worked at Invacare for seven years where he served as corporate vice president of Clinical Affairs. He is currently senior vice president and general manager, Global Business – Clinical Care & North America Manufacturing, Drive DeVilbiss Healthcare.