WASHINGTON, DC – AAHomecare's newest council convened for the first time in Arlington, Va. last week and got off to a flying start.  The initial meeting for the Payer Relations Council focused on establishing strategic objectives for 2020 and beginning to build the road map for the HME industry to succeed outside of the Medicare space.
The meeting discussion, facilitated by the in90group, identified areas of focus for the Council for the upcoming year, including educating the payer community on the value of HME.  There is a great opportunity for the HME sector to help lead efforts to deliver comprehensive quality care while achieving overall cost savings across the health care continuum.  The Council will spearhead efforts to educate payers, policymakers, providers, vendors, and patients on the value of HME and develop compelling and consistent messaging to support that work.  Other initial priorities set by the Council include:
Expanding on recent success in MCO rate protection in Kentucky;
Focusing initially on Medicaid and MCO plans;
Establishing and leveraging what can be achieved at the national level vs. state-by-state.
Medicare Advantage: evaluating what is required by these plans and educating the provider community to hold these plans to those requirements.

The 25 council members in attendance share a desire to make a tangible impact on how HME providers work with major payers across the nation, making sure that the value of HME is fully understood and appreciated, while also sharing collective experiences and expertise that suppliers can use in their dealings with different payer entities.
"As reimbursement in our industry continues to become increasingly complex, it is imperative that providers have a resource to help them navigate these new payment models and vast bureaucracies," said Jason Morin, director of reimbursement for Home Care Specialists.  "The Payer Relations Council that Laura Williard and AAHomecare are developing is an outstanding group of professionals representing the full scope of the HME industry.  After this productive initial meeting, I'm excited about what we can accomplish."
"We have a mountain of work ahead of us, but I don't think anyone expects an easy solution as we continue to work strategically with these payer groups," adds Virginia Cate, vice president of managed care field operations with Apria Healthcare. "Together, we are going to do some amazing things for our industry by infusing a level of discipline and knowledge that we can use to align payers and providers to ensure patients are receiving the most cost effective and clinically appropriate care."
"It is exciting to participate in honest and imaginative conversation about how to move in the right directions in healthcare and not just lament the difficulties," remarked Brad Heath, vice president of operations & marketing for Family Medical Supply. "This Council will help us all to get a clearer picture by learning from one another and sharing both successes and failures in order to build a better model.  I am extremely excited to see where this leads us and am appreciative to the AAHomecare team for taking the initiative on it."
Devin De Lozier, vice president for strategic partnerships & payor relations with SuperCare Health, shared his thoughts by video on a "historic" meeting, making note of how competitors are coming together to approach challenges on a strategic level.
Latest on Non-Invasive Ventilators and Non-Bid Area Relief
WASHINGTON, DC – During the August recess, AAHomecare has been engaged with our champions on Capitol Hill to continue to move these issues forward as well. AAHomecare, along with other respiratory stakeholders and patient advocacy groups, have been providing input for legislative language in a bill to keep ventilators out of the bidding program.  In addition, we have been working with House offices on plans to raise the profile of HR 2771 and jump-start efforts to add co-sponsors to that legislation after Congress returns next week.
AAHomecare Comments on Proposal to Limit Medicaid Access Oversight
WASHINGTON, DC – AAHomecare has shared comments with CMS on "Medicaid Program; Methods for Assuring Access to Covered Medicaid Services-Rescission (CMS–2406–P2)," a proposal to remove requirements for states to document whether Medicaid payments in fee-for-service systems are sufficient to assure beneficiary access to covered care and services. The comments note that: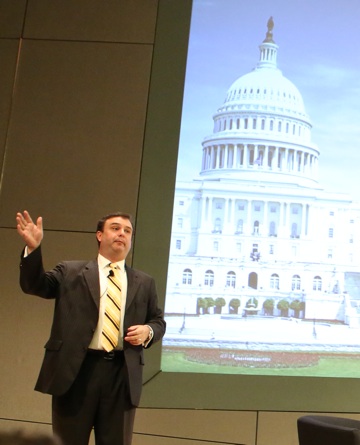 "Absent the current monitoring requirement, AAHomecare fails to see how CMS will ensure consistent enforcement of § 1902(a)(30)(A) across the United States and that the rights of beneficiaries to equal access to services will be protected.  Contrary to the assertion that underlies the proposed rule, the [Access Monitoring Review Plan Regulation] does not eliminate or even hinder a state's ability to administer its plan for medical assistance.  The AMRP is simply providing oversight into how states are assuring they have adequate rates and a program that ensures access.  If CMS is interested in achieving a reduction in regulatory burden, it could limit the number of years of tracking rate adjustments or benefit redesign to two years."
There is specific information that shows if the state is providing access to care with their current rate structure. These are standard information sets that should always be known by the Medicaid program to ensure the beneficiaries are receiving the care necessary and that the federal dollars issued to fund the benefit are utilized appropriately. Without the ARMP, CMS will have insufficient information to enforce compliance with the equal access requirements.  In addition, Managed Care Organizations (MCOs) need specific oversight by state Medicaid programs to ensure the federal dollars being spent on this program give patients access to care.
We urge you to add your comments to help reverse the trend towards eliminating Medicaid oversight.  Comments are due by Sept. 13 and can be submitted here.
AAHomecare's comments can be found here.