BISMARCK, ND – AAHomecare officials met with its entire North Dakota delegation in March 2014 in Bismarck, at Great Plains Rehabilitation Services, and started discussing all the problems associated with competitive bidding.
Efforts to move legislation designed to lessen the effects of CMS' plan to bring competitive bidding rates to non-bid areas, including rural communities, took a major step forward last week when Sen Heidi Heitkamp (D-ND) informed North Dakota providers that she's agreed to be one of the original cosponsors for forthcoming Senate bidding-relief legislation, along with Sen John Thune (R-SD).
The good news comes thanks to tireless efforts of providers and other stakeholders in the Upper Plains region who led efforts to get Heitkamp fully aware of the effects bidding expansion will have on North Dakota HME providers and the patients they serve.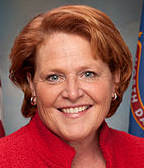 One of the leaders in this effort, Barb Stockert of Sanford HealthCare Accessories, reports on the long-running effort to engage Sen. Heitkamp (pictured) on the bidding issue: This came about by the hard work and efforts of a group of seven North Dakota providers, as well as the Midwest Association of Medical Equipment Services and the VGM Group.
Our legislators listened and heard what we were saying. That meeting led to Sen. Hoeven writing a letter to CMS asking that the entire program be reviewed before implementation. As many are aware, the industry got about 50 plus signatures on that letter, including Sen. Heitkamp's. AAHomecare kept in contact with their offices about the issues we were seeing through the last year, including meeting with them at the AAHomecare Legislative Conference last May.
When the South Dakota providers met with Sen. Thune earlier this year and he agreed to work with Rep. Price, the industry needed a Democratic lead, and Sen. Heitkamp seemed like the logical fit.
Details of the relief legislation are still being negotiated in both the House and Senate. Reps. Tom Price (R-Ga.) and Tammy Duckworth (D-Ill.) are working on the legislation on the House side, with the goal of having consistent language in both House and Senate bills when introduced.
Congrats and thanks to Barb, MAMES, The VGM Group and the rest of the North Dakota providers for helping secure Sen. Heitkamp's important support on this issue!
OIG Releases 2016 Work Plan
The Office of Inspector General (OIG) for the Dept. of Health and Human Services recently released the 2016 work plan that includes ten potential DMEPOS reports. Of these, four are new and the remainder are the same as last year or mandated related to competitive bidding rollout. The topics on the potential list are:
• Power mobility devices—lump-sum purchase versus rental
• Competitive bidding for medical equipment items and services—mandatory post award audit
• Power mobility devices—supplier compliance with payment requirements
• Nebulizer machines and related drugs—supplier compliance with payment requirements
• Diabetes testing supplies effectiveness of system edits to prevent inappropriate payments for blood glucose test strips and lancets to multiple suppliers
• Access to durable medical equipment in competitive bidding areas
• NEW Orthotic braces–reasonableness of Medicare payments compared to amounts paid by other payers
• NEW Osteogenesis stimulators–lump-sum purchase versus rental
• NEW Orthotic braces–supplier compliance with payment requirements
• NEW Increased billing for ventilators
There are four new additions to the potential list. AAHomecare will continue to monitor the OIG activities and participate in any report that affects the DMEPOS industry.

Every year the OIG creates a very robust work plan, when an item appears on the work plan, it does not necessarily mean it will be conducted and completed.