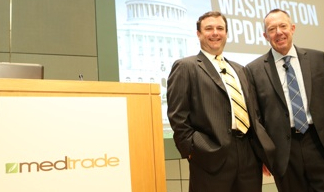 WASHINGTON, DC – It was a hot topic at last month's Medtrade, and now legislation to lessen the impact of CMS' plans to apply bidding-derived pricing outside of competitive bidding areas (starting Jan 1, 2016) has been introduced in the Senate. The DME Access and Stabilization Act (S. 2312) includes provisions that:
• apply a 30% positive adjustment to rural single payment amounts (SPA) (calculated on a national basis) for suppliers in non-bid, "rural" areas as defined by CMS;
• apply a 20% positive adjustment to regional single payment amount (RSPA) for suppliers in all other non-bid areas;
• provide a two year phase-in period for bidding-derived pricing for non-bid areas;
• set the ceiling for future bidding rounds of the competitive bidding program at the unadjusted fee schedule rates in effect on Jan 1, 2015, instead of CMS' proposal to set a bid ceiling at the previous bid amount rates; and
• instruct CMS to revisit pricing adjustments for non-bid areas that takes into account travel distance, clearing price and other associated costs furnishing this equipment for prices that will be in effect on Jan 1, 2019.

Effective Jan 1, 2020, new Medicaid allowable caps will be applied to the Federal portion of reimbursement that mirror the Medicare rates effective Jan 1, 2016. Competitive Bidding Areas will be the Competitive Bidding Single Price Amount (SPA), rural areas will be the rural single payment amounts (SPA) (calculated on a national basis) and all other regions will be the regional single payment amount (RSPA).
AAHomecare applauds Senators John Thune (R-SD) [pictured] and Heidi Heitkamp (D-ND) for their leadership in spearheading this important legislation that will protect access to essential HME products for seniors, as well as individuals with significant disabilities and chronic conditions, who reside in rural communities around the country. AAHomecare is urging HME providers, manufacturers and other stakeholders in the industry to express their support for this legislation to their Senators as soon as possible.
Additional co-sponsors at introduction included Sens Pat Roberts (R-Kan), Angus King (I-Maine), and Mike Crapo (R-Idaho). Similar legislation is expected to be introduced in the House soon. AAHomecare will provide additional analysis and further details on the legislation.
See a list of ZIP codes considered "rural" by CMS by downloading this zip file.