WATERLOO, IA – Like kicking a field goal for the win with thirty seconds left on the clock, we're reaching the pinnacle of this year's legislative efforts to provide crucial relief for HME and CRT providers.
With two short weeks left in the 2015 legislative session, the negotiations are tense as our industry champions push and pull to gain traction. During the past week in Washington, D.C., our 52 meetings with members of Congress and their staff were punctuated by encouraging updates.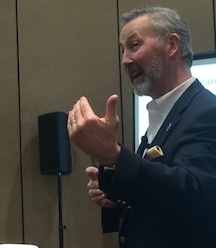 All eyes are focused on the inclusion of our rural relief and CRT accessory measures into the House and Senate omnibus bills. The omnibus spending bill lumps together several appropriations bills into one larger bill that is passed in each house without the intense scrutiny it would muster on its own.
Heard regularly from our Washington supporters is that our issue benefits from the solid "pay for" that offsets the cost. The pay-for will apply Medicare competitive bidding rates to Medicaid in the year 2020. While we are not thrilled with this, we understood that it was coming regardless of the situation, and it is now the compromise that will save HME businesses.
New this year is the solid support we're receiving from the Small Business Administration. Ombudsman Yolanda Swift joined us as we transversed the Capitol grounds last week, jumping from House to Senate meetings. Her outspoken presence with our group was an acknowledgement that the reimbursement cuts are a severe concern for the small business community.
Have faith that momentum is moving our way! Our hopes for inclusion in the omnibus bill rely on HME providers, manufacturers and industry supporters to voice their outrage. We must act now to put a halt to the 45 percent cuts to rural areas and non-competitive bid areas and to remove CRT accessories from the bidding program. When you call or email your senators or representative, our talking points are as they have been for many months:
• The nationwide expansion of the competitive bidding program on Jan.1 2016 creates up to a 50 percent reimbursement cut, making it difficult to impossible to do business.
• It is not uncommon for rural providers to travel 100 miles one way to deliver and service medical equipment, which is not accounted for in the reimbursement equation.
• Home medical equipment companies that provide essential life supporting services to Medicare and other insurance beneficiaries will go out of business.
• With medical equipment access issues on the rise for items like walkers, wheelchairs and oxygen, Medicare and Medicaid patients are having extreme difficulty receiving the equipment that they desperately need.
• The proposed CRT cuts will dramatically reduce access for people with disabilities who rely on individually configured complex rehab wheelchairs and critical components such as seating equipment, positioning systems and specialty controls.
This is a rally cry for action! Ask your staff, co-workers, family and friends to message Congress at www.vgmdclink.com, or call the Congressional switchboard at (202) 224-3121. Engage with VGM, engage with your state associations, or engage with AA Homecare.
Grassroots engagement is how we've gotten this far, and it is how we'll get the job done. And we are so close! It's the fourth quarter of the big game and our champions are scrambling to support HME and CRT providers. We're looking to you. We need you on the field. Once more unto the breach, dear friends!
John Gallagher is vice president of VGM Government Relations, Waterloo, Iowa.