WASHINGTON, DC – Last week, CMS released updated guidance on a proposed rule that proposes to update payment policies and rates under the End-Stage Renal Disease (ESRD) payment system that also includes major new provisions related to DMEPOS competitive bidding and the current fee schedule.  According to CMS' Fact Sheet, provisions of the new rule include:
Bidding Program
Beginning January 1, 2019 beneficiaries may receive DMEPOS items from any Medicare enrolled DMEPOS supplier until new contracts are awarded under the next round of the bidding program.
CBA pricing will be subject to annual CPI adjustments until the next bidding round takes place.
Implements lead item pricing for future competitive bidding rounds.
Revises the definition of composite bid to mean the bid submitted by the supplier for the lead item in the product category.
Establishes a new method for establishing SPAs under the CBP using maximum winning bids.
Rural/Non-CBA Reimbursement
Extends the 50/50 blended rate reimbursement rates for rural and non-contiguous areas (i.e., Alaska & Hawaii) provided in the recent IFR through December 31, 2020.
CMS requests additional comments on whether the 50/50 blended rates should be extended to other non-bid areas and will continue to monitor healthcare outcomes and information for future ratemaking.
 Oxygen Reimbursement
Establishes a new methodology for ensuring that all new payment classes for oxygen and oxygen equipment added since 2006 are budget neutral.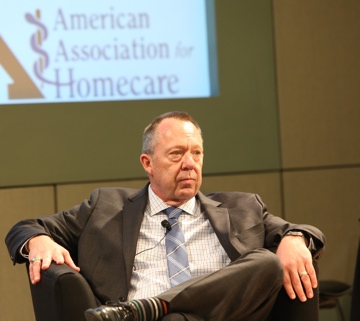 The CMS Fact Sheet does not set a specific timetable for the next bidding round.
"At first glance, CMS' new proposals look very promising," said Tom Ryan, president and CEO of the American Association for Homecare.  "It looks like CMS has incorporated significant recommendations from HME stakeholders into the new rule, which should help improve the bidding program.  While we look forward to doing a thorough analysis of the rule and sharing our findings with the HME community, it appears that CMS has taken an important step towards stabilizing reimbursement policy for our industry, setting the stage for us to advocate for additional reforms and relief going forward."
AAHomecare will share additional analysis and details with our membership as soon as possible.
AAHomecare Advocates for Non-CBA Relief and Bidding Program Reforms in IFR Comments
WASHINGTON, DC – On Friday, AAHomecare submitted comments on the recent HME-related Interim Final Rule. In the letter, AAHomecare requested that CMS adopt the following recommendations:
CMS should apply payment relief in all non-CBAs,
CMS should revise the underlying payment basis for non-CBAs after it makes meaningful improvements to the bid program,
CMS should use the market clearing price as a start for calculating rates in non-bid areas. The rates in non-CBAs should then be based on a 50-50 blend of 2015 fee schedules and newly calculated RSPAs; and rural and non-contiguous areas should receive an additional 10% payment increase.
CMS should not apply the "budget neutrality" payment policy to oxygen fee schedules in non-CBAs, and
CMS should exclude accessories used with complex manual wheelchairs from payment cuts derived from the bidding program.
In addition, AAHomecare included a copy of the list of competitive bidding reforms that were submitted to Secretary Price last year to provide further guidance on fixing the program. You can find AAHomecare's comments here.
New Tariff Proposal Includes Wide Range of Basic Materials
WASHINGTON, DC – On Tuesday, the Administration released a new list of goods imported from China that could face 10% tariffs.  Items on the list that may be of particular interest to the HME community include:
Medical gloves of vulcanized rubber other than hard rubber (4015.19.05) and bedsheets and similar household, sanitary or hospital articles of paper, cellulose wadding or webs of cellulose fibers. (4818.90.00)
A range of batteries (8506.10.00 through 8507.50.00)
A wide range of basic materials and fabrics that may be relevant in the manufacture of some products and components (see p. 160-177).
See the list of proposed items subject to the new tariffs here.  Comments on this set of proposed tariffs are due on August 17, 2018.  The Section 301 Committee of the Office of the U.S. Trade Representative (USTR) will hold public hearings on the tariffs August 20-23.
USTR Announces Process to Exclude Individual Products Covered in First Round of Tariffs
USTR announced a process by which companies can request the removal of any products the company imports that are covered by the Section 301 tariffs released last month.   Please note that exclusion decisions will be granted on particular products within an HTS subheading, not for the broader eight digit HTS product category covered by the tariffs.
The period for filing a request ends October 9, 2018.  More details can be found in these documents: