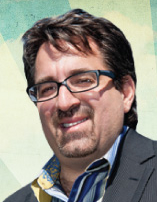 LAS VEGAS – Imagine you or your sales team being able to communicate so clearly and concisely that referral sources and patients can't resist doing business with you. Imagine they have writing and presentations skills that are so powerful that customers give you the business over your competition. When you decide to register for the Mike Sperduti HME Sales Excellence Training Workshop, you will learn those skills, and choose to be among the best in the HME industry.
With the proven 7 Step Sales process, you'll make sales calls, write letters and emails that few can resist. You will be able to create compelling value propositions that naturally and easily let your customers see, hear and feel you are the right choice for their business.
You will be equipped to conduct meaningful conversations that outshine the competition and give your customers the confidence and trust that you will take care of them. If you choose to register for the Mike Sperduti HME Sales Excellence workshop now, you will gain new skills that will produce immediate results, and you will command a higher income from all the new business you generate.
The 7 Step Sales process is recognized as the best training program in the HME Industry. Click on the Youtube screen shot below to see what you will experience when you train with Mike Sperduti.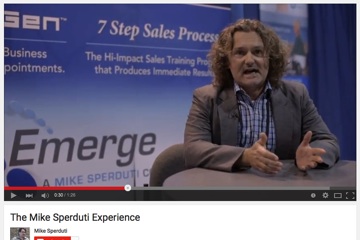 As you read this letter from Kristen Donnelly of Acceleron Medical, you will understand how the Mike Sperduti HME Sales Excellence Training Workshop will impact your business. From there, you can register for the Mike Sperduti HME Sales Excellence Training Workshop NOW, before it sells out.
"The 7 Step Sales Process was an excellent course in how to be a superstar sales professional. The class was designed to make you take a look at how you are selling and catapult you into stardom. The 7 Step Sales Process taught me how to effectively communicate with people using their different learning styles (personality types). Mike also taught me to customize every sales call to the clients' needs by profiling them correctly, this entails finding out how many people in the office, what type of patients they serve, I would not call on pediatricians the same way I would obstetricians. I also learned that making appointments is well received with offices as the decision maker will carve out time for you, which will mean you can give them a more personal call.
According to Albert Einstein the definition of insanity is doing the same thing over and over and expecting different results. Well, before taking this course I was insane; I showed up to physicians' offices with no appointment, told the office manager or physician why my company and product was so great and left my paperwork. After taking this course. I am on the way to becoming a superstar sales professional. I have learned to build good rapport with referral sources and communicate effectively both professionally and personally."
I am calling out to you—if you want to be the best. I am calling out to the fearless who want to push themselves to achieve excellence. I am calling out to all agents of change who see opportunity in this new era of healthcare.
Competitive Bidding, cash pay sales, decreasing margins—they have created a chaotic business environment. Now is the time to capitalize on that chaos and Emerge.
If you decide to register for the Mike Sperduti HME Sales Excellence Workshop, it will be the best decision you make for your business, or we will refund your entire investment. Now when you think about it, you can look forward to Medtrade Spring and have every reason to say "yes" and register for this advanced sales training workshop.
The Mike Sperduti HME Sales Excellence Workshop has only a few seats left and will sell out. Make sure you register now at www.medtradespring.com. If you are not interested in sales, check out these other fantastic workshops:
An Introduction to the Certified Durable Medical Equipment Specialist (CDME)
10:00 a.m. – 4:00 p.m. – Islander F
Speakers: Jeff Hedges, CDME, President, R.J. Hedges & Associates; Wendy Miller, BOCO, LO, CDME, Chief Credentialing Officer, Board of Certification/Accreditation (BOC), and Carrie Green, Marketing Manager, Board of Certification/Accreditation (BOC), in collaboration with MED Group Materials
The Certified DME Specialist (CDME) is a person who demonstrates broad knowledge of the DME/supply industry, including prescription verification, intake process, product selection, dispensing and setup, documentation, billing, compliance, and performance management.
Approved for 6.0 credits through BOC
Billing and AR Management: Best Practices for Clean Claims
10:00 a.m. – 4:00 p.m. – Islander G
Speaker: Deb Mills, Implementation Consultant, Brightree
Join the Brightree experts in a workshop designed to help achieve clean claims. During this session, attendees will discover features and Brightree processes that are essential to effective billing strategies.
Mike Sperduti's HME Sales Excellence Training
10:00am – 4:00pm – Islander H
Speaker: Mike Sperduti, President and CEO, Emerge Sales Inc
Mike Sperduti has developed an intense sales training program, and for the first time ever at Medtrade Spring, he will teach his step-by-step sales process to meet sales quotas, income goals and serve an abundance of new patients.
Fitter's Course: Compression Therapy and Its Application in the Management of Venous Disease
10:00am – 4:00pm – Islander I
Speaker: Judith Brannan, Education/Medical Affairs Manager, SIGVARIS, Inc.
This workshop will cover: anatomy & physiology of the venous system; pathophysiology of venous disease; Chronic Venous Insufficiency (CVI); Deep Vein Thrombosis (DVT) and more.
Approved for 7.5 credits through ABC and 7.0 credits through BOC
Use #MedtradeSpring16 for all show-related social media.