ATLANTA – Aspen Medical Products, Irvine, California, wrapped up at Medtrade last week, hoping to convince attendees that not all braces are the same. Medtrade Monday chatted with Tom Manix, vice president of Marketing and Business Development, about spinal orthoses and the various misconceptions that are still out there.
Medtrade Monday: What types of products did Medtrade attendees see at the Aspen booth?
Tom Manix: Spinal Orthoses, including upper and lower spine braces, cervical collars, and lumbar supports. Aspen Medical Products manufactures spinal supports for pain relief and postsurgical applications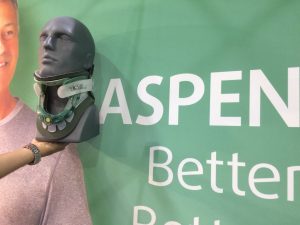 Medtrade Monday: In a time of reduced Medicare reimbursement rates, how can Aspen help HME providers succeed?
Manix: Aspen has both Medicare-coded and non-coded products, providing a full range of options for the Home Health Provider. In addition, we offer products with various price points and features to accommodate all latent needs and financial situations
Medtrade Monday: What is the biggest misconception about succeeding in the orthotics business?
Manix: In the world of spinal orthoses, many believe that all braces are the same. They are not. Aspen Medical Products believes that "Medicine Matters" and that spinal braces must be developed and tested to make certain that the products provide positive outcomes.

Medtrade Monday: Why are in-person and face-to-face trade shows still important these days?
Manix: For our products, the important and differentiating design elements are not all apparent in pictures. Because spinal orthoses are such a critical component of the spinal care continuum, it is important to get in front of the customer to show and demonstrate the differences in products that are developed and tested to help ensure positive patient outcomes. We value time in front of potential customers to explain the critical differences in our products.