WASHINGTON, D.C. — According to the Associated Press and other news outlets, President Joe Biden has recently started using a CPAP machine to address his sleep apnea. The White House reportedly confirmed the CPAP use after indents from the mask were visible on the president's face as he departed the White House.
"The president has disclosed since 2008 a history with sleep apnea, a potentially serious but common condition in which breathing can stop and start in the night," writes Colleen Long at the Associated Press. "The imprint lines on his face were apparent when he left Wednesday morning for a speech in Chicago. A CPAP machine is a motorized device that pumps air through a mask to open a sleeper's airway. About 5 million Americans have tried them."
Invacare Appoints New Exec
ELYRIA, OH – Invacare recently appointed 46-year-old Kai Zhu as senior vice president and chief financial officer. Kathleen P. Leneghan, Invacare's current senior vice president and chief financial officer, has announced her retirement from the company. She will remain at the company until Oct. 1 and will assist with the orderly transition of her duties to Zhu.
"On behalf of the Board of Directors, I am pleased to welcome Kai as our next CFO. Kai brings deep experience and financial acumen to the global leadership team and is well suited to lead our financial organization as Invacare enters its next phase of growth and development," said Geoffrey P. Purtill, president and CEO. "I want to express my sincere gratitude and appreciation to Kathy for her over 30 years of service to Invacare and her dedication and resilience in leading our organization through a critical phase of our evolution. We wish Kathy well in her retirement."
NSM Taps New SVP
NASHVILLE – National Seating & Mobility (NSM), North America's largest provider of comprehensive mobility solutions, has selected Gregg Meheriuk to serve as senior vice president of new business and strategy. As a member of NSM's executive leadership team, Meheriuk's work will include leading the company's new business strategy and the Home Accessibility and Canada divisions.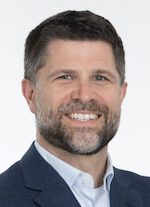 Meheriuk most recently served as the senior vice president of growth and transformational initiatives at 24-Hour Fitness, providing leadership in revenue growth and strategy, as well as product development and innovation. "I had the pleasure of working with Gregg at 24 Hour Fitness, where he was the senior vice president of growth and transformational initiatives, and I am confident his experience and leadership abilities will be very beneficial in further advancing these key strategic areas for growth at NSM," said Tony Ueber, NSM CEO.