DOWNEY, CA – From a tele-health perspective, and a meeting perspective, we as an industry have been able to leverage technology to make video conferencing work, and to be a part of our daily lives. Sometimes it's as if we are in a competition to see who has more Zoom meetings every day.
That being said, nothing can compare to or replace the importance of in-person face-to-face meetings. There are things that happen in person, from a strategic standpoint, that just does not happen virtually. You can't strengthen relationships as well over a video conference as you can in a face-to-face meeting. I feel like trade shows are going to be vital in the coming years.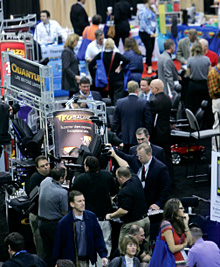 Video conferencing can't replace the best practices collaboration that happens across the health care ecosystem, where we're able to see what another organization or manufacturer has created that would impact our ability to serve our patients. Nothing can replace a trade show for that purpose, because you're able to, in a matter of days, to really glean a lot of great information. You can take that information back and use it to care for patients, and use it to impact those payer partners.
Once folks are more comfortable meeting in large groups, I think trade shows are going to be vital for us as an industry as we seek to really work together and collaborate. Part of that collaboration will be about addressing the COVID-19 crisis, but also about other issues that we're still overcoming.
Manufacturers have got to be chomping at the bit to get in front of providers. They have all of these great solutions, and it's one thing for a manufacturer to engage you through Linked In or other social media, but very different when you are face to face and you have the ability to touch and feel the products.
Devin De Lozier is vice president, Strategic Partnerships and Payor Relations, SuperCareHealth, Downey, Calif.