LAFLIN, PA – Medtrade exhibitor Golden Technologies' primary lift chair distribution center in Laflin, Pa, is undergoing a major transformation that will improve the speed of product distribution, while significantly reducing the number of steps employees take every day.
"Prior to our renovations, each Golden employee walked anywhere from 17 to 22 miles every day, moving lift chairs from our freight trucks to their designated location on the floor and then to the loading docks. With our new system of power conveyors, racking and a re-organization of the entire floor, movement of product through the building will be much more efficient and faster," explains Dave Leiby, Golden's vice president of Finance, who led this project and designed the new layout.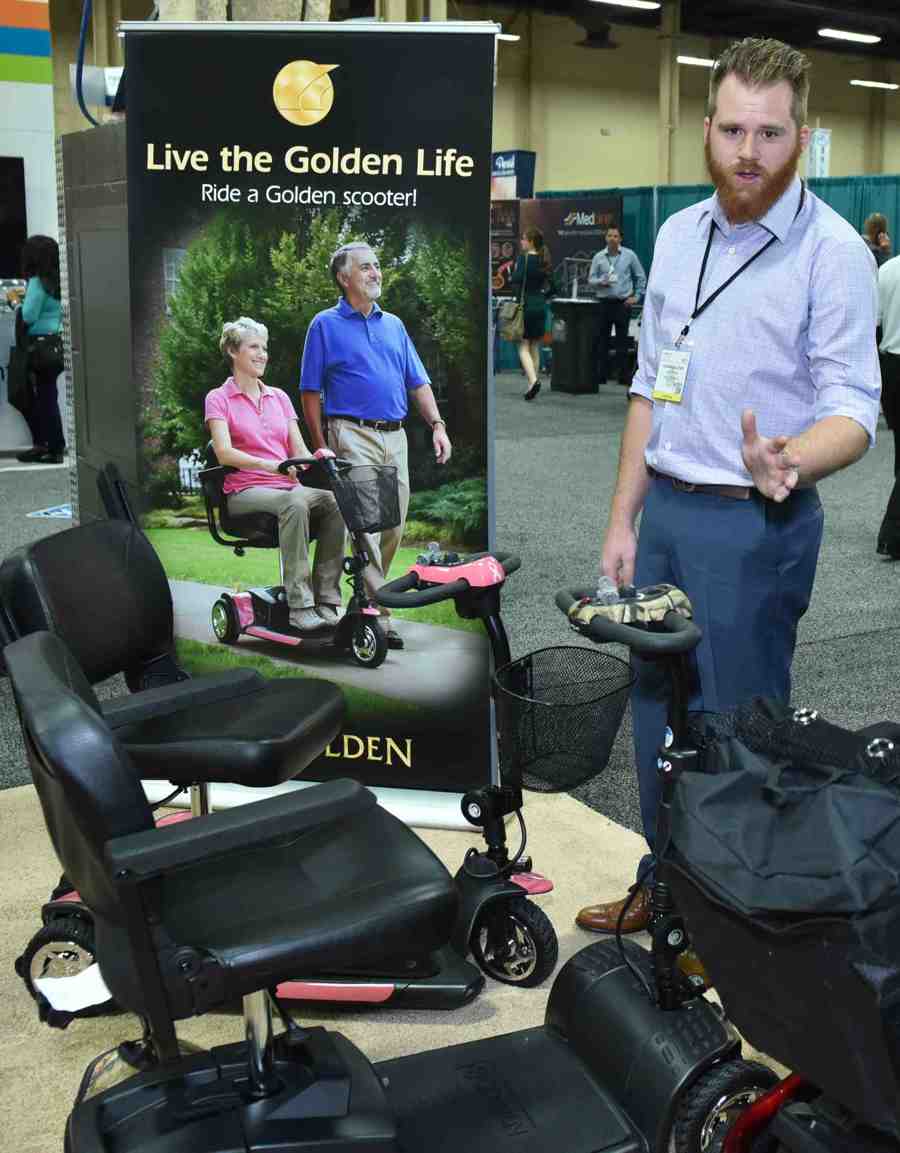 Golden moved into the new distribution center a year ago, doubling its warehouse space from 50,000 square feet to 100,000 square feet. In addition to the increased floor space, Golden is also now taking advantage of the substantial vertical height of the warehouse by installing racks to store certain models of chairs.
"The new racking system allows us to take advantage of the vertical space we have with twenty-five foot high ceilings," he says. "We've installed five sets of racks, each 100 feet long, for chairs that aren't the big movers for us, but still very easy to access to improve efficiency."
To access chairs 15, 20 or 25 feet off the floor, Golden invested in a special forklift that allows an employee to strap himself onto the lift, raise the lift to the desired height, and personally select the chair to match the order.
The new power conveyor system being installed throughout much of the building will be the key factor in reducing the steps employees take each day. Chairs coming from the Golden manufacturing plants will be unloaded from the trucks, placed on a conveyor, and travel across the floor to the designated quadrant where it will be stored until it's time to ship.
The warehouse floor is now divided into four quadrants. Each quadrant and the rows in that quadrant are identified by a series of signs hanging from the ceiling. Each lift chair box comes labeled with the quadrant and row where the chair will be stored, eliminating any guesswork regarding where to store it. "Everything is pre-determined in our computer system," adds Leiby. "We will have eight computer display screens located throughout the floor so that our employees can easily find where a chair is located."
When a chair on an order is located, it is put on the powered conveyor which sends it to the loading docks. The new warehouse features nine loading docks. Says Leiby, "We've committed a major financial investment into this building and these renovations, all with one goal in mind: to increase productivity and maximize overall efficiencies in order to better serve our customers."