WASHINGTON, DC – On May 29, 2015, AAHomcare submitted comments on the Proposed Rule by the Department of Health and Human Services (HHS) titled, 2015 Edition Health Information Technology (Health IT) Certification Criteria, 2015 Edition Base Electronic Health Record (HER) Definition, and ONC Health IT Certification Program Modifications. HHS' proposal introduces a new edition of certification criteria (the 2015 Edition health IT certification criteria or "2015 Edition"), proposes a new 2015 Edition Base EHR definition, and proposes to modify the ONC Health IT Certification Program to make it open and accessible to more types of health IT and health IT that supports various care and practice settings.
The 2015 Edition would also establish the capabilities and specify the related standards and implementation specifications that Certified Electronic Health Record (EHR) Technology would need to include to, at a minimum, support the achievement of meaningful use by eligible professionals, eligible hospitals, and critical access hospitals under the Medicare and Medicaid EHR Incentive Programs (EHR Incentive Programs) when such edition is required for use under these programs.
In the submitted comments, AAHomecare expressed strong support for ONC's decision to expand the EHR standards so that they can encompass all care settings. AAHomecare believes that the failure to encompass standards for DMEPOS items used by patients in their homes has posed a significant hurdle to achieving full functionality for the EHR and permitting the health care system and patients to garner the benefits and efficiency of the EHR.
AAHomecare requested the opportunity to meet with ONC to discuss issues pertaining to DMEPOS in more detail. See AAHomecare's comments here: https://s3.amazonaws.com/aafh/downloads/674/AAH_Comments_Health_IT.pdf?1433118948

AAHomecare in Action – Short-Term Success a Long Time in the Making
by Tom Ryan
WASHINGTON, DC – The recent AAHomecare Washington Legislative Conference was a terrific success. HME leaders from around the country once again converged on Capitol Hill to make the case for legislative and regulatory relief to benefit both providers and patients. Since I first became active in advocacy efforts on behalf of the HME sector—long before I became president of AAHomecare—I found this event to be both personally and professionally rewarding. For those of you who have never been to DC for the conference, or haven't been a part of it in recent years, I hope you'll consider joining us next Spring for the 2016 edition.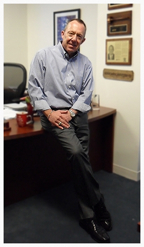 In the days leading up to this year's legislative conference, AAHomecare learned of a proposed pay-for in the 21st Century Cures bill, which is written to foster healthcare innovation. This pay-for would be an immediate action to limit the federal portion of state Medicaid fee-for-service rates for HME to Medicare bid program rates. Although this is perennially proposed as a pay-for for something, especially in the President's budget, over the last six years AAHomecare was successful in keeping it from getting attached to moving legislation.
Our legislative staff and individuals from several AAHomecare companies responded immediately and got the attention of House leadership and key committee staffers to negotiate a delay to this proposal. Thanks to the team's efforts, we got a delay for four years, to 2020. But we achieved more than just a delay: we also won an agreement from legislators to consider initiating a nationwide prior authorization process that would reduce the constant stress caused by Medicare audits.
While the potential linkage of Medicaid payments to competitive bidding rates is something we would all prefer to keep from taking place, we've garnered a significant delay, and a first bite at the legislative apple. We will keep working to address this issue in future legislation and we can hopefully get compromise language drafted before the cuts take place. In addition, we helped pave the way for a prior authorization program that can help HME providers everywhere. And, according to our intel, the 21st Century Cures bill will change significantly when it heads to the Senate later this Summer.
While this particular episode all played out in a period of about two weeks, our ability to generate a positive outcome is the fruit of years of commitment from HME leaders who stepped beyond their regular duties to become involved in legislative activities and this Association. It's also the result of individuals spending their time and money to come to Washington to ask Members of Congress and their staffs to take our concerns seriously, by site visits with legislators and community leaders, and meetings back home.
The relationships you and your peers have built over a long period on Capitol Hill give the HME sector the credibility to achieve these kinds of results. It may have been a challenging couple of weeks for our lobbying team, but your years of hard work carrying our message to Congress has once again played a big part in securing a better result for home medical equipment providers everywhere. Thank you again for your commitment and support!