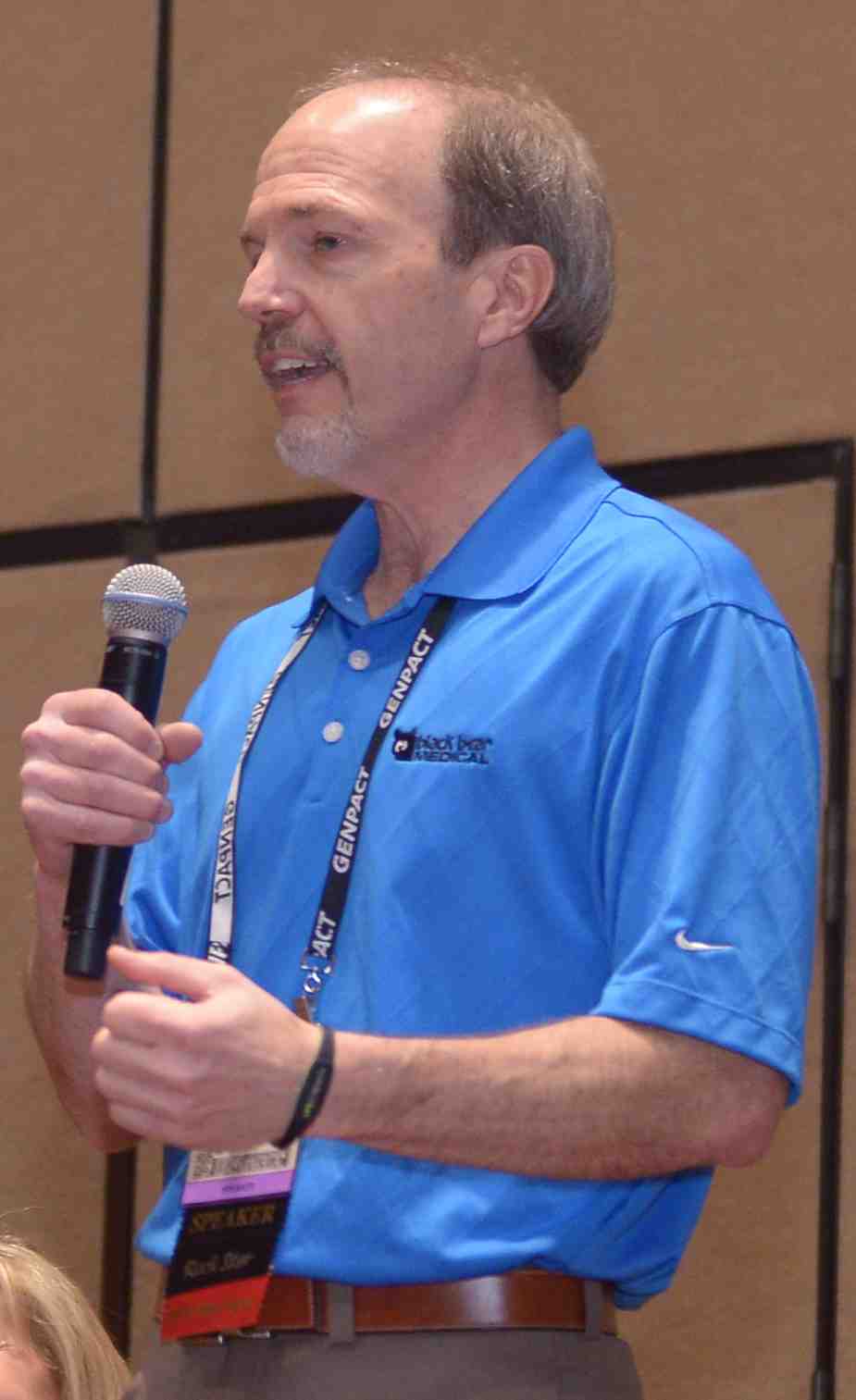 PORTLAND, ME – Retail guru Jim Greatorex has more than three decades experience in the HME industry, and he will be back again at this year's Medtrade, scheduled for Oct 26-29 at the Georgia World Congress Center in Atlanta. Greatorex started Black Bear Medical back in 1988, which grew to include three stores and 37 employees in Maine and New Hampshire until it was sold earlier this year.
In his new role in Business Development for VGM Retail, Greatorex will continue speaking and educating about  retail in HME. Medtrade Monday chatted with Greatorex to get his take on the state of retail and the questions he hears most during his Medtrade sessions.
Medtrade Monday: When you do Medtrade presentations, what is the most frequent question?
Jim Greatorex, Business Development, VGM Retail: I still get people who are concerned and thinking in the third party reimbursement mode. It's a different mindset to think in a retail mode, where you are expecting and asking people to pay for things as they get them. It's more of where the questions are coming from—usually from somebody who still hasn't gotten the mindset they need to be successful. But the most popular question we get is, 'What is the hottest new product line that you feel has the best opportunity, or that your store is finding the most opportunity?' The answer varies, but a good place to start is by attending Medtrade Spring and Medtrade.
Medtrade Monday: What has been one of your best marketing ideas?
Greatorex: That's a tough one because marketing today is so different than it was even 3 to 5 years ago—not even similar at all. People must get involved in several facets of promotion, and in doing so they all together make a successful campaign. But it is really difficult. One of the best things we've done is we had a couple of open houses on pain management products that were extremely successful, but it took a lot of promotion work in and outside of the store.
We did a media campaign through print mostly, and a digital marketing campaign with email and clinical contacts. Our marketing manager went out to some key clinical referrals to pin up notices for their patients and ask the clinical people to come to the event. We brought in the actual designer of the product. It was a really great event. We sold more product than we had here. We had to back order, which is a wonderful problem to have. That was the most successful campaign, as a stand-alone thing, that we've done in the last three years.
Medtrade Monday: It's obvious that you like to share your knowledge with conference attendees. Why?
Greatorex: There is a pay it forward aspect. A lot of people who I really like and admire are struggling. What I'd like people to know is that there are other avenues out there that you can pursue, and it is possible to generate a profitable store with something different than what you're doing now.  
When you share, you get back almost twice as much. By sharing what we have learned over the years, people come up to me with different ideas and different types of campaigns they've done that are great and also make our business better [when we had the business, prior to selling].
Medtrade Monday: Why is retail so important these days?
Greatorex: If we really want to have success, there has to be a true HME retail facet of our industry. We're struggling right now to get one. If we can do all we can to make this a viable solution, then we'll have manufacturers coming out with great new products, and they will now have a great venue to bring those products to the general public. I really want our industry to grow toward that model.
Jim Greatorex will be presenting at Medtrade during the following sessions:
Monday, Oct 26, 2015: 2:15 PM to 3:45 PM
Growing your HME Retail Business: A Panel Discussion
Speaker: Jim Greatorex, HME Consultant
Track: Retail
Location: C203
Tuesday, Oct 27, 2015 – 9:00 AM to 10:00 AM
Annual Innovative Retail Awards
Open to All Attendees
Speaker: Jim Greatorex, HME Consultant
Track: Retail
Location: C102 Auditorium
Medtrade Early Registration is On
ATLANTA – For those looking to acquire education and innovative products, Medtrade is set for Oct 26-29, 2015, at the Georgia World Congress Center in Atlanta. Those who choose to register now can save up to $75 on the Expo, and more than $200 on the Conference over later rates and/or day-of-show rates.
Click the link below to register for Medtrade 2015
http://registration.experientevent.com/showMTH151/default.aspx?flowcode=Attendee