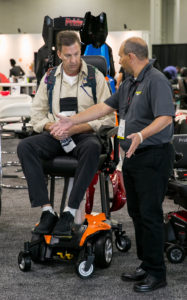 LAS VEGAS – Early registration rates for Medtrade Spring are in effect for another three weeks. The Spring version of the nation's premiere HME trade show is scheduled for March 27-29, 2018, at the Mandalay Bay Convention Center in Las Vegas.
"Early rates will be gone before you know it," says Sarah Varner, marketing director, Medtrade. "2017 flew by and the first month of 2018 won't go by any slower. An expo pass gets you in front of hundreds of exhibitors and products, and a conference pass includes that plus access to education and experts. Don't let this great value pass you by. The exact deadline is Jan 31."
Exhibitors are already buying up floor space at the Mandalay Bay Convention Center in anticipation of a chance to meet with providers looking to jumpstart their business in 2018. For more information about the show, visit www.medtradespring.com.