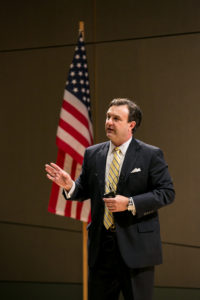 WASHINGTON, DC – Strong grassroots lobbying efforts by the HME community have helped bring 107 co-sponsors aboard for H.R. 4229.  Help build additional co-sponsorship support by making a special effort to contact these 35 legislators who were co-sponsors of H.R. 5210, rural relief legislation that was introduced in the previous Congressional session:
Alabama: Gary Palmer (R-6)
California: Scott Peters (D-52)
Florida: Tom Rooney (R-17)
Georgia: Austin Scott (R-8) – David Scott (D-13)
Idaho: Michael Simpson (R-2)
Illinois: Cheri Bustos (D-17) – Rodney Davis (R-13)
Kentucky: Brett Guthrie (R-2) – Tom Massie (R-4) – Hal Rogers (R-5)
Louisiana: Ralph Abraham (R-5)
Maryland: Andy Harris (R-1)
Massachusetts: William Keating (D-9) – Stephen Lynch (D-8)
Nebraska: Jeff Fortenberry (R-1) – Adrian Smith (R-3)
New Jersey: Chris Smith (R-4)
North Carolina: George Holding (R-2) – David Rouzer (R-7)
Ohio: Steve Chabot (R-1) – Bob Gibbs (R-7) – Brad Wenstrup (R-2)
Oklahoma: Tom Cole (R-4)
Oregon: Kurt Schrader (D-5)
Pennsylvania: Lou Barletta (R-11) – Scott Perry (R-4) – Bill Shuster (R-9)
Rhode Island: James Langevin (D-2)
Texas: Louie Gohmert (R-1) – Jeb Hensarling (R-5) – Kenny Marchant (R-24) – Bill Flores (R-17)
West Virginia: David McKinley (R-1)
Wisconsin: Mark Pocan (D-2)
In addition, these nine members of the "freshman class" of the current Congress replaced legislators who co-sponsored H.R. 5210 – you can reach out to their legislative assistant handling healthcare issues and let them know their predecessor was a co-sponsor of similar legislation.  The former member is noted in brackets.
Arizona: Tom O'Halleran (D-1) [Ann Kirkpatrick]
Illinois: Raja Krishnamoorthi (D-8) [Tammy Duckworth]
Kansas: Ron Estes (R-4) [Mike Pompeo]
Louisiana: Clay Higgins (R-3) [Charles Boustany]
Michigan: Paul Mitchell (R-10) [Candice Miller]
Nevada: Jacky Rosen [D-3) [Joe Heck]
Texas: Jody Arrington (R-19) [Randy Neugebauer]
Virginia: Donald McEachin (D-4) [Randy Forbes] – Scott Taylor (R-2) [Scott Rigell]
Even if we get half of the 44 legislators noted above to co-sponsor H.R. 4229, we will pass H.R. 5210's total of 121 co-sponsors.  If you are located or do business in any of these districts, please make a special effort to reach out to these members of Congress.
Additional Resources
Manual CRT Accessories Bill Reaches 82 Co-Sponsors
WASHINGTON, DC – House legislation introduced in September to exempt accessories for manual CRT wheelchair accessories from bidding-derived reimbursement rates now shows a bipartisan roster of 82 co-sponsors.  H.R. 3730 would complement June's CMS action that exempted accessories for group 3 power wheelchairs from bidding-derived pricing.  CRT suppliers and other stakeholders in the mobility space can use our related issue brief to help in their outreach to Capitol Hill in support of this legislation.
GAO Looks at Medical Device Review Process
WASHINGTON, DC – The Government Accountability Office (GAO) has published a report titled FDA MEDICAL DEVICE REVIEWS: Evaluation is Needed to Assure Requests for Additional Information Follow a Least Burdensome Approach. This study reviewed the Food & Drug Administration's (FDA) methods of evaluating new medical devices requests from sponsors, which are mostly from manufacturers. More specifically, the GAO reviewed the FDA's requirement to utilize the "least burdensome" approach, which is a federal provision intended to improve efficiency of reviewing new medical device technology. The GAO found that the FDA hasn't instituted a performance metric to evaluate the effectiveness of the implementation of the least burdensome requirement and therefore recommended the FDA to develop a metric to review their application of the provision. HHS agreed to GAO's recommendations and continues to encourage the FDA to adopt evaluation tools.
You can find the GAO report here.