LAS VEGAS – Familiar Medtrade Spring exhibitor Pride saw strong foot traffic at Medtrade Spring, as well as a new attitude among many providers in attendance at the Mandalay Bay Convention Center in Las Vegas earlier this month.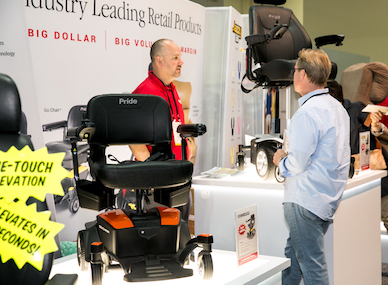 "Our Medtrade Spring was fantastic," said Micah Swick, national sales director, Pride. "Our provider partners are turning the corner and, increasingly, are realizing their future and success rests with themselves, not government policy and reimbursement. They understand, as do we, the future is retail."
Displaying many big-ticket, high-volume products, Pride officials piggybacked on trends that took shape last year. "Pride providers have sold more than $5 million, at retail, of the new Jazzy Air in just 10 months, and Jazzy Air was just recognized as an ATP and Clinicians Best Pick by Mobility Magazine," said Swick. "In addition to the success of the Jazzy Air, providers have also sold more than 1,300 Go-Chairs in the same 10-month period, and our new, premium True-Infinite position, power recline lift chairs led our Medtrade Spring sales volume during the two-day event."
Part of Pride's success is rooted in expanded manufacturing capacity begun in the Fall of 2016. Specifically, Pride Mobility Products® opened a wholly-owned, vertically-integrated, lift chair manufacturing plant in Pontotoc, Mississippi.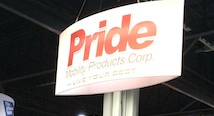 "We listen to our providers and know the exceptional quality demanded in the lift chair market," explained Joe O'Brien, senior vice president of Global Manufacturing. "We realize that the only way to achieve a win-win for all is to stay true to our 30-year roots in lift chairs, and evolve our wholly-owned, vertically-integrated manufacturing here in the U.S. via Pride Mississippi. The results are proving phenomenal in every aspect."
Pride Mississippi employs approximately 100 local employees manufacturering every aspect of Pride® lift chairs. The process begins with state-of-the-art computerized cutters that precisely form each of the lift chair's engineered inner structure. From there, master craftsmen add the springs, upholstery, and lift mechanism – creating an entire lift chair within the plant. Pride's lift chairs are manufactured in America to the stringent quality and manufacturing standards.
Providers began receiving models built in the Pride Mississippi plant in November 2016, with the majority of Pride lift chairs manufactured there by January 1, 2017. "We're proud to continue demonstrating through three decades of manufacturing lift chairs that wholly 'Made-in-the-USA' creates superior product outcomes," added Patrick Ramey, director of Manufacturing, Pride Mississippi.