LAS VEGAS – The final day of last month's Medtrade Spring at the Mandalay Bay Convention Center in Las Vegas culminated with the New Product Pavilion Providers' Choice Awards, sponsored by HomeCare Magazine. Western Medical, Inc. earned the Silver Award for their Rip n Go Premium Linen Systems.
Michelle Skimas (pictured receiving the award at Medtrade Spring) is the national director of Sales and Business Development for Western Medical Inc., a Vancouver, Washington-based medical supply distributor/partner since 1977. Medtrade Monday chatted with Skimas about Rip n Go Premium Linen Systems, a product out of Ottawa, Canada. Western Medical Ince. is the first to launch the product in the United States and has an exclusive agreement for distribution in the U.S.
Medtrade Monday: Please tell us about the development of Rip n Go.
Michelle Skimas: Rip n Go has created a whole new category of care for consumers. The genesis of Rip n Go began when Louise Miner, owner of Ottawa Draperies and a textiles expert, saw a need for quicker and easier middle-of-the-night crib changes for her own family. Its popularity spread throughout Canada, and it quickly expanded from cribs to potty training time for juniors, and then to the issues faced by adults with incontinence, mobility challenges, and confinement to hospital beds.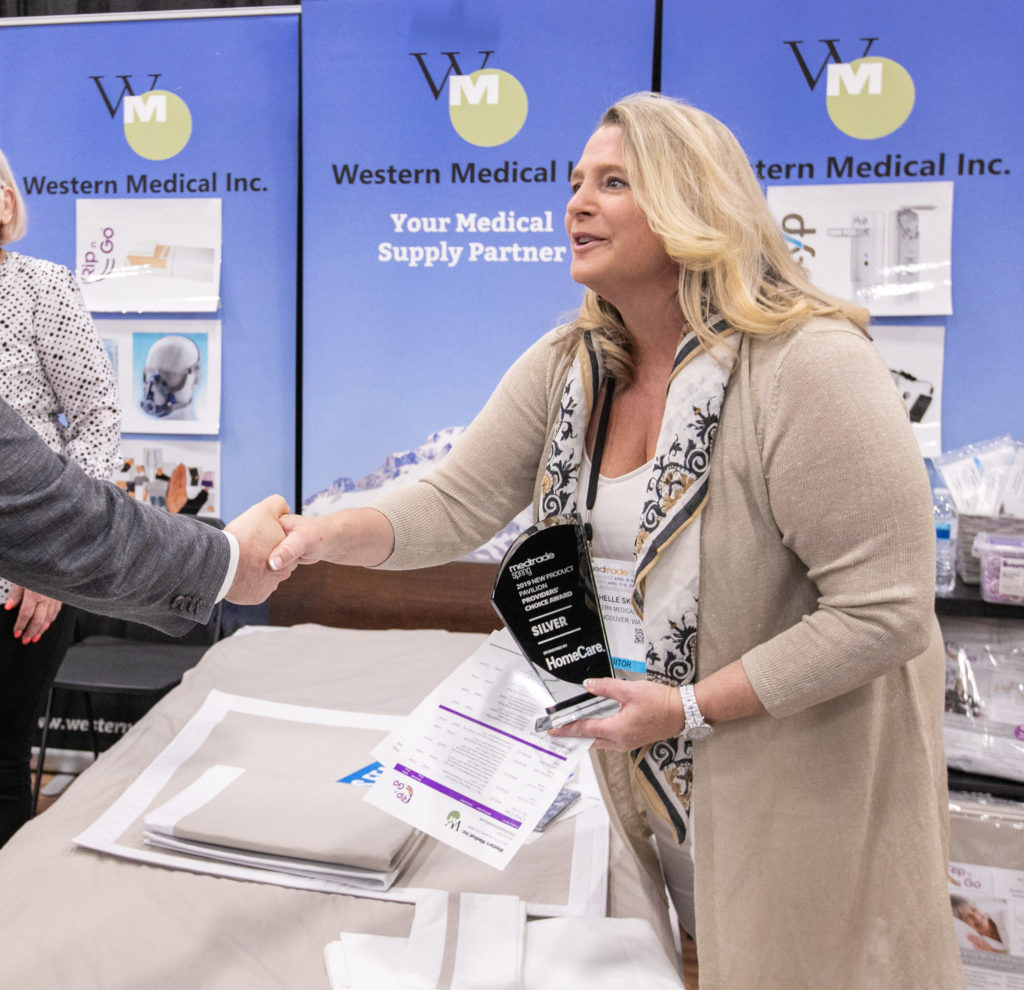 Medtrade Monday: How many product lines are in the Rip n Go system?
Skimas: Rip n Go has five product lines: Baby; Junior; Essentials; Home Care; and Superior Care.
Medtrade Monday: How did Medtrade Spring attendees respond to the product?
Skimas: The excitement we received from providers attending Medtrade Spring was surprising. We know that Rip n Go is solving problems for people, but didn't fully grasp how common and extensive these problems are.
Medtrade Monday: What makes the product so effective?
Skimas: Let's look at their top selling line, Superior Care. The triple layered waterproof bed pads stay in place with a soft Velcro. They hold their wingspan, preventing puddling and concerns from users about where the pad will be when they awake.
They're washable up to 400 times, and the innovative weave combined with the unique stitching of the pad wicks moisture away from the body, east and west, providing for wound prevention and skin integrity. There's also a Corner Shoulder Lock System on the fitted sheet that stops the corners from constantly popping off. And finally, their Easy Grab Corners on the Custom Detachable Bottom Rip n Go Sheet provides better airflow and allows users to change the sheet from one side of the bed without having to lift the corners of the mattress.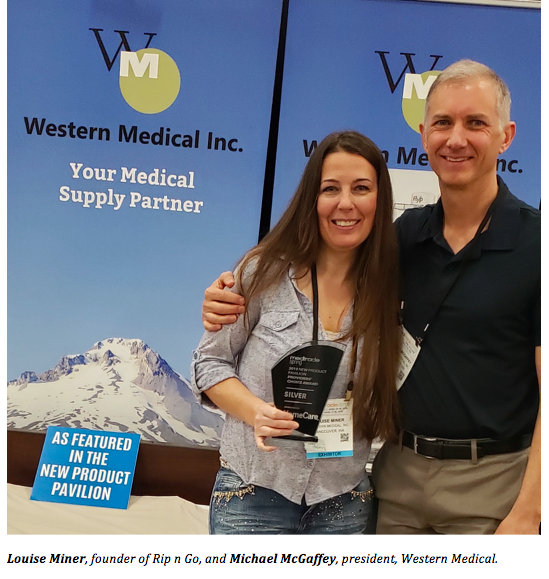 Medtrade Monday: What types of questions were attendees asking at Medtrade Spring?
Skimas: At Medtrade Spring, we had questions from providers such as "Is it washable?" (yes), and "Does this fit low air loss or pressure relief mattresses?" (yes), but by far we were most asked, "How do I get this product for my store?" (Western Medical Inc.).
We have no doubt Rip n Go was so well received at Medtrade Spring because it's what we would all want for ourselves or our loved ones if we needed it. This is a product that provides for a better lifestyle and gives people back their dignity. Rip n Go will change the regiment of care for those who have it.
Medtrade Monday: Do you agree that the baby boom generation will bring increased demand?
Skimas: We live in a day and age where growing numbers of aging consumers are being cared for by a generation used to "convenience." They're willing to take the regiment of care into their own hands when possible. Of course, it would be great if Medicare would cover high quality products, such as incontinence products, that could actually get someone through a solid night's sleep. But if that isn't available, many people are willing to use their resources to get what they need with cash.
At Western, we like to say the best HCPC code is C-A-S-H. That's what many providers are finding is a better, easier way to go. We believe if we provide products that are best for the consumers, it's best for all of us. I've been in stores where they have to tell a person who needs a breast pump, and expects insurance to cover it, that they're sorry they can't provide a better product because the store will be losing money. I've also been in stores where they tell customers with Medicare, "I'm sorry, but I can't help you. You'll have to go somewhere else." The customer is clearly puzzled, and their needs go unmet. Rip n Go does not have a HCPC code but will save consumers money on disposables and additional skin issues over time.
Medtrade Monday: What's your level of optimism these days?
Skimas: I'm very optimistic about Rip n Go moving forward. We'll be doing a television ad campaign later this year. We have key accounts already jumping on board to provide this quality, cash sale product to their communities. We appreciate these partnerships as we strive to create consumer awareness and provide a better lifestyle for our communities.