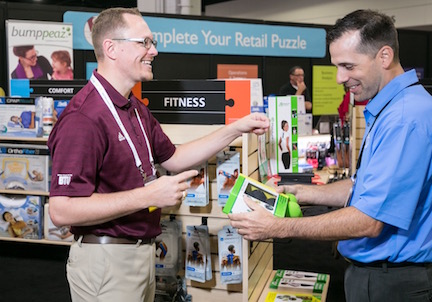 ATLANTA – Providers looking to dip toes into retail waters, or jump in with both feet, will have plenty of opportunities at Medtrade, scheduled for Oct 15-17, 2018, at the Georgia World Congress Center in Atlanta. Slots are still available for a new breakfast session called Rise & Retail, scheduled for Wednesday, Oct 17, from 7:30 a.m. – 9:00 a.m.
"Members like the opportunity to sit with their peers and us [VGM] in small group settings getting into the weeds of retail best practices," Baumhover says. "Kevin Gaffney [group show director] liked the idea of doing something like this [Rise & Retail] at Medtrade…and we're excited at this additional channel to share our expertise with Medtrade attendees."
Additional Wednesday Morning Option from Pride Mobility and CareCredit
Wake Up and Learn: Breakfast with Pride and CareCredit
CareCredit Consumer Financing:  Secrets to Success
Wednesday, October 17 ∙ 8:00 AM – 10:00 AM; Room C301
Note: Registration is not done through Medtrade. You must register directly with Pride
Speakers: Nichelle Coles, Assistant Vice President National Accounts; CareCredit, a Synchrony solution
This session will discuss how consumer financing options enable Providers to help consumers access products and accessories that allow the highest quality of life.  Becoming a CareCredit Provider has never been easier. In this session, we will provide an overview of what CareCredit is, how to become a CareCredit authorized Provider and how to incorporate and use CareCredit in your business. The session will also discuss additional collateral/point-of-sale materials to help integrate consumer financing into your business. Most importantly, find out how CareCredit can boost your sales.
Open to all attendees, advance registration required
The following events/sessions/areas will deal specifically with HME Retail Strategies:
Innovative HME Retail Product Awards, sponsored by HomeCare Mag
The purpose of the competition is to recognize products that contribute to providers' bottom lines though cash sales. Attendees will listen to presentations from reps of the top eight products (selected by panel of judges) and hear a retail panel discussion of these products. Attendees and judges will then cast their vote to crown three winners. Providers who know of great retail products offered by Medtrade exhibitors are encouraged to call manufacturers and urge them to enter the competition. Contact Kevin Gaffney at kevin.gaffney@emeraldexpo.com for more information on how to enter.
Session is scheduled for Monday, Oct 15 ⋅ 1:00 p.m. – 2:00 p.m.
Educational Sessions in the Retail & Cash Sales Track
Experience Matters – Build and Grow Your Retail Business Brick by Brick
Monday, Oct 15, 2:15 p.m. – 3:45 p.m. – Room: C205
Retail: Caring for Customers Beyond the Barriers of Insurance
Tuesday, Oct 16, 2:15 p.m. – 3:45 p.m. – Room: C203
How to Drive Two Trains at Once
Tuesday, Oct 16, 4:00 p.m. – 5:00 p.m. – Room: C209
Stop Complaining about Amazon. You have the Competitive Advantage
Wednesday, Oct 17, 9:00 a.m. – 10:00 a.m. – Room: C21
Retail Spotlight – Hands On with Incremental Sales – On Show Floor
This new area on the show floor will showcase three popular product categories and the complementary items that can generate additional revenue for your business. Put your merchandising skills to the test.
There will be several tables for various topics. Attendees must select one table to attend when registering and remain at that table during the event.
Retail Table
Best-in-Class Merchandising and In-store Marketing Ideas
Facilitator: Rob Baumhover, director of VGM Retail
Effective merchandising doesn't end with product displays. Without signage, print and other marketing materials, you're stopping short of the finish line. Learn about creating knock-out product displays and how to finish the look with in-store marketing from two retail experts.
The Medtrade eRetail Experience, Presented by Health Mobius
ATLANTA – Medtrade attendees looking for more help to effectively compete with Amazon and other online retailers have a new place to go: The Medtrade eRetail Experience, presented by Health Mobius. There are two one-hour sessions on Tuesday, Oct 16 (11:00 – noon and 4:00 p.m. – 5:00 p.m.) and Wednesday, Oct 17 (10:30 a.m. – 11:30 a.m. and 1:30 p.m. – 2:30 p.m.).
Click Here for more on the eRetail Experience.
Register for Medtrade 2018.