ATLANTA – Only Medtrade attendees will be able to take advantage of a significantly lower price for Mike Sperduti's HME Sales Excellence Training, scheduled for Monday, Oct 26, 10:00 a.m. – 4:00 p.m., Room C211 at the Georgia World Congress Center in Atlanta. 

Sperduti's intense sales training program is making its debut at Medtrade, and Mike will be teaching his step-by-step sales process that shows exactly how to meet a sales quota, income goals, and serve an abundance of new patients. Medtrade Monday caught up with Sperduti just nine weeks before Medtrade, scheduled for Oct 26-29.
Medtrade Monday: How did you develop the 7-Step Sales Process?
Mike Sperduti, president and CEO of the Mike Sperduti Companies (Emerge, Renewal Technologies, Phoinix Holdings, and Mike Sperduti Training), East Northport, NY: I developed the 7-Step Sales Process after years of studying and working with leading masters in sales, psychology, law, neurolinguistics and neuroscience. I took all that I learned and put it into this process. I wanted to create a model that could get predictable and repeatable results. I tested it with my own businesses first. We've generated over a billion dollars in sales using the 7 step process.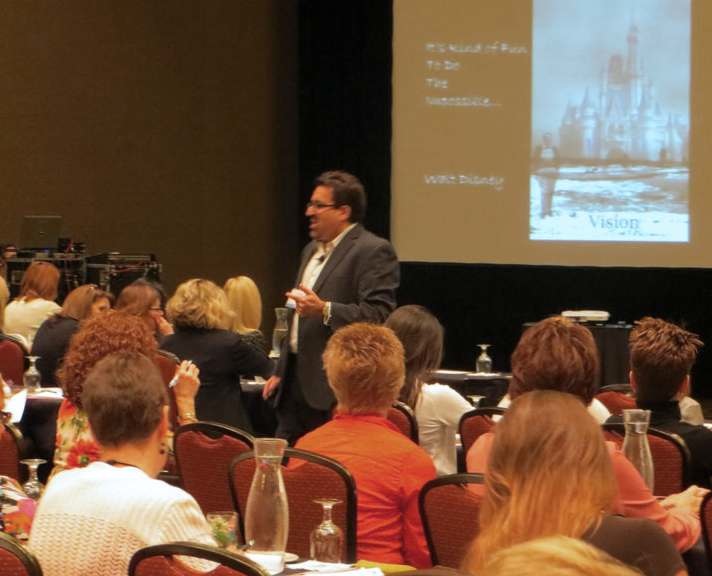 Medtrade Monday: What type of an audience has been hearing your message?
Sperduti: My passion is taking the process and sharing it with people around the world. So far, we've been able to educate 17,000 executives in 32 countries with our principles. They notice the same results that we've experienced in the United States. It all has to do with taking the best elements and using those elements. I'm excited to bring it to Medtrade because typically this training is either done privately or in public courses online. We've never done a group training in a diverse audience like Medtrade.
Medtrade Monday: How much money will people save by doing this training at Medtrade?
Sperduti: Medtrade attendees are saving thousands. It's a several thousand dollar education included in their Medtrade package.
Medtrade Monday: What do you say to someone who is hesitant to try caretailing (see the Top Story in Medtrade Monday for more on caretailing)?
Sperduti: They've been doing Medicare for so long, caretailing may be out of their comfort zone, but the future of healthcare is going to be more cash-pay oriented. I have a family. I have health insurance. When we go to the doctor, hospital, pharmacy, more and more deductibles are much higher, and the coverages don't cover things that are the best types of products and services. In addition, we all know that government reimbursed products are not the highest quality products. They just can't be. Many of us are fortunate in this country that we can afford better than just the bare minimum.
Medtrade Monday: What are some of the most important aspects of caretailing?
Sperduti: As providers, we need to be able to give the market choice. A lot of people are going to choose the better products, because they can afford them, and they want better patient outcomes.
Medtrade Monday: How can HME people compete with the big box stores?
Sperduti: It's like anything else. How do you compete against Amazon and Walmart? You don't. There's no way you can compete with them with their model. What you have to do is be a niche boutique specialist in a certain area and bring new and game-changing solutions to the market.
That's why they need to go to Medtrade and be scoping the new product pavilion and start with manufacturers that are entering the market. The retail folks won't typically get involved with something newer. They want to see a track record of success. The beautiful part of the HME space is we have the opportunity to bring out new and exciting products that you won't find in the big box stores.
Medtrade Monday: Why is sales training so important?
Sperduti: The most important thing to a company's survival is sales, serving patients, and serving referral sources. Today it's more difficult than ever because competition is very tough and margins are down, so maximizing per patient revenue is very important. Most of the companies out there today are using out-dated selling techniques. My program at Medtrade is used by industry leaders, Fortune 100 companies, and is 100% applicable to HME. The HME companies using it are growing in double digits, and if providers are interested in growing, they need to attend. There is no individual or company that can't learn how to represent themselves better.
Those who want in-depth understanding in a multi-hour setting may instead choose to attend any of two additional six-hour workshops, one Fitter's Course (all scheduled for 10:00 a.m. – 4:00 p.m., on Monday, Oct 26), or the inaugural Brightree Summit – Tools of the Trade, a 1:00 p.m. – 6:00 p.m. array of educational tracks with several sessions and hands-on training from which to choose. Click Here for more info on the Brightree Summit.
See details below on the additional workshops and fitter's course.
Compression Therapy and Its Application in the Management of Venous Disease
Monday, October 26, 10:00 am – 4:00 pm – C208
Speaker: Judith Brannan, Associate Director of Education/Medical Affairs, SIGVARIS Inc
Approved for 7.5 credits through ABC and 7.0 credits through BOC
This workshop will cover the following objectives:
• Describe the anatomy & physiology of the venous system, including pathophysiology of venous disease
• Define Chronic Venous Insufficiency (CVI)
• Define Deep Vein Thrombosis (DVT)
• Identify which Diabetic patient will benefit from graduated compression.
• Define Compression Therapy and its application in venous disease & treatment
• Describe indications and contraindications for compression
• Demonstrate proper measuring & fitting of compression garments
• Understand the role of a compression garment fitter
• Identify how to grow your compression business and merchandising
An Introduction to the Certified Durable Medical Equipment Specialist (CDME)
Monday, Oct 26, 10:00am – 4:00pm – C209
Speaker: Jeff Price, MP, Chief Operations Officer, Board of Certification/Accreditation (BOC), in collaboration with MED Group
The Certified DME Specialist (CDME) is a person who demonstrates broad knowledge of the DME/supply industry, including prescription verification, intake process, product selection, dispensing and setup, documentation, billing, compliance, and performance management. This workshop will cover the scope of practice for the CDME and prepare attendees to take the CDME examination. Discover the value of the CDME for facilities in a challenging industry climate and how to market the credential to customers, referral sources, and third party payors. Certified Durable Medical Equipment Specialist (CDME) Exam Participants can take the CDME exam at Medtrade on Wednesday, October 28 from 8:00-10:00 AM, for an additional $50 (If not participating in workshop, exam is $150). This price includes the application and exam fees. To qualify, participants will submit their application and documentation to BOC before taking the exam.
New Foundations, Unlimited Possibilities
Monday, Oct 26, 10:00 am – 4:00 pm – C210
Speakers: Dan Greyn, Senior, Systems Consultant; Gail Turner, Senior Systems Consultant; Joe Simanton, Senior Product Owner; Cole Helmer, Support Specialist, Computers Unlimited
TIMS software from Computers Unlimited is an all-in-one solution for patient intake, claims processing, document management, business intelligence, asset control, financial management and more. During this workshop, attendees will learn about new and innovative capabilities available in TIMS.
• Start the intake process the right way with in-bound document routing and imaging tools
• Extend the power of patient intake with user-defined workflows and customizable forms
• Simplify complex payer billing requirements with a powerful new billing rules engine
• Gain complete control over the documentation and authorization requirements of payers, physicians and patients with a flexible document management system
• Utilize dynamic work lists to super charge business processes and employee productivity
• Measure business and employee productivity with customized reports and Excel pivot tables
• Realize new levels of asset control with the industry's most comprehensive rental equipment management system
• TIMS has gone mobile! Utilize IPad and Android tablets for your medical delivery needs
• Reduce delivery costs with Roadnet Technologies' real-time dynamic routing capabilities
• Drive new efficiencies for your sleep business with web based CPAP compliance tools
• Gain insight on how your unique business requirements can be addressed through using TIMS and CU's application development resources
Click Here for more information on Workshop Pricing.