ATLANTA – The Jazzy Air® 2 power chair from Pride Mobility took third place in the Innovative HME Retail Product Awards, sponsored by HomeCare magazine, at last month's Medtrade in Atlanta. According to Renae Storie, director, Pride Mobility Products, the Jazzy Air 2 (shown here at the Georgia World Congress Center) was designed based on consumer feedback.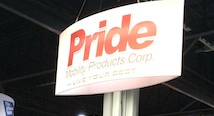 "The newly designed lift features a lower seat-to-floor height by two inches, enabling consumers to fit under most standard height tables and desks while offering the same face-to-face social engagement height," Storie says. "The new Jazzy Air 2 drives faster at 4 mph in the elevated position and elevates 12 inches in just 11 seconds, reducing the lift speed by five seconds."
Other features include the newly designed sport seat with angle-, height-, and depth-adjustable armrests; a height adjustable headrest; and a convenient front under-seat storage to keep valuables close at hand while on the go. Providers at Medtrade, along with judges, praised the chair's speed drive (while elevated), a feature that allows consumers to enjoy face-to-face social engagement on the move.
"They continue to be excited for our innovative approach towards retail," Storie adds. "As baby boomers continue to age, there will be more of a market than ever for mobility products. Pride is passionate about providing consumer-inspired, unique products to the industry that provide feature-rich options and strong margins for our providers. We will be at Medtrade Spring 2019 to show you our newest product advancements."