ATLANTA – Several awards were given out last month at Medtrade, and these exceptional products merit a closer look. The bronze finisher in the New Product Pavilion Providers' Choice Awards, sponsored by HomeCare Magazine, was the Avid Rehab Vector Power Chair from Merits Health Products Co Ltd. Martin Kidder, senior sales supervisor, agreed to sit down and answer questions about the Cape Coral, Florida-based company's highly functional entrant in the competitive power chair market.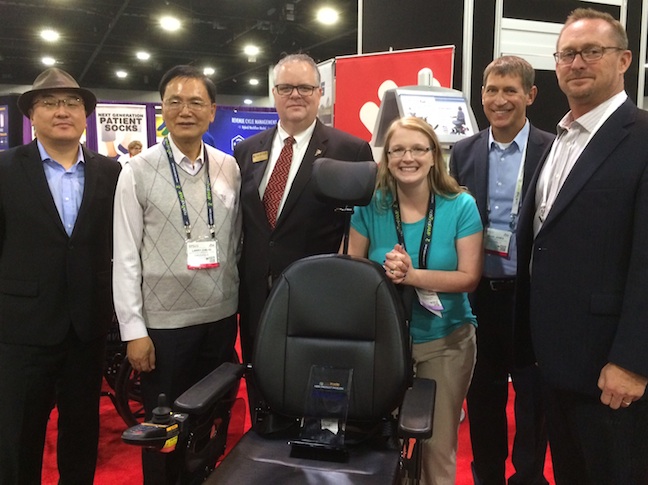 Q: Why do you think you received third-place in the New Product Pavilion Providers' Choice awards?
Martin Kidder: With continued reimbursement reductions throughout all insurance carriers, complex rehab is not immune to this pressure. Providers are looking for clinically sound, high performing units that are cost effective. The Vector by Avid is a clinically functional, high quality, durable, and reliable alternative in the complex rehab market place. Now more than ever, complex rehab providers are looking for alternatives in this space.
Q: What was the inspiration behind this product?
Kidder: To us, Avid is an attitude. It's the spirit of those people who refuse to give up a normal life simply because of their unique physical conditions. In that sense, our product is a reward, a gift to the people who possess this spirit, and are determined to not just live, but truly enjoy life. So, our business philosophy behind Avid is the spirit of constantly thriving for the best, and our product is the missing piece of the puzzle and the reward of having the best in your life.
Q: Why is retail/caretail so important in today's HME world?
Kidder: DME retail is the ability to set yourself apart as a provider, with long-term customer retention being the goal. Making consumers aware of companion products that they might not know providers supply is the key. Between the consumers who have fewer options and big box retailers who offer little support, HME providers bridge that gap and need to capitalize on their expertise and service. The providers who can give a high quality affordable product will be able to not only survive a constantly changing DME marketplace but also thrive. When we launched Avid rehab, customer satisfaction of both the retailer and the end user was the goal.
Q: What type of customers (end users) will be using your products?
Kidder: The same type of customers who have been using complex rehab technology (power mobility and power positioning systems) for years will be our customers. We have not reinvented the wheel, but we have reinvented ourselves and the manufacturing process around complex rehab technology related to wheeled mobility and seating and positioning systems. Because of the quality of our Merits products, our existing customers have been asking us to get into this space for years. We are filling a void with Avid Rehab, a platform that will work for our company, retailers, and end users. So far it has been a perfect match.