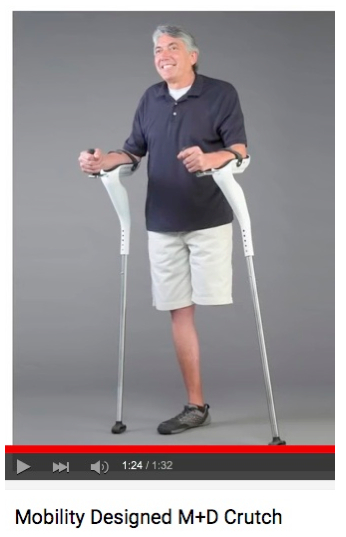 ATLANTA – Max Younger, designer of the M+D Crutch, grew up seeing his father use traditional crutches and says, "I always knew the old civil war era design needed to change, and I've been dreaming up ways to make it better for years."
The wait is over, and Medtrade attendees will be able to see the new crutch at Booth #1364 when the Expo portion of Medtrade opens from Nov 1-3, 2016, at the Georgia World Congress Center in Atlanta. Educational sessions at Medtrade start on Oct 31, 2016.
Mobility Designed (M+D), manufacturer of the M+D Crutch, is based in Kansas City, Missouri, and making its first trip to Medtrade in 2016. The company's Medtrade debut comes with a fair share of advance publicity, and it's a great way for attendees to see what the buzz is all about.
"We have had over 45 million people view our video from around the world, and have a waiting list for the M+D Crutch," says Keri Lauderdale Olson, chief marketing officer, Mobility Designed. "This will be the first opportunity for HME providers to try out this patent-pending crutch."
Click Here to view the video.
Click https://www.youtube.com/watch?v=P6RNQkfyVQo to view the video.
For HME providers hurting due to reduced Medicare reimbursements, the cash-based caretailing item is, according to Olson, "a premium crutch unlike anything on the market, and offers a higher margin for HME providers…with a minimum order at Medtrade, we will be offering a Marketing Social Media Toolkit."
Those looking to boost demand for new products may also wish to attend Keri Lauderdale Olson's educational session, Lightning in a Bottle – How to Create Demand for a New Product with Social Media, scheduled for Monday, Oct 31, from 4:30 p.m. – 5:30 p.m., in Room C210 at Medtrade. Go to medtrade.com for more info.