PHOENIX – More options are now available on day one of Medtrade West, scheduled for July 12-14, 2021 at the Phoenix Convention Center. Quantum is offering six hours of continuing education units (CEUs) at Medtrade West. All sessions are free to add on to an expo or conference pass. Seating is limited. Check the schedule below.
PRESENTER: Wade Lucas, PT, DPT, ATP/SMS, clinical education manager, Western US, Quantum Rehab will present all three sessions.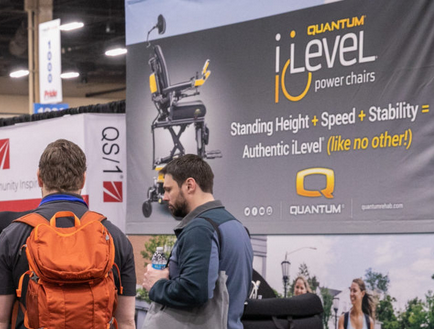 SESSION #1: Programming, Performance and Power Positioning by Quantum Rehab
DAY: Monday, July 12
TIME: 9:00 a.m. – 11:00 a.m.
Improving drivability and access to power seating functions are two of the most asked about programming parameters. Drivability is not only an extremely important factor for an end user's safety in controlling their power wheelchair, but a huge factor in the satisfaction and comfort in using the device. Independent repositioning is key to decreasing the risk of pressure injuries, increasing independence with ADL's, and improving quality of life. This course will take a basic to more advanced look at programming options for optimizing driving controls and access to power positioning functions.
SESSION #2: What's the Difference? Clinical Applications for Standard and Complex Power Wheelchairs
DAY: Monday, July 12
TIME: 1:00 p.m. – 3:00 p.m.
A power wheelchair is a power wheelchair, right? While many power wheelchairs are controlled by a standard in line joystick, as complex rehab equipment professionals, we shouldn't assume most power wheelchairs are similar. This course will discuss key performance characteristics of the 2 most common power wheelchair groups (group 2 and group 3), considerations for drive wheel configuration, the need for non-expandable versus expandable controllers, and considerations for suspension.
SESSION #3: Balancing Function and Independence: Clinical Considerations for Power Positioning
DAY: Monday, July 12
TIME: 4:00 p.m. – 6:00 p.m.
Power wheelchairs are designed to augment function when functional mobility is compromised or lost. For end users with complex needs, the power wheelchair can also augment repositioning and pressure relief. This course will dive into the various options for power positioning, clinical benefits, various access methods, and the research supporting the need for power positioning technology.
To recap: There is no fee to attend CEU courses, but registration is required. Attendees must register for an expo or conference pass and then add on the CEU session(s) to their registration. 
Click Here to register for Medtrade West, or copy and paste the link below.
https://registration.experientevent.com/ShowMTH212?flow=attendee&MarketingCode=MTMON