DALLAS – Golden Technologies will be showcasing new and innovative products in the power lift recliner and mobility divisions at Medtrade, scheduled for March 28-30, 2023 in Dallas. The introduction of new technology and comfort features at the show will help retailers discover new ways to drive cash sales with profit-producing products.
"We aim to lead our retailers to more education that will help them succeed. Nothing replaces the experience of the face-to-face interaction gained by attending a show. We're eager to see our retailers at Medtrade in Dallas to learn about all the tremendous innovation we have been working on," said Rich Golden, president & CEO of Golden Technologies. "Thanks to the support of our thousands of retailers across the country, including our exclusive Flagship retailers, we are poised to help more Americans maintain their independence and enjoy a new level of comfort with our unique designs and advanced technology than ever before."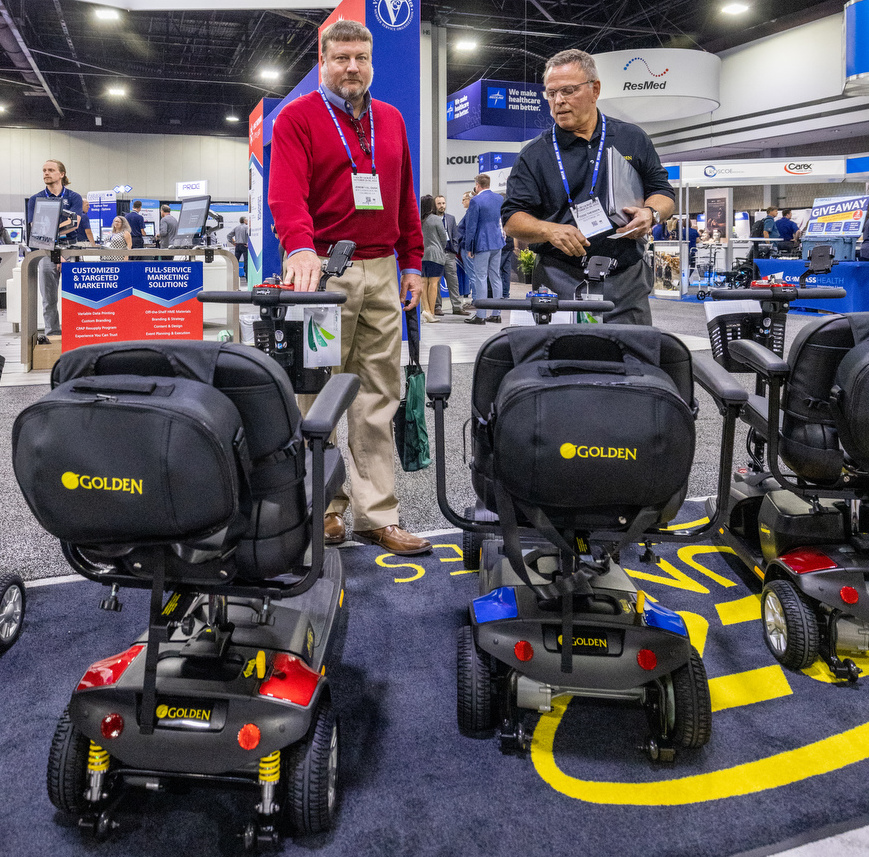 In the power lift recliners line, Golden will introduce two chairs with very distinguishing features – the PR504 and PR449, both top load open-arm designs with new HeatWave™ Technology standard.
Both chairs offer numerous positioning options with a 4-Zone Comfort Zone system, which includes Golden's patented MaxiComfort® Positioning, adjustable headrest, and lumbar.
The PR504 offers plenty of storage for hand controls and other items to keep handy as well as a gimbal drink holder that keeps beverages level even while moving into the lifted position. It also features an accessory mount with a removable table. The PR442 offers two sizes with convenient drink holders and storage in the open arm design.
Golden will also debut several other lift chair designs to meet customers' specific sizing needs and available space. The PR545 expands Golden's long-standing, popular Comforter model with MaxiComfort® Positioning with the addition of Twilight Technology standard. The tilting motion of their patented Twilight Technology provides a feeling of weightlessness while encouraging circulation by relaxing with the legs easily and comfortably elevated above the heart.
The PR545 comes in three sizes—medium, large, and tall. The PR535-M28 is a specially crafted bariatric version of the Comforter Wide model with MaxiComfort® Positioning and offers a 600 lb. weight capacity. In addition, the PR763 is medium-sized and offers modern styling with a slim track arm design, perfect for smaller spaces with all the comfort features.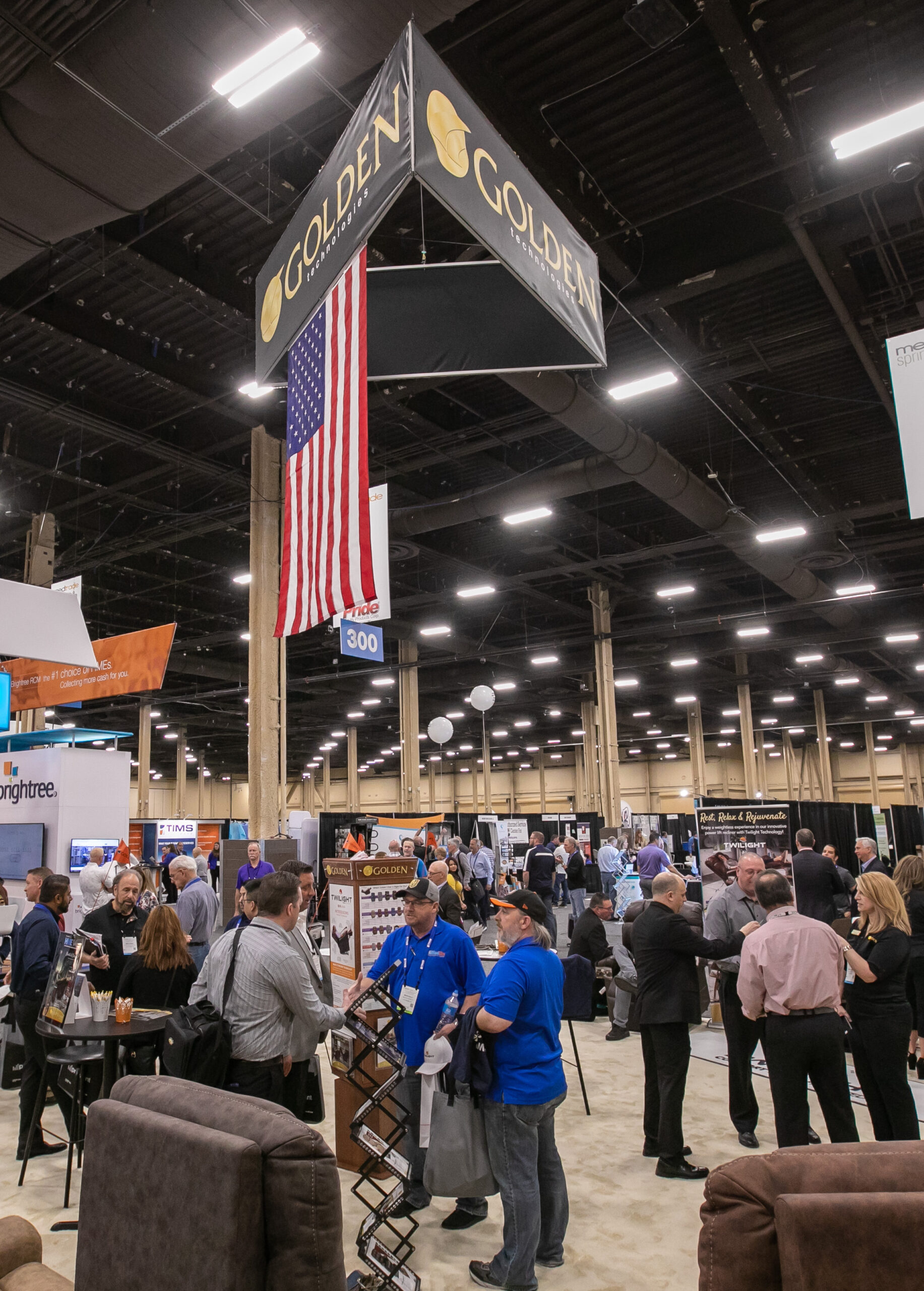 In their mobility division, Golden is introducing a new heavy-duty scooter in the bariatric market. The GR595 Eagle is in a class all its own, with a stylish yet rugged, off-road design built for high performance and maneuverability.
The Eagle offers front and rear suspension for smoothly traversing outdoor terrain and a powerful 140 Amp controller for outstanding climbing ability.
It features a full LED lighting package, an adjustable tiller, and a luxury high-back Captain's seat for maximum comfort, plus durable vibrant red color shrouds for a sporty look. With a 500 lb. weight capacity, up to 32-mile range on optional 75 AH batteries, plus a water-resistant storage compartment that comes standard, the Golden Eagle offers everything one needs to enjoy the great outdoors.
The next generation of the popular Buzzaround XLSHD features compact portability with a heavy-duty weight capacity. The XLSHD is offered in both 3- and 4-wheel models features a robust 325 lb. weight capacity and comfort spring suspension for a smoother ride. It offers improved standard features like a larger wraparound Delta tiller, higher ground clearance of 4", and an operating range of up to 9 miles on the standard 12 AH batteries. An upgrade is available with a new XR Extended Range Battery option for even more mileage.
The Buzzaround XLSHD also offers a new stylish, contoured stadium style seat for more comfort and increased seating tolerance. This scooter disassembles in seconds with just four easy steps making transporting it from one destination to another a breeze. The Buzzaround XL is also offered in both 3- and 4-wheel models and features a 300 lb. weight capacity and increased range.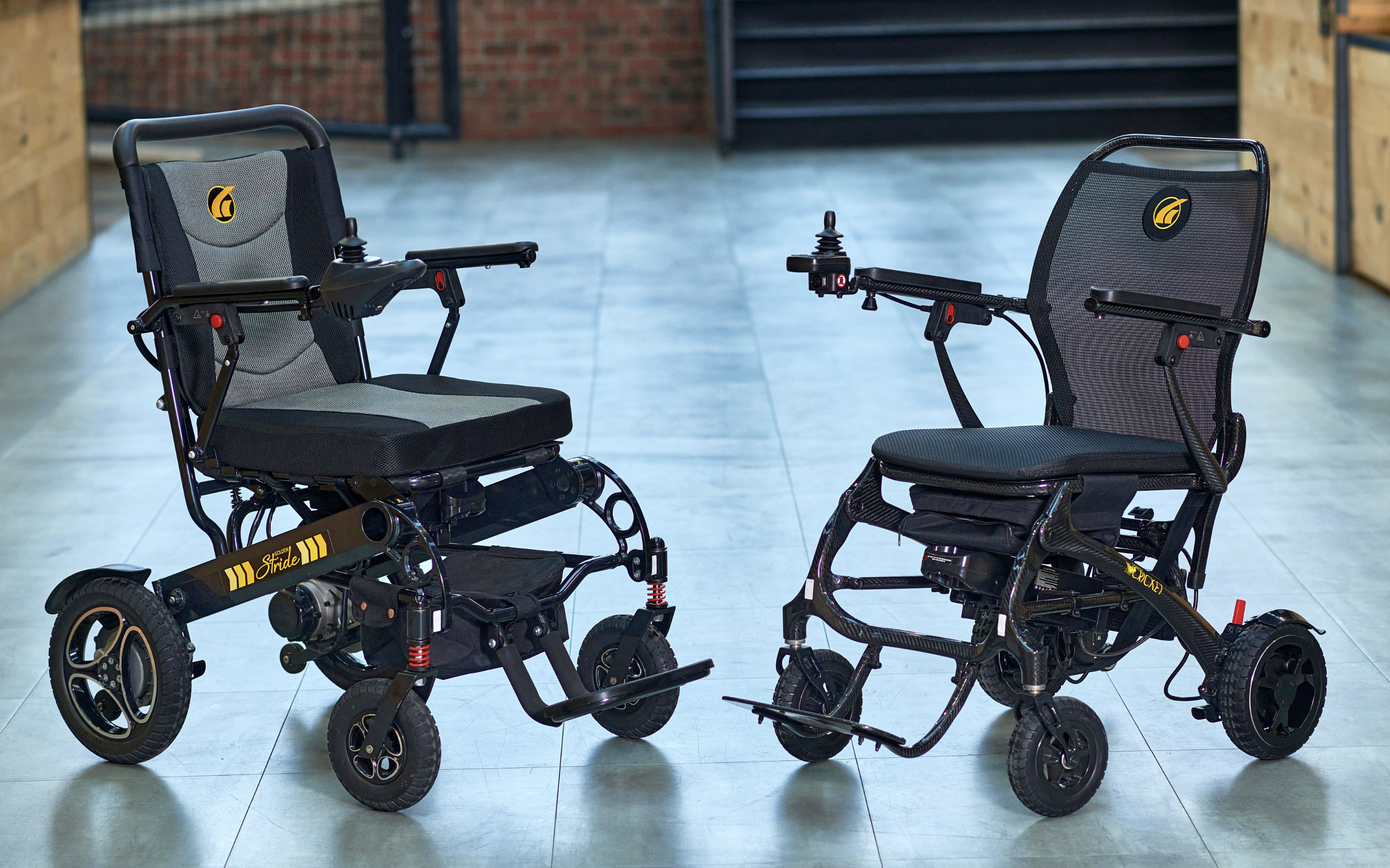 The all-new Buzzaround LT scooter is the smallest, lightest, and most portable Buzzaround scooter in the series offering comfort and sporty style. Offered in both 3-wheel and 4-wheel models, it features a lightweight, stadium-style seat, a weight capacity of 300 lbs., and increased foot room. The new Buzz LT also has a charger port in the tiller, a new hard plastic rugged basket, and color-through shrouds. Consumers will enjoy its tight indoor maneuverability and smooth outdoor ride with 2.5″ of ground clearance.
Golden recently launched two new lightweight foldable power wheelchairs, further expanding their current line of mobility products. "We'll also showcase our new Cricket and Stride very lightweight, folding power wheelchairs – two of the hottest-selling power chairs on the market due to their incredible portability and transportability," said Golden.
Golden retailers are already experiencing success with the all-new GP301 Stride aluminum folding power wheelchair and the GP302 Cricket carbon fiber folding power wheelchair. Both the Stride and Cricket are super-portable, stylish, and fun to drive.
"The Golden brand promises superior design, technology, and performance. These new product launches represent yet another level of innovation for our end-users while further differentiating Golden's long-standing presence in the power wheelchair and mobility market," said Golden.
Retailers at the show can stop by to visit Golden at booth #327.