OLD FORGE, PA – Medtrade exhibitor Golden Technologies has launched a new home care hi low adjustable bed and mattress to their product line. Golden is a mainstay within the categories of power lift recliners, scooters, and power wheelchairs.
"We are proud to re-enter the bedding space by adding the Golden Passport™ Hi Low Adjustable Bed to our product line," said Rich Golden, CEO of Golden Technologies. "Some retailers may remember Golden offering a bed and mattress in years past. The new Golden Passport will provide users with peace of mind knowing they can pursue their own independence. Whether customers are seeking the many wellness benefits of a hi low adjustable bed, recovering from an injury or simply have mobility concerns, the Golden Passport gives users (and caregivers) an added sense of security and peace of mind in their home. Our goal is to provide customers with the best 'REST' of their life."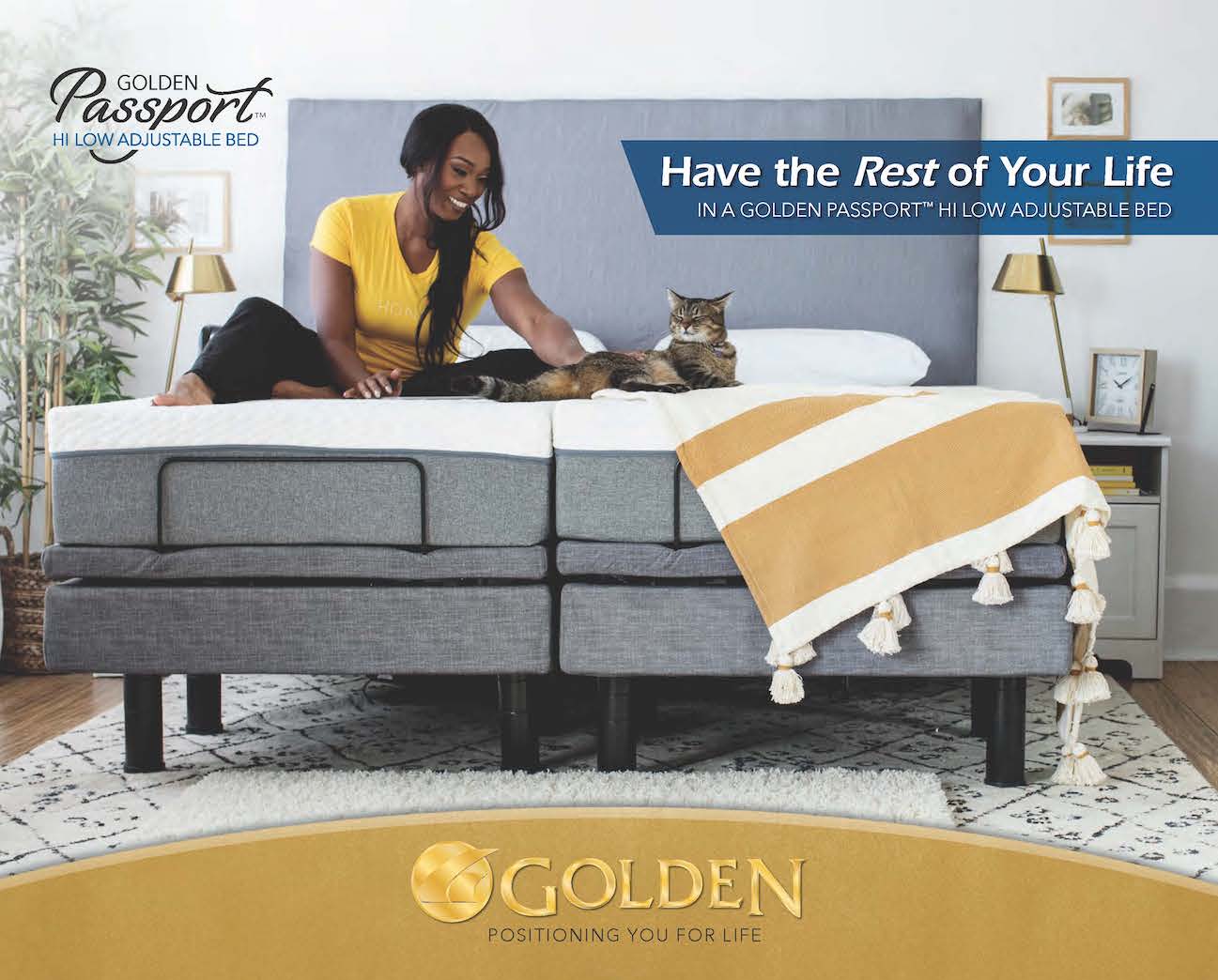 The Golden Passport hi low adjustable bed is available in three sizes: Twin XL, Queen, and King (Dual Twin XL) and one standard foam mattress. The memory foam mattress offers a 350 lb. weight capacity and is made of three layers of foam for solid support paired with the soft luxurious feel of memory foam. It features a unique transfer edge, a 3" firm block of foam that runs the length of the mattress, which provides stability for safe transfers when entering and exiting the bed.
The bed frame is height adjustable via remote control, with the ability to be custom elevated or lowered, based on the user's or caregiver's specific needs. It features an 880 lb. lift capacity, dual-zone vibrating massage, a feature-rich wireless remote with two programmable buttons and four pre-programmed positioning buttons including TV, Zero Gravity, Flat and Quiet Sleep (a position that helps open the airways by slightly elevating the head), plus a tilt feature in the head section to achieve reverse Trendelenberg position. A Bluetooth adapter comes standard to control all bed functions from a smart device to aid in dexterity or vision issues.
"Adding the Golden Passport hi low adjustable bed and mattress is a natural progression of our quality line of products offering a new form of comfort and independence, representing yet another level of innovation for our end-users while further differentiating Golden's long-standing presence in the home medical equipment market," said Golden. "The way you sleep, and the amount of support received during periods of rest makes a big difference in your overall health. When you have the option to change positions while resting, you can combat many different health issues."
Golden will showcase the Passport hi low adjustable bed and mattress along with other new products in both the power lift recliner and mobility divisions at Medtrade, the home medical equipment industry's largest trade show, in Dallas, TX, at the Expo on March 27 and 28, 2024. The new technology and comfort features are designed to help retailers discover new ways to drive cash sales.